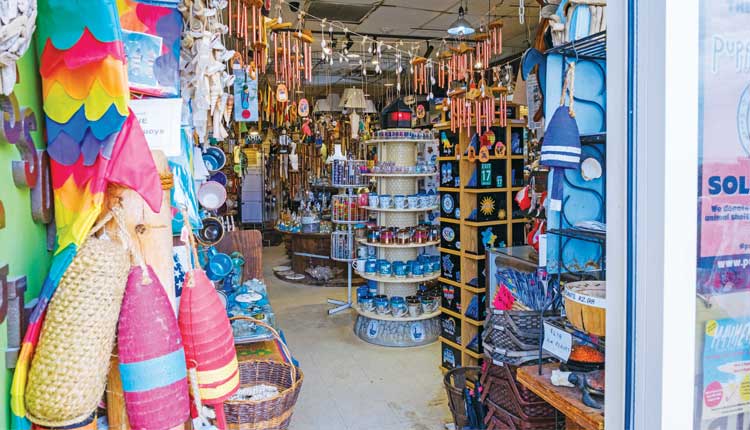 Photo: Craig Matthews
See it, like it, buy it. Impulse purchases ring in last-minute revenue for coastal retailers that smartly stock and neatly display a range of low price point products, usually at the check-out counter.
Take Sessoms' Candy & Gifts in Sea Isle City, New Jersey. A 6-foot lighthouse display is stacked with shot glasses and mugs. "At the counter, we have coasters, magnets, keychains — the whole section is 'impulsey' and says Sea Isle City on it," says Jay (Junius Jr.) Sessoms, owner of the multi-generational shop, in business since 1972. Customers are often overheard saying, "It's the only store like this on earth."
In fact, impulse might be the theme rather than the unexpected checkout purchase at Sessoms'. The boardwalk gift store carries items like sharks-in-a-bottle, pirate paraphernalia, model ships, bamboo wind chimes — and souvenir staples priced so customers can add them to their bag without a second thought. "During the summer, we have to replenish the displays every day or it looks like we are empty," says Sessoms.
Identifying the right items
Understanding exactly what classifies as an impulse buy is key, says Chris Silva, owner of wholesale company Steamboat Sticker. "I say to customers, [impulse buys] are like the National Enquirer at the grocery checkout. GQ sells on the magazine rack in aisle three. There is a difference. Impulse buys are the small stuff, the last-minute stuff the 'Oh, this would be fun,' or, 'I need to buy something for Johnny; here's a sticker.'"
Stickers, holiday ornaments, bracelets, candy, keychains, car coasters, namedrop mugs — these items consistently sell as last-minute grabs across the country with icons, themes and names changing based on location.
Ultimately, "It's in the name," says Anthony Burdette, vice president of marketing and product development at P. Graham Dunn, speaking of why we refer to checkout purchases as impulse buys. "These are items that aren't expensive to stock but can be the perfect gift to increase basket ring."
See and spend
Price point is an important consideration when stocking impulse buys, according to Silva, and customers are willing to spend more these days. Silva says the increase in spend is "dramatic" because the cost of staples like groceries has elevated much more than items like stickers or magnets.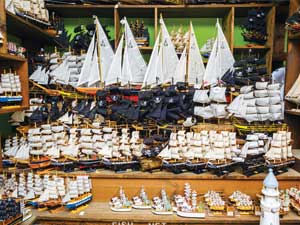 "If you think about it, before a sticker cost $2.99 and a brand-new Ford F150 cost $25,000, and now a sticker is $3.99 and an F150 is $50,000. The impulse buys have stayed modestly priced, but you are seeing people pick up more of them."

Silva says retailers carrying Steamboat Sticker products report that customers select several stickers from the display rather than just one. Rather than spending a few dollars, they might spend up to $20 on a last-minute checkout purchase.
"It's important to understand what an impulse buy really is," Silva adds. "It has to be priced correctly and truly one of those things where it's like, 'Oh, that's cool,' and customers set it down at the checkout counter without thinking."
"Retailers want to have new items available for customers that visited their shops last year and are looking for something new to purchase this year." — Anthony Burdette, P. Graham Dunn
Sessoms keeps impulse price points under $20, and there is a wide selection of items that are less than $10. "If you can get it under the $10 and $20 point like $9.98 or $14.98, that will sell a little better, but our economy here has switched," he notes. "We used to be a blue collar area, and we really are not anymore. They are building million dollar homes in town. So if they like it, they buy it."
That is not always the case for vacationers, however. "Destinations continue to thrive," he says. "We see retailers on the coasts doing well despite a bit of economic uncertainty in the marketplace. This tends to follow a mental state of being for folks that are on vacation. Many of them have saved up already and set aside money they plan to spend on vacation."
Stocked to sell
The type of impulse items a coastal retailer stocks can depend on the shop theme. Laura Whittaker, owner of Ocean Dreams in Sherborn, Massachusetts, is passionate about ocean conservation. Her store is stocked with sustainable and reusable products, along with items that give back to ecological organizations.
"Right now, some of the best impulse sellers are lip balms by Bee Bella that are in bamboo containers rather than plastic, and they are not a brand you see at other stores, so they are special and more sustainable," Whittaker says.
Pocket hand sanitizers are also popular. "I have them in a glass bottle or little plastic container and the company, Bee Clean, uses recycled material when they make their plastic so it's clean," she says.
Whittaker didn't expect candy to be so appealing, but she sells it at the counter daily because it complements gift baskets customers create.
"I feel like people are coming in to send a care package to someone in college or who isn't feeling well and they put together a box that starts with a soap, a Soap Lift, and then it gravitates to adding lip balm, hand sanitizer and candy," she says.
Sessoms stocks perennial favorites like decals and Hydro Flasks — customers buy Sea Isle City stickers for them — along with trendy items. "This year we have jiggly wiggly slugs and the latest fidgets," he says.
Popular themes include turtles because of a local push to protect them, and great white sharks because they are spotted off the coast and even named. "Kids come in and buy everything shark, from shark teeth and jaws to sharks-in-a-bottle and stuffed animals," says Sessoms.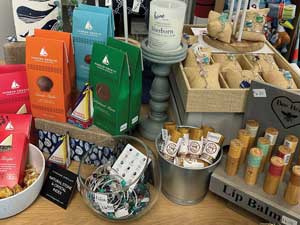 Namedrop is a strong and growing impulse category, according to Burdette. "A new trending product for us is the vintage motel key chain that replicates the look and feel of a classic motel key chain with updated colors, engraving and sayings."

Car coasters also drive sales at P. Graham Dunn's retailers. "They are both functional and fun, which makes them a go-to for vacationers," he says. Icons tend to be regional: anchors, lighthouses and blue crab in the Northeast; and turtles, seashells and palm trees in the South. "We are also seeing an uptick in pet-inspired sentiments and imagery with coastal designs," Burdette notes.
Beach Hut rolled out tie-dye mugs that can be customized with city names or shop logos that are selling. "Anything bright and colorful and still elegant draws people's attention," says Justin Brown, operations manager of the wholesaler that offers beach-themed snow globes, bottle openers, magnets, souvenir glassware, coolies and more.
Neon green with turtles and an orange-and-blue mug that emulates the sand and sea also fly off the shelves, Brown adds.
Prime placement
"If it's truly an impulse product, it has to sell at checkout," Silva says. He emphasizes that product placement is paramount for capturing last-minute sales. "We can pack a lot of merchandise into a small footprint at checkout."
Presentation can be one of the challenging parts about stocking impulse buys, Burdette adds. "It's easy for small items to get misplaced, unorganized and downright messy." He recommends prepack displays that include informative signage.
"It's important to understand what an impulse buy really is. It has to be priced correctly and truly one of those things where it's like, 'Oh, that's cool,' and customers set it down at the checkout counter without thinking." — Chris Silva, Steamboat Sticker
She refreshes impulse buys by season, stocking items like reef-safe sunscreen during summer months and jellybean easter eggs and chocolate bunnies in spring. "I also have a suggestion area next to where you check out that is geared toward holidays like Mother's Day, Father's Day, teacher appreciation and other special events," says Whittaker.
Restock frequency can very by item. Sticker displays can last for weeks without needing to be replenished, Silva notes, whereas merchandise like T-shirts leave a visible hole after selling unless they are immediately restocked.
Burdette recommends changing out products annually, especially for retailers in locations that draw the same crowd year after year. "Retailers want to have new items available for customers that visited their shops last year and are looking for something new to purchase this year," he says.
Overall, savvy shop owners that strategically stock and present impulse buys give customers more options — and that translates to more sales. Burdette says, "Shoppers continue to seek affordable, grab-and-go gifts they can bring home following their trips to the coast."