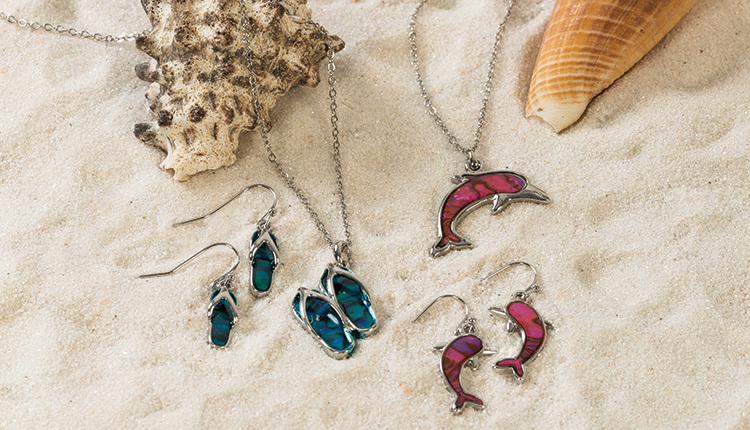 Howard's Inc.
A piece of jewelry is the perfect keepsake for many. It's a constant memento of that special trip or a way to share the experience in the form of a gift. Not only do a nautically knotted bracelet, a wave ring or beach glass earrings reflect the place one visited, the added bonus is that it takes up little space in a suitcase. And with so many different options to choose from, most anyone can find something that suits their taste.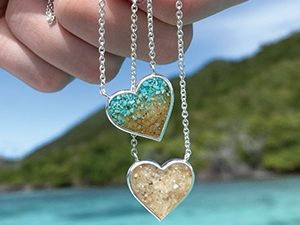 Many seaside gift shop owners carry at least one line of jewelry ranging from affordable and fun to higher-end and sophisticated. But knowing what items, styles and price points to carry isn't always an easy decision.
Jackie Gallagher's motto is "Jewelry should be art that you wear every day."

The designer and wholesale owner of Jackie Gallagher Designs in Crofton, Maryland, creates beach, nautical and coastal-themed pieces such as waves and mermaids in sterling silver set with aquamarines and other precious stones.

"I use a lot of different blue-colored stones and sea glass because those are ocean colors as well as a lot of freshwater pearls. To me, nothing screams 'beach' more than a freshwater pearl."
Keeping costs reasonable is important to Gallagher. One of her retail buyers told her recently, "I can always count on your pieces being good quality and different, but you keep them at an affordable price for us."


Isles of styles
Lois Weeks sells jewelry wholesale through Eldersburg, Maryland-based Bonita Beach Jewelry by Silvergirl Sterling. She also owns two stores in the Caribbean, on the islands of St. Lucia and Bonaire. Her more expensive items sell in affluent vacation spots.

"I sell a lot more high-end pieces that retail for $300 to $500 in stores located near high-end resorts and where the cruise ships stop," she says.

Like Gallagher, she strives to keep the price down for retailers. Her best sellers incorporate larimar, an aqua-blue stone found only in the Dominican Republic.

The Patsy Kane Co., Marblehead, Massachusetts, offers three main coastal/nautical lines: the Navigator Collection, New England Originals and the Yachting Collection. Kane designs most of the earrings, necklaces and bracelets herself, including the New England Originals line, which are cast in Rhode Island.

The nylon Monkey Fist earrings, based on the eponymous nautical knot, are one of Patsy Kane's most buzzed about creations.

"Those are imported, but we package them creatively," Kane says. "We put them in little tins decorated with punchouts from 150 different vintage nautical charts and put the Monkey Fists on the charts."
The Monkey Fists' simplicity and all-ages appeal combined with their low price points have made them the company's best sellers, according to Kane.

"We get comments like, 'They go with everything, and are so light I forget I even have them on,'" says Kane. "And because they're only $15, they can buy three pairs."
Kane recently added sterling silver Monkey Fist necklaces and bracelets to her line.

Jewelry with latitude and longitude coordinates are also popular with beach vacationers and locals alike. Patsy Kane's True North jewelry is stamped with the latitude and longitude coordinates of locations the customer chooses.

"If a shop has a customer who wants the coordinates for the Isle of Capri, we'll do it," Kane says.
All Patsy Kane jewelry is either sterling silver, pewter or gold-plated pewter, with a focus on the casual.
"We want people to put our bracelet or necklace on and wear it at the beach, on the boat, or when they're out kayaking, paddle-boarding or climbing a mountain," says Kane.
Charming choices
Figuring out what kind of jewelry to carry may simply come down to the store owner's personal preference.
Angela Lindner spent 30 years in Manhattan's fashion industry, designing and merchandising women's apparel, prior to opening Mid Atlantic Beach Bling in 2014 in Cape May, New Jersey. That experience helps inform her purchasing decisions.

"There's nothing that I look for in particular with jewelry items, they just have to hit me," she says. "I have to see and touch everything I buy. It has to be high quality and have a nice clasp, whether it's a $12 or a $200 piece."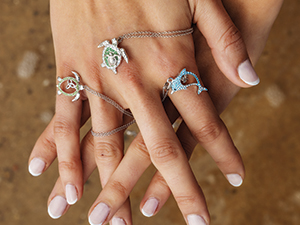 Elysa Cooper, co-owner of Junebug's Beach House with locations in Ogunquit and Kennebunkport, Maine, prefers artisanal items made locally. "We love things that are handcrafted and made in the U.S., right here in New England, because that's what our stores are all about, how we set ourselves apart," she says. "So we deal mostly with small companies or individual artists."
What makes it into Copper's showcases are "the sort of things my business partner and I would buy for ourselves."
Pieces between $30 and $100 make up the store's primary jewelry sales. Two of Junebug's Beach House's best-selling jewelry lines are Patsy Kane Monkey Fist stud earrings and sterling silver boat-shackle jewelry.
Junebug's Beach House customers want casual, middle-priced items.

"They're not looking for high-priced fancy things, but for something beachy they can wear with summer clothes," says Cooper.

Keeping up with what the public wants is as important in jewelry as it is with other kinds of merchandise. Lindner's fashion industry background takes some of the guesswork out of selecting items for her store. She also looks to gift shows and fashion magazines for additional insights.
"Some years, everyone seems to want delicate-looking necklaces, then other years I sell more chunky styles," she says. "Generally, though, girls and young women want the lighter stuff where an older woman wants a big statement piece. And of course, we always have your classic motifs that people always love, like jewelry with little anchors or starfishes."
In Maine, Cooper says starfish, waves, compass roses and anchors "are all super popular." As for colors, "It doesn't matter whether it's jewelry, apparel or home decor, aqua or turquoise are always our bestsellers, followed by navy blue."
On the West Coast eco-friendly items are a big current trend as Flamingo Jim's in Rockaway Beach, Oregon, can testify.

"We started carrying things from 4Ocean, a company that makes jewelry from recycled ocean plastics," a company spokesperson says. "They've taken off really well."

Tougher customers
Women tend to dominate the sales in the jewelry industry. Men and children are tougher sells. A guy isn't likely to buy a mermaid bracelet, but he might like something made from braided rope or leather that one might picture Captain Jack Sparrow sporting.

Patsy Kane recently introduced the Captain's Cord line of bracelets and necklaces made from nylon yacht cord and a sterling or gold-dipped knot, which she says appeal to both men and women.
"They've been our most popular products this year," she says.
Other wholesale companies such as West Coast Sea Glass, Sequim, Washington, sell some more masculine items like sea glass cufflinks.

Mermaids of 30A, a gift shop in Mount Dora, Florida, carries a variety of beach-, coastal- and nature-themed sterling silver, pearl, and semi-precious jewelry. Owner Linda Wicker, prides herself on carrying unusual finds. That includes men's jewelry.

"We have a jewelry line for men which is really hard to come by," she says. The store carries stainless steel rings, pendants and crosses as well as silicon rings for men. Wicker says men really like the silicon rings because they can be worn while being active.

More functional jewelry can appeal to all sexes and ages. Shark Off's shark repellent bracelets have a gender-neutral design and are made for children and adults to keep the sea predators at bay.

Pura Vida has expanded its line of string bracelets to designs that incorporate sterling silver, gold plate and precious and semiprecious stones, "all part of moving us toward more of a jewelry brand than a fast-fashion product," Thall says. "We've been using little turquoise stones and sea glass and a lot of high-quality gems and jewels."

What sells where
Retailers trying to figure out what works in their area may want to factor in regional differences, though wholesalers have differing perspectives on how regional tastes vary.
"The stores in California sell as many of my wave designs as the stores in Maryland or the Carolinas or Florida — all oceans have waves in common," notes Gallagher.

Weeks says shoppers on the Jersey Shore and in New England like her sea life and larimar-set designs.
"At one store in Nantucket, they really go for my classic sterling silver pieces. The sea life designs with opals sell well in Florida. In the Carolinas, they seem to go for the simpler, lower-priced pieces," she says.
Kane advises jewelry novices to select pieces that blend nicely with the other items being sold, especially in terms of quality, and to create a presence with it.

"Offering just one or two pieces doesn't make enough of a statement," she says.

Weeks advises selecting classic seaside motifs such as turtles and starfish in a variety of price points.
"Have some earrings with tiny posts, in sterling — it's a hypoallergenic metal, and they're great for a little gift," she says.

Adding sterling silver jewelry doesn't break the bank but will give your store "street cred," according to Weeks.

Later, you can upgrade by adding some opals and larimar — pieces that people can buy and take a little piece of the beach back home with them.