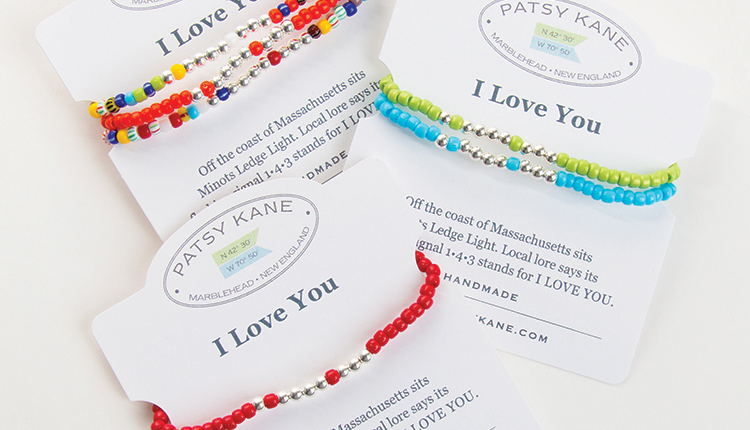 There are many ways to say "I love you," and The Patsy Kane Co., Marblehead, Massachusetts, has some cool ones, with a seaside tie-in. The jewelry company's "I Love You" bracelets express those three words using code.
"Off the coast of Massachusetts, just below Boston, sits the Minots Ledge Lighthouse," explains owner/designer Patsy Kane. "Local lore has it that its flashing light sequence of 1-4-3 in Morse Code stands for 'I Love You.'"

Inspired by the lighthouse, the simple bracelets feature groups of silver-plated beads nestled between colored glass beads in configurations of one, four and three — "a romantic reminder to lovers everywhere," Kane says.
The bracelets are made in conjunction with Northeast ARC, Danvers, Massachusetts, a nonprofit that serves developmentally challenged individuals in a variety of ways. It offers job training through its Heritage Industries division.

One of those industries is Shine Jewelry, which is where Kane found Paul, "a young man who lives with autism. He makes the "I Love You" and our woven Yachting Collection bracelets for us."
Love has come back to the company in the form of sales.
"Although we were only able to do one wholesale show before the COVID-19 quarantine, it accounted for 13.5% of our sales this year so far," says Kane.