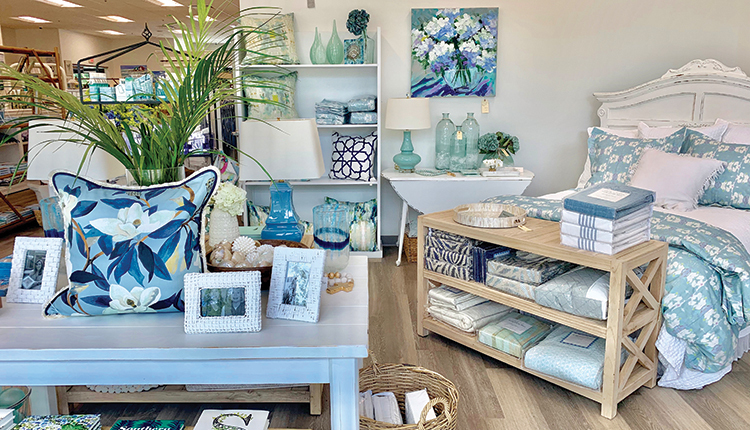 Beach lovers and water enthusiasts don't have the luxury of being able to be at their favorite destination 24/7, but with elements of the sea that they can incorporate into their homes, they are never far away.

As a beach, coastal or nautical store owner, you can offer home decor items for the walls, shelves, couches, tables, floors, ceilings and patios that remind customers about their favorite coastal destinations, and it doesn't matter if your customers live in Columbus, Ohio, or Tulsa, Oklahoma, they can still feel like they are at their favorite beach getaway.

Bringing elements of the coast into someone's home can be accomplished with color, imagery, bits of sea life and more.

Shells sell
Seashells are a quintessential element that literally brings a piece of the beach to the abode.
Bob Plominski, sales director of HS Seashells, Fort Lauderdale, Florida, says everyone has their own way of bringing the coast into their home. Some do it with natural products, while others like to have signage.
"It becomes personal and that is why we try to offer a wide variety," he says.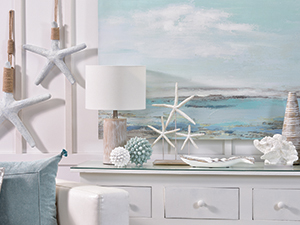 Wind chimes, nightlights and large decorative shells are just some of the items HS Seashells supplies to its retail customers to offer in their stores.
Seashells are incorporated into practically every item HS Seashells carries. Even something as basic as a nightlight, when you add a shell, everybody seems to want one.

"We sell hundreds of nightlights," Plominski says.

Prior to Plominski joining HS Seashells, he managed a home decor store in Boca Raton, Florida, and was a buyer for a high-end linen store in Palm Beach, Florida.

"With coastal home decor, people want to bring the outdoors inside their home, and when they do that, they do it with color, style and of course the decor," he says.
Light greens, dark aquas and sandy shades are common colors used in coastal decor. People look for nice wall decor or focal pieces made of shells that can sit atop a coffee table or a bookshelf.
And shells are just as popular on the West Coast as they are on the East Coast.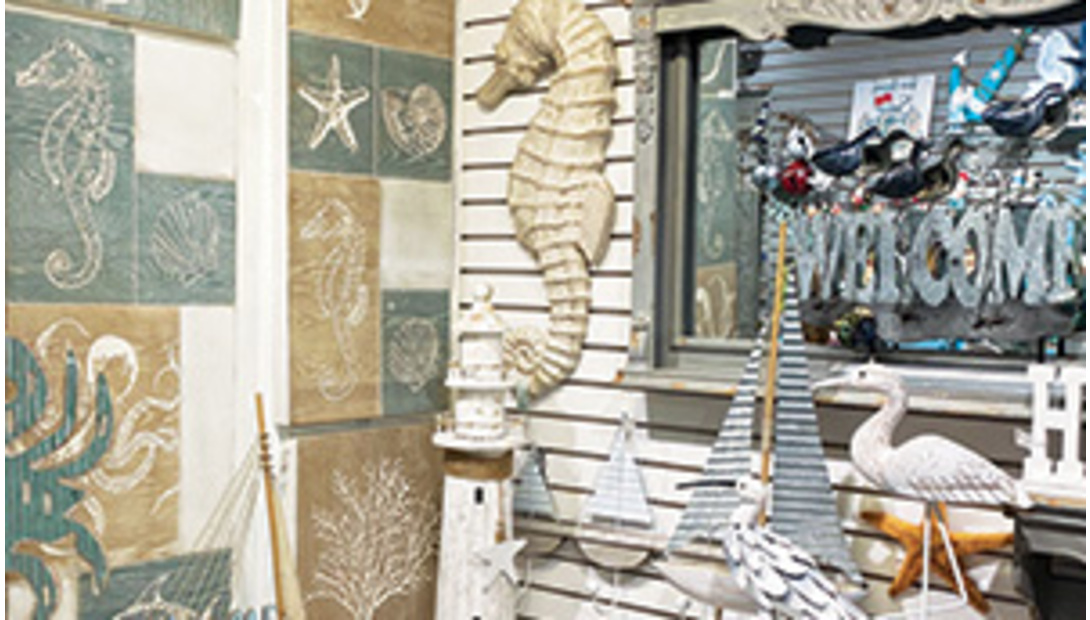 Related Article:
Looking at opening a home decor shop or adding some items to your existing store? Read the article "
Where to Begin
."
"We have quite a few customers on the West Coast," says Plominski. "They tend to like our abalone shells and our chimes. The decor there tends to be more organic so they'll get into the driftwoods more as well."
There are some other regional differences in decor styles, but some items tend to hold water no matter where the customer resides. Starfish are popular just about everywhere, "even Idaho," notes Plominski.
Coastal has always been a popular style, and Plominski thinks it's trending upward.
"We are selling to a lot of people all over the place," he says. "Everybody likes to have a little bit of the sea in their house."

Creatures of the sea
While starfish are popular everywhere, they aren't the only creatures on the block. Sea turtles, sea horses and mythical mermaids all make a splash in coastal decor.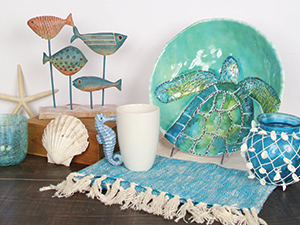 "Sea turtles are the most popular things going on," says Michell DeBlasio of ELC Designs, based in Ocala, Florida. ELC Designs uses vibrant hues of turquoise, blue and coral in its slate and canvas signs.

A new company that debuted its products at the 2019 Grand Strand Resort & Merchandise Show in Myrtle Beach, South Carolina, DeBlasio says seahorses and mermaids are also big sellers for ELC Designs.
"Everybody wants mermaids," DeBlasio says. "People visit the coast from Pennsylvania and Ohio and want to take this stuff back and decorate their houses and cottages."
Carmen Mendelson, president and CEO of Fancy That Gift and Decor in Greensboro, North Carolina, agrees "sea turtles are the number one icon. It never goes away."
But she's seen a slight downtrend in mermaids, which she attributes to an oversaturation in the market.
"I don't think they will ever really go away because the mermaid icon speaks to all ages. She's a free bird, a free spirit and that is why people relate to it," Mendelson says.
To stand out, Fancy That Gift and Decor has begun offering more artsy mermaids that Mendelson says "everybody loves."

Flamingos are also not locked to South Florida. Mendelson says collectors all over, even in the Midwest, flock to flamingos.

"One of our largest accounts for many years was a chain of stores in Omaha, Nebraska," she says. "You can't get any more landlocked than that."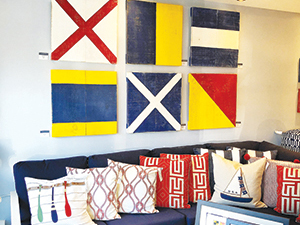 Mendelson makes a distinction between coastal and nautical. Traditionally, the warmer colors of navy, red and white were associated with nautical decor, but the usual color schemes are starting to blend in today's style since Classic Blue was named the Pantone Color of the Year in 2020.
Darker more nautical colors are making their way into the typically lighter decor shades associated with coastal.

The furniture items Cheryl Oenbrink sells in her On a Whim store, in Mount Pleasant, South Carolina, tend toward the lighter, distressed and mango woods, not so much the heavy dark mahogany woods, "but I sold two very dark pieces this week," she says.

"Navy blue is very popular right now," Oenbrink says. "And turtles are always big because we are on the coast. Driftwood sells every day of the week."

In the north, where the theme is more nautical, oars and sail boats outsell the more coastal items. Whales are also big. "Nautical is a different kind of feel. I can't sell palm trees in the North," Mendelson says. "Everybody can sell a shorebird."

Bigger is better
Mendelson has noticed a trend in recent years of decor becoming larger. "People want bigger scale artwork, so my clocks used to be smaller and now we are going to a 24-inch bigger clock. Everything has gone bigger scale."
One of her biggest sellers is a large metal octopus. Large ship wheels and anything that takes up more wall space, like anchors and nautical maps, sell too.
Whatever home decor you decide to carry, remember, it's not about where your customers are located, it's about where they want to be. You can help them create that beach oasis no matter where they call home. ■