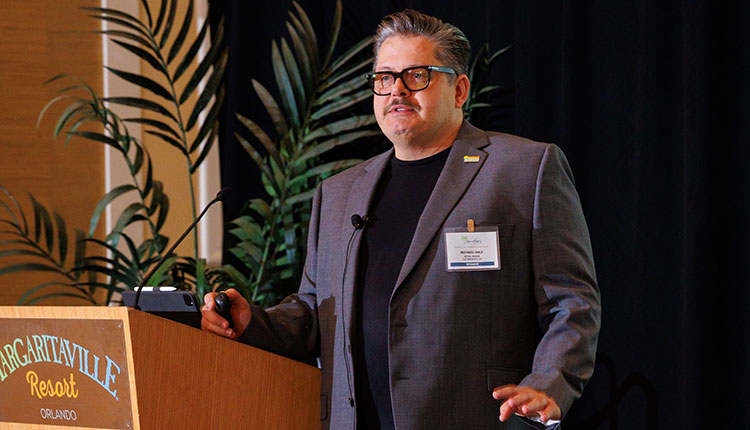 Michael Hale, owner, founder and creative director for Los Angeles-based retail consulting firm Retail Rehab, aims to help retailers take their stores' visual merchandising strategies to the next level. When seaside retailers apply good visual merchandising techniques, it elevates the perceived value of products throughout the store.
"If you go into a Nordstrom store and you see a shirt that is folded all pretty and it's got a sticker on it, it's really nicely merchandised, you would expect to pay more for that shirt than if you walked into Nordstrom and you sell the exact same shirt but it was shoved on a table or disheveled in how it was hung," Hale explained at the October 2023 Coastal Connections Conference. "It's really important to make sure that we bring the elevated value of our product up to what our pricing is."
During the
Coastal Connections Conference
, Hale presented a session titled, "Visual Merchandising Tips and Tricks," that explained how a store's layout and displays can create opportunities for increased sales.
Hale listed three types of merchandising commonly used in stores, including vertical merchandising, horizontal merchandising and pyramiding.
With vertical merchandising, retailers create stripes of products going from top to bottom.
"Vertical merchandising is ideal for the top three shelves, so it's accessible so that people can reach it," he explained. "It also works down low so people don't have to go all the way to the floor."
Hale said horizontal merchandising is the opposite, merchandising products in a horizontal row rather than up and down. He suggested retailers apply this merchandising technique when they want to bring a lot of different SKUs to eye level.
Finally, he said, pyramiding is when retailers create a pyramid structure with their products, starting with a wider base and coming to a point at the top.
Hale said he often advises retailers to use a combination of vertical merchandising, horizontal merchandising and pyramiding rather than just one of those three approaches.
"You don't have to just do vertical or just do horizontal," he explained. "You can marry those two together. You [can] do all these things together within a space."
The Coastal Connections Conference was Oct. 22-24 at the Margaritaville Resort Orlando. For more information, visit
www.coastalconnectionsconference.com
.