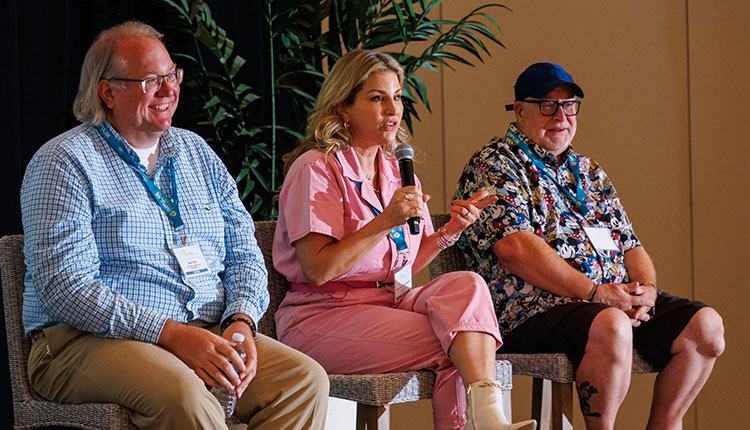 The ways customers shop has evolved quite a bit in the past decade. In 2023, customers who come to a store want more than just products lined on shelves; having engaging experiences is key.
During the Coastal Connections Conference, which took place Oct. 22-24 at Margaritaville Resort Orlando, three speakers shared their insights on why seaside retailers should elevate the shopping experience in their stores in a session titled, "Putting Experiential Retail into Action." Speakers included Dave Foos, principal at Clarkston Consulting; Holly Daniels Christensen founder and CEO of Dune Jewelry; and Steve Schultz director of shop shenanigans, Flip Flop Shops.
Foos kicked off the session highlighting ways shopping trends have changed over the years. He noted that just over a decade ago, customers often made lengthy trips to their favorite stores to get their shopping done. With the advent of the smartphone in the 2010s, though, more customers shifted to making purchases online. And as the pandemic hit, customers would also buy products online and then pick them up at the curbside rather than in the store.
"The entire marketplace has changed. And that's OK," said Foos. "The mentality has changed. There has to be a reason for me to want to go out."
One way to get shoppers in the store is through developing experiential retail strategies. Foos defined experiential retail as a strategy focused on creating memorable and engaging customer experiences rather than just selling products.
"The idea is to provide a unique, immersive and interactive shopping environment that encourages consumers to connect with the brand on a deeper level. Experiential retail is a way to get people into the boutique, into the shop and get them engaged with your shop," he said.
Daniels Christensen suggested that seaside retailers make sure their stores are curiously appealing to both loyal customers and prospective customers.
She said, "A curiously appealing store creates questions; questions create conversation; conversation creates experience."
She noted that color blocking merchandise rather than organizing merchandise by product category can work well for some stores and help them stand out. "Creating a memorable, positive experience for your customers is going to create repeat customers."
Schultz shared some fun examples of how Flip Flop Shops offered experiential retail for its customers. Having events tied to the store is one way to connect better with customers. For example, a hip hop group came to perform in a Flip Flop Shops' parking lot during the storefront's grand opening event.
"Give customers the unexpected," Schultz said.
He added that having fun is key to engaging with customers, too! He said he once partnered with a local TV station anchor to broadcast about one of his store's reopening events on National Flip Flop Day.
"Take those connections in your community and take advantage of them," he said. "And have fun with it!"
The Coastal Connections Conference was Oct. 22-24 at the Margaritaville Resort Orlando. For more information, visit www.coastalconnectionsconference.com.