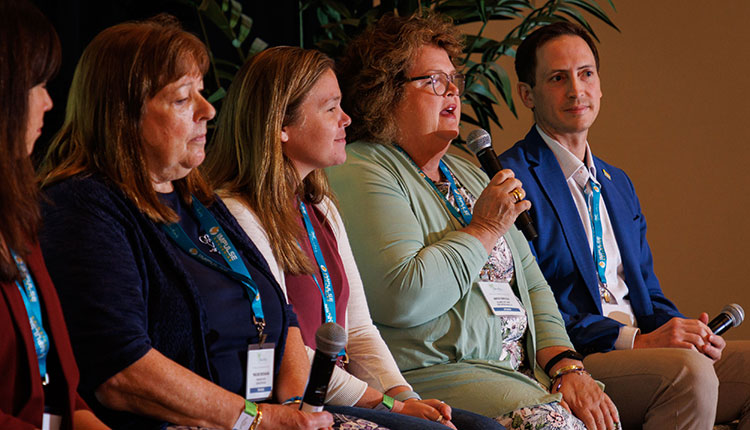 Independent retailers benefit when they get opportunities to network with like-minded retailers to generate new ideas and solutions to challenges. Attendees at the October 2023 Coastal Connections Conference enjoyed plenty of opportunities to do just that, making connections throughout the event's networking hours.
Seaside retailers also learned from colleagues who presented some solutions they found to business challenges during the "Creating Coastal Connections Continued" session at the event. Speakers on that panel included Kathy Cruz, owner of Savvy Shopkeeper; Pauline Bresnahan of Pauline's Gifts; Patrick Keiser of Heart on Main Street; Anita Cereceda of The Islander; and Elie Johnson of ZooTampa at Lowry Park.
Session panelists discussed challenges they have faced over the years and how connections they made helped them grow amid those challenges.
In general, panelists mentioned different kinds of partnerships that helped them through difficult times.
Partnerships with other businesses. Seaside retailers can benefit when they form connections with other independent retailers and business owners alike. Cruz started Savvy Shopkeeper as a consultancy after having success with her retail store in Lakewood, Ohio.
"I wanted to create a helpful resource for other independent retail store owners," she explained.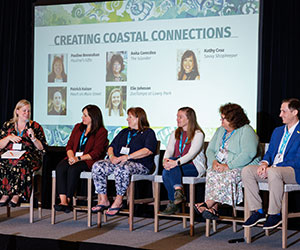 Photos: Aaron Lockwood
After starting her consultancy, she said she recognized that many independent retailers were looking for a business community to brainstorm and learn from one another. So, she formed a group called Master Shopkeepers to help independent retailers collaborate.
Bresnahan similarly saw a need to connect with local business owners in her community. She shared how she and two other women partnered to create the Women-Owned Businesses on the Essex Coastal Scenic Byway group to collaborate with other women-owned businesses along the local byway.
Cruz added that having a business community has helped her to grow and keep her accountable to her business plans.
"You have a group backing you up or cheering you on or holding you accountable," she explained. "So, connections are incredibly important to me. I can't stress it enough to connect with your business neighbors or connect with a business community. It can be everything to you."
Partnerships with industry associations. In addition to retail groups, seaside retailers also benefit from making connections with industry associations.
Johnson said she joined the Zoo, Aquarium & Garden Buyers Group (ZAG) in 2018 and became a member of the ZAG board of directors in January. Although being involved on a board was "out of her comfort zone," she explained how it helped her to learn from other buyers about industry trends.
"I'm really trying to force myself to network and gain connections. And it's just incredible how valuable it is and how you can actually measure how important networking is," she said. "Everybody has things that they're really good at. Some people are really good at inventory. Some people are really good at merchandising. Whatever your skillset is, there's something that you can learn from somebody else here."
Partnerships with nonprofits and vendors. Cereceda heartfeltly shared how she lost three storefronts in Fort Myers Beach due to Hurricane Ian last year, in addition to her home.
"Hurricane Ian hit and demolished everything," she said.
One of her longtime wholesale representatives helped to connect her with Keiser of Heart on Main Street, a nonprofit focused on helping independent retailers, she recounted. The nonprofit awarded her with $10,000 to help her rebuild her store.
Keiser said Heart on Main Street selected Cereceda's business for a grant because of her dedication to her community. "She was such a pillar of her community and why we chose to work with her," he said.
Cereceda said she is still in the rebuilding process and is not sure when her store will be back up and running. One thing she said she knows for sure is that she is grateful for the connections that have helped her throughout the rebuilding process and her career.
"You have to be grateful for [your connections]," she said. "Say it out loud, say it to the people that you see how grateful you are to them because it will come back to you every time."
She added that business connections were vital to her after she lost her business to Hurricane Ian in 2022. "I think that my purpose here is to talk about how important connections you make every single day are – with customers, vendors, friends, people you meet at a conference. They will be the backbone for your business to be resilient in times of need."
The Coastal Connections Conference was Oct. 22-24 at the Margaritaville Resort Orlando. For more information, visit www.coastalconnectionsconference.com.