Seaside retailers packed the meeting room to hear the 2023 Coastal Connections Conference keynote presentation, "Mastering the Inventory Game," with Dane Cohen, business development manager at Management One, which is a leading retail planning and analysis company that is headquartered in Tucson, Arizona.
Cohen has more than a decade of experience in fashion, wholesale and retail industry.
Cohen kicked off his presentation by saying he is a "big believer" in coming together as retailers at industry events. He also is a big believer in applying data to everyday business decisions.
"Data-driven decisions can be the difference between cash in the bank and leaving the year not so great," said Cohen.
How can retailers look at relevant data to help improve inventory management?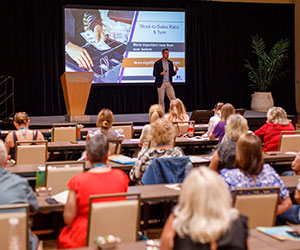 According to Cohen, one key to improving inventory management is rethinking margin. He stressed that inventory is a retailer's biggest expense, explaining that about 52% of a retailer's revenue goes right back into purchasing inventory.
How seaside retailers use that 52% of their revenue is the biggest factor in whether they will be successful with inventory.
He added that the cost of goods sold tends to be a misleading metric for many retailers.
"Your cost of goods sold is just that — it's measuring the cost of the goods that were sold," he noted. "It's not taking into account all of the inventory sitting on your floor; it's not taking into account all the old, dusty merchandise that isn't selling."
Cohen explained that merchandise that sits around for way too long ultimately drags down a retailer's cost of purchases. Over time, he said, that merchandise goes from "being an asset to being a liability."
He added that merchandise that isn't selling eventually goes from "being an asset to being a liability."
"We want to rethink margin. We're just looking at what's your cash margin? What did I sell at retail minus what did I receive at cost, and that's your cash right there," said Cohen, adding that retail buyers are a lot like investment brokers. "You're investing in merchandise that you want to be an asset and you want the highest [return on investment] on."
Instead of just focusing on buying merchandise they like, Cohen said retail buyers should buy merchandise that they know will have a high return on investment. He added that retailers shouldn't just "wing it" when it comes to making inventory-related decisions.
He explained, "What happens when you wing it? In times of economic uncertainty, we see the widest assortment of [inventory] plans. You want to satisfy everyone, you don't want to double down, so you sprinkle your buying. What ends up happening when you do that is you get a little bit of everything and a whole lot of nothing."
Cohen said offering customers too many choices leaves them paralyzed to the point where they are less likely to buy something.
"Focused, direct and curated buys are going to direct your customer on how to purchase," he stressed. "Stop winging it. Look at data to make data-driven decisions."
The Coastal Connections Conference was Oct. 22-24 at the Margaritaville Resort Orlando. For more information, visit www.coastalconnectionsconference.com.