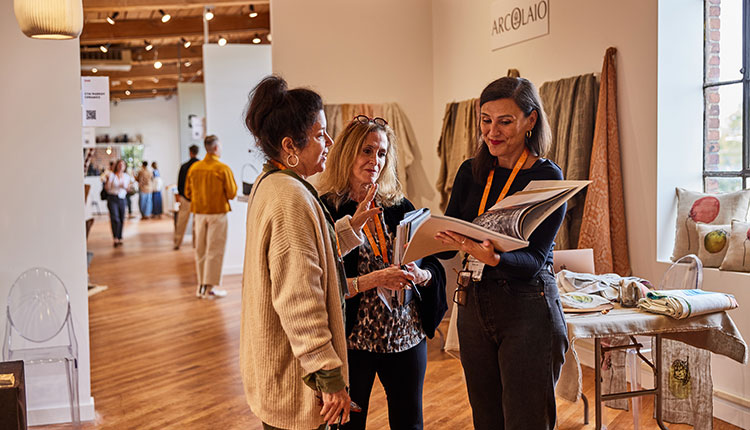 Shoppe Object's curated installation at High Point Market offered attendees a wide selection of brands, artisanal finds and an inviting temporary exhibition space during the event Oct. 14-17 in High Point, North Carolina. The event took place on the third floor of High Point's Historic Market Square, presenting more than 100 carefully selected brands that were new to High Point Market.
Shoppe Object is a premier home and gift show, which takes place in partnership with parent company ANDMORE. According to Shoppe Object, the High Point Market event focused on home decor, accessories and furnishings. Shoppe Object said the event marked a successful start for the new twice-yearly fixture at High Point Market.
"Our High Point launch was such a natural fit — it felt like one big housewarming party," said Shoppe Object founder and Show Director Jesse James. "I've been eyeing the historic, loft-like space we now occupy for years, and I always had this dream that we would one day activate it, filling it with beauty. We have found our home in High Point, and I'm looking forward to the April redux as we continue to build awareness of our very special location within this exciting and expansive market."
The roster of exhibitors included companies such as Connecticut-based Dumais Made (lighting), East Fork Pottery (tabletop) and sustainability-missioned Cyrc (home decor & accessories). The sense of discovery — both of the New York-based Shoppe Object and of the design-driven products there — permeated the space.
"When I come to High Point, I'm looking for pieces of distinction," said Bay Bertea, vice president of marketing for contemporary design retailer 2Modern. "In finding Shoppe Object at High Point this year, there's more opportunity for that discovery. I found pieces from all over the world, especially designs that felt bespoke, that felt unusual, that felt unexpected."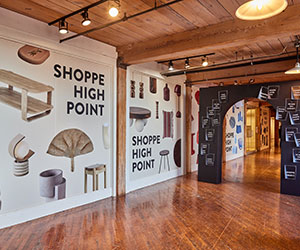 According to Shoppe Object, the crowd's curious energy was evident to exhibitors as well.
"There's a buzz in the air and a lot of excitement as the buyers and designers are walking through; we're overhearing their conversations on phones — 'You need to get over here ... this is great!'" said Dove and Donkey co-founder Jadine Greenaway.
In keeping with the international representation of Shoppe Object in New York City, representing nearly a quarter of the show floor, many of the Shoppe High Point exhibiting partners hailed from outside of the U.S. For example, Belgium-based lifestyle brand Serax made its U.S. market debut, showcasing a new Kelly Wearstler tabletop collection.
Shoppe Object said the opportunity for U.S. buyers and international brands to meet in person was a highlight for many at the event, including Charlotte Volcke, chief sales and marketing officer at Serax. "We've been wanting to do business with a particular U.S. retailer for a long time. And yesterday, I was able to open that account in multiple stores. So that's definitely been the high of my day; I was able to actually convert that relationship into new business."
Danne Semeraro from Sempli, a longtime Shoppe Object exhibiting glassware brand, said, "It looks fantastic! And the vibe is like a part of New York coming into this historic market of High Point."
The success of Shoppe High Point signals a continued focus on home brands for Shoppe Object, with 55% of the exhibitors at the August market in New York showing in the home categories. Shoppe Object will return to the Historic Market Square location in High Point in April 2024 with over 100 brands, including both returning and new-to-market exhibitors.
Additionally, Shoppe Object's next show takes place Feb. 4-6, 2024, from 9 a.m. to 6 p.m., in New York City, with an expanded show floor across two neighboring venues: Pier 36 and Skylight at Essex Crossing on Manhattan's Lower East Side.