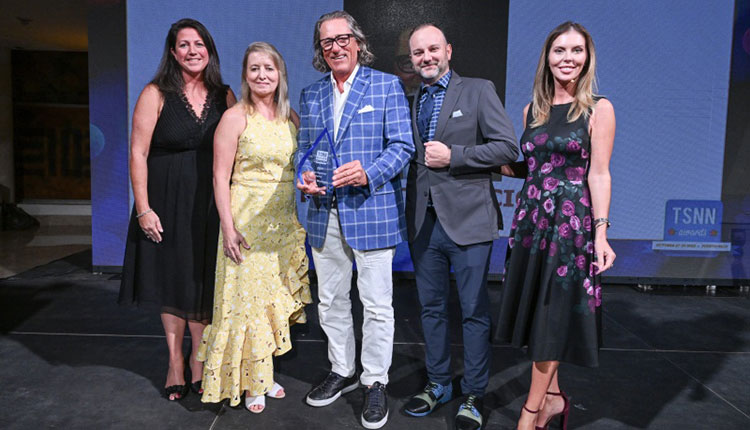 ANDMORE chairman and CEO Bob Maricich has received the Industry Icon Award from Trade Show News Network (TSNN) at its 2023 TSNN Awards Oct. 28 at the Puerto Rico Convention Center in San Juan, Puerto Rico. The annual award recognizes leaders who have made a major impact on the trade show industry.
TSNN President Rachel Wimberly said Maricich received the awards at TSNN's gala awards dinner in front of 140 trade show professionals.
"Every year, we choose someone who exemplifies true leadership, and for the 2023 TSNN Awards, we were thrilled to honor Bob Maricich as the Industry Icon Award winner," she said.
ANDMORE said Maricich was celebrated for his leadership of ANDMORE since its founding in 2011 as International Market Centers. Under his leadership, the impact and influence of ANDMORE has grown, serving more than 350,000 global wholesale buyers through physical markets, design centers and digital channels. More than 2,200 exhibitors showcase their products in permanent showroom spaces, and its 24 annual buying events present an additional 7,000 temporary exhibitors in 2 million square feet of trade show exhibit space each year. ANDMORE presents more than 30 apparel, furniture, gift, home decor and lifestyle markets and buying events in both permanent showroom space and trade show exhibits in Atlanta; High Point, North Carolina; Las Vegas; and New York.
In Las Vegas, Maricich also led the renaissance of World Market Center, including strategic positioning of Las Vegas Market to make it the premier furniture, décor and gift sourcing destination in the West as well as the construction of the 315,000-square-foot Expo at World Market Center Las Vegas to address the lack of downtown Las Vegas exhibit space. In Atlanta, Maricich helped with the acquisition of the Atlanta Decorative Arts Center, AmericasMart Atlanta, with its Atlanta Market and Atlanta Apparel portfolio and the Atlanta Convention Center at AmericasMart spurred capital investment to reimagine the complexes and markets. In High Point, ANDMORE has also grown its footprint to 17 properties. Other ANDMORE innovations include the acquisition and expansion of Shoppe Object in New York as well as the development of digital tools to connect buyers and sellers.
Maricich said he is honored to be named the 2023 TSNN Industry Icon Award honoree.
"When ANDMORE was founded, my intention was to create an exceptional company of enduring value," said Maricich. "Through periods of growth and innovation as well as disruption, we have upheld that promise. ANDMORE is proud to provide opportunities for buyers and sellers to connect, grow and prosper through physical markets, design centers and digital channels like no one else in the industry. I accept this honor on behalf of the whole ANDMORE team and our unwavering commitment to putting our customers first."
According to ANDMORE, Maricich has received several other honors, including the "American Heritage Award" by the Anti-Defamation League, "Man of the Year" by the Tri-State Home Furnishings Association, the "American Heritage Distinguished Service Award" from the American Home Furnishings Alliance, a "Furniture Industry Icon" by the International Home Furnishings Representatives Association, Atlanta Magazine's "25 Most Influential People in Atlanta" award and Atlanta Magazine's "500 Most Powerful Leaders in Georgia" award. In 2021, Maricich was inducted into the American Home Furnishings Hall of Fame.