Seaside retailers gathered for the second annual Coastal Connections Conference, Oct. 22-24 at Margaritaville Resort Orlando. The event featured eight educational sessions as well as plenty of networking hours and a buying event.
The 2023 event kicked off Sunday, Oct. 22, with a keynote address on, "Mastering the Inventory Game," with Dane Cohen, business development manager at Management One, which is a leading retail planning and analysis company that is headquartered in Tucson, Arizona. Cohen has more than a decade of experience in fashion, wholesale and retail.
During his presentation, Cohen stressed the importance of applying data to everyday business decisions. "Look at data to make data-driven decisions," he said.
Retailers appreciated Cohen's presentation on taking a data-driven approach to inventory management.
"I've been in business for 12 years, but I'm always trying to learn and see how I can make my business and myself better," said attendee Kim Hannon, owner of Ophiuroidea in Grasonville, Maryland. "I learned that I still have a lot of work to do with managing my inventory!"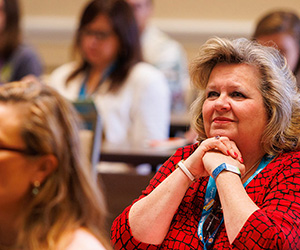 Photos: Aaron Lockwood
In addition to the keynote, attendees heard from more than a dozen industry and retail experts on topics relevant to managing coastal shops.
During the session, "Build an All-Star Team," attendees heard from William Hill of Margaritaville Resort Orlando Gift Shop; Scott Hamblen of Sunshine Ace Hardware; Kim Springsteen-Abbott of Lady Gryphon's Coastal Collection Shop; and Kathy Cruz of the Savvy Shopkeeper. Speakers in that session stressed that retailers should be thoughtful during the hiring process.
"Do not hire out of desperation," said Hill. "We've all been there; we all regret it."
To kick off the second day of the event, Cathy Nagle-Ervin of Retail Training Tools offered a rapid-fire list of "45 Rewarding Ideas in 45 Minutes." She offered insights retailers could put into practice immediately once they returned home, including useful tech tools, fun display ideas and best business practices.
Attendees also heard from Holly Daniels Christensen of Dune Jewelry, Steve Shultz of Flip Flop Shops and Dave Foos of Clarkston Consulting on "Putting Experiential Retail into Action." The speakers helped attendees to figure out ways to elevate the shopping experience for customers.
"Experiential retail gives you a way to connect with shoppers," said Foos. "The goal is engagement with customers."
Before breaking for lunch on the second day of the event, panelists on the "Creating Coastal Connections Continued" session shared challenges they have faced and how connecting with their business communities has helped them to grow, including Cruz of Savvy Shopkeeper; Pauline Bresnahan of Pauline's Gifts; Patrick Keiser of Heart on Main Street; Anita Cereceda of The Islander; and Elie Johnson of ZooTampa at Lowry Park.
Cereceda shared how having a strong business community helped her in the aftermath of Hurricane Ian.
She said, "My purpose here is to talk about how important connections you make every single day are – with customers, vendors, friends, people you meet at a conference. They will be the backbone for your business to be resilient in times of need."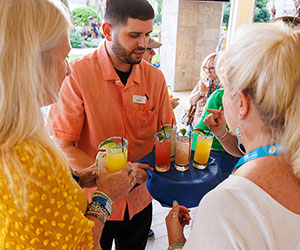 Photos: Aaron Lockwood
Seaside retailers also enjoyed learning about what's trending with social media in the "It's Your Time to Shine Online!" session, featuring Crystal Vilkaitis, owner of
Crystal Media
. Although ever-changing trends on social media might be intimidating to embrace amid a busy workday, Vilkaitis outlined some simple tips for retailers to increase their consistency on social media.
Coastal Connections Conference educational sessions concluded Monday, Oct. 24, with an informative session on "Visual Merchandising Tips and Tricks" with Michael Hale, owner of RetailREHAB. He shared some actionable takeaways for retailers on how to improve their displays.
Seaside Retailer also recognized its 2023 Starfish Award winners during the event. One of the winners, Scott Hamblen of Sunshine Ace Hardware in Bonita Springs, Florida, offered a quick presentation and shared how and why his store jumped into action to give back to employees and community members in the aftermath of Hurricane Ian last year.
The event also gave seaside retailers opportunities to connect and network with 30 top name beach, coastal and nautical brands. The Boardwalk Chat session gave vendors an opportunity to individually introduce themselves and share information on their product and trends with attendees in advance of the Boardwalk shopping event. Coastal Connections Conference concluded Oct. 24 with The Boardwalk, a buying experience with a fun and laid-back vibe. Attendees also enjoyed plenty of fun networking throughout the conference during breakfasts, a lunch and cocktail hours, featuring live music.
A welcome bag, featuring products from leading beach, coastal and nautical brands was also part of the experience for attendees.
Retailers and vendors alike appreciated that the event gave them valuable resources to improve their businesses as well as time to network one-on-one with each other. Retailers noted that they don't often get enough time for educational experiences at other trade shows and events.
"It's so different from other events that I attend around the country," said Kim Springsteen-Abbott, owner of Lady Gryphon's Coastal Collection Shop in Tarpon Springs, Florida. "This, you really care about the retailer and want us to grow through education. I think that's a value not offered for us elsewhere."
Joey Catrambone of Wildwood, New Jersey-based Bags by Bruno was a vendor at the event and said he liked the event's combination of education and buying. He said, "You learn a bit and have fun along the way, so it feels like work and vacation at the same time."