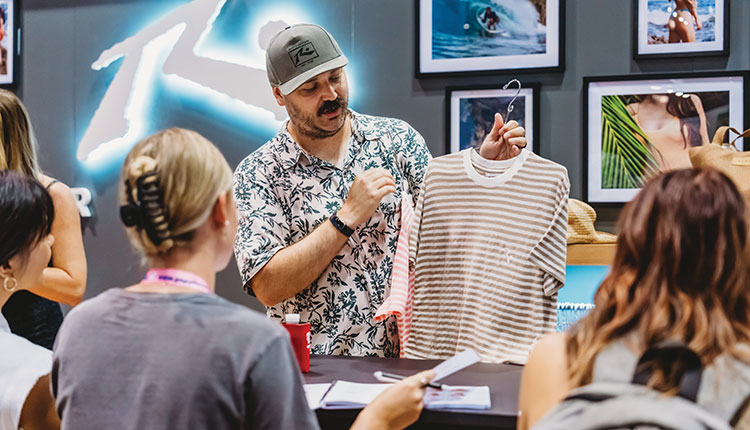 Surf Expo, the premier watersports and coastal lifestyle trade show, wrapped up its summer show at the Orange County Convention Center in Orlando, Sept. 7-9. With more than 730 exhibiting brands participating, the event served as the industry launchpad for retailers to discover new and innovative product lines breaking for summer 2024 and beyond.
"Our summer show was a resounding success with solid attendance from both buyers and exhibitors," says Roy Turner, Emerald senior vice president and Surf Expo show director. "Our preregistration numbers were up from last year with on-site attendance in line with 2022. The show floor was steady with activity from qualified buyers. Buyers were eager to see the latest products and trends, and exhibitors were happy to connect with customers."
Surf Expo continues to evolve its product assortment spanning from surfboards and wetsuits to paddleboards and kayaks. There were also exhibits on surf apparel, swimwear, footwear, coastal gifts, beachwear, gifts and accessories, as well as technical apparel, gear and accessories extending into fishing, camping and hiking.
The Friday before the event, Authentic Brands Group completed the purchase of Quiksilver, Billabong, Roxy, RVCA, DC Shoes, Element, VonZipper, Honolua and Boardriders. Turner calls it "probably the biggest change that has happened in the brand side of the surf industry in 40 years."
"That happened on Friday and then on Wednesday representatives from all of the new brands were all at Surf Expo," says Turner. It was amazing from an attendee perspective, according to Turner because retailers were able to "shake hands and have conversations with probably 70% of their open-to-buy in the surf business."
The show continues to be a driving platform for buyers and brands to connect in person, create exclusive collaborations and collections, learn about new products and trends and do business.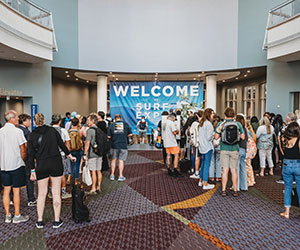 Turner says that the industry is coming off of an over-inventory and high inflation situation. "I think a little bit of what we saw at the show was definitely an effect from that over-inventory situation and discounting that is happening in the retail marketplace right now, but what I've heard is that everyone feels like the situation will even out by the end of Q3 or Q4 of this year."
Since those issues are expected to be left behind in 2023, show attendees, primarily focused on buying for Spring 2024 and later, had a positive look ahead into next year with "everybody assuming the inventory situation will get taken care of over the next couple of months," according to Turner.
"I continue to come to Surf Expo because there are always so many brands to see," says attendee Laurel Jones, owner, Swimwear Solution, Kansas City, Missouri. "I appreciate being able to discover new brands and experiment with new styles."
"Surf Expo reminds us why we love what we do, and that the outdoor/surf industry is one of the best in the world," says exhibitor Reese O'Toole, founder, Joycoast. "I authentically enjoy networking and showcasing our sustainable product designs to our retail partners here, and it is always a blast!"
"When I tell you the show could not have been any better, I'm not kidding," adds Laci Hewett, CEO, Saltwater Boys Co. "We connected with some industry giants that we look forward to collaborating with on future projects, and we also wrote orders with luxury resorts and boutiques that we only dreamed we could grace their doors."
According to Turner, the cruise lines were actively buying again as well as buyers in the Caribbean. A hurricane that went through the Gulf of Mexico a week before Surf Expo did affect attendance from northern Florida over to Alabama.
And those who did come got to see more than 175 new vendors.
"There seems to be a lot of entrepreneurial reinvigoration in the marketplace again on both the surfboard sports and resort side," says Turner. While longtime vendors reported successful shows, turner noted that Surf is also about "finding new products that can differentiate a retailer and put the specialty back in specialty retail."
To add to the excitement on the show floor, Surf Expo announced its inaugural Surf Expo Awards, a new awards program to honor product excellence in the watersports and coastal lifestyle industries.
"There are so many brands creating great products in our industry, we wanted to celebrate and recognize their achievements," adds Turner.
Brands will have until Nov. 17 to submit nominations. Winners will be selected by a judging panel consisting of experienced industry executives and the Surf Expo staff. Finalists will be announced Dec. 15, and the winners will be revealed during the January 2024 event.
Surf Expo featured a full schedule of events to keep attendees busy, including learning labs presented by Board Retailers Association, fashion shows and happy hours.
The show was also a time for the industry to come together to help those affected by the recent wildfires in Maui. Instead of selling a typical commemorative T-shirt, this year Surf Expo, with help from Lancaster Logistics and Katin, sold a shirt for Maui with 100% of the proceeds going toward the Maui Sports Foundation.
"We have a large contingency from Hawaii both in the wholesale and the retail level," notes Turner.
Surf Expo will return Jan. 10-12, 2024, to the Orange County Convention Center's West Concourse.