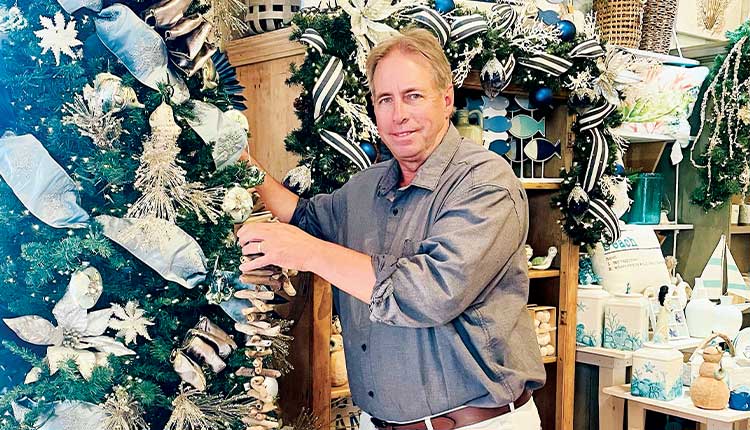 Photos: The Christmas Shop and general store staff and Neil GT Photography
Holidays are personal. That's why inscribing ornaments and keepsakes with names, dates and milestones is a beach vacation tradition for customers who visit The Christmas Shop and General Store in Manteo, North Carolina.
"Personalization is our bread and butter," says owner Gary Chatnik, who operates five year-round Christmas shops and several seasonal popups in shopping malls during the holidays along with his wife Vicki. "People come in year after year to get an ornament with their family name and vacation date, and it helps them remember their trips."
The wide array of ornaments are keepsakes and great gift toppers, Chatnik says. Pair an ornament with a gift card and you've got a ready-made present.
The Christmas Shop is also known for lavishly decorating coastal Christmas themed trees that inspire guests to recreate a rendition of their own at home. All the "dressings" are in store for customers to deck out a beach-inspired tree from top to bottom.
"There are so many aspects to coastal Christmas," Chatnik says. "It's a fun theme to go with because there are so many ways to incorporate shells, color, ribbon and garlands."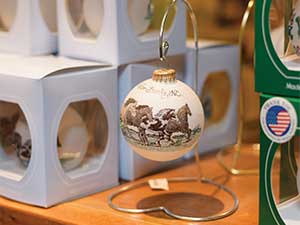 Longtime manager Pat Lassen agrees that the personalization is a big seller, but another aspect to the success of the store, according to her, is the friendly staff.

"You can't beat our customer service. We have the friendliest staff on the Outer Banks," says Lassen, who's spent the last 27 years making customers smile. "You know, we don't go through a whole lot of workers. We have people that have been here for years. It's just a lot of fun."
Seaside themes
When imagining a coastal Christmas tree, Chatnik sometimes starts with a location — the Outer Banks, for example. "What do you associate with the area?" he asks, guiding customers toward nautical blues and reds, silvers and some marina-style striped accents.
"There is a tropical coastal theme that is more Florida with bright colors in greens, blues and pinks, flamingos and beachy tiki huts," he describes. "This comes together in a fun, playful way, or the tree can have an elegant look if you incorporate ornaments and ribbons in those colors."
A neutral coastal tree will carry you through the holidays and months beyond if you choose. And many customers like to keep Christmas alive after the New Year because the lights and decor add brightness to winter days.
"A neutral theme includes silvers, golds and seashells," Chatnik says of a look that is "not in-your-face colorful" and quite elegant.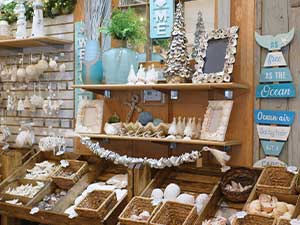 Overall, Chatnik says of coastal Christmas, "It's not just the red, green and white. It's pinks, blues, silvers, golds and it lends itself to creativity."

'Tis always the season to be dreaming up the next best Christmas tree for the Chatniks, who took over the Manteo location from Edward Greene, the shop's longtime owner. Greene opened it in the early 1970s. Because the Chatniks already owned stores up and down the coast, "this was not a huge leap," he explains. "And we wanted to keep the legacy going."
Indeed, The Christmas Shop is more than a store. It's an experience with 25,000 square feet of ornaments, decor, gifts, locally made candy, gourmet foods, wine, jewelry and regional artwork for customers to explore.
Inside, you'll find wreaths, accent pieces, tabletop items, handbags, accessories and a boatload of OBX name-drop apparel and products. "We run the gamut," Chatnik says. Customers can trim their trees, take home souvenir holiday decor and shop for friends and family.
Popular coastal-themed ornaments include sea turtles, jellyfish, sharks, Santas and Nutcrackers, according to Lassen.
Also popular are dog and cat products, Chatnik notes. Those include ornaments, of course, along with frames, pillows, socks, decorative signage, hats, mugs, blankets and more.
As for the shop's presentation, the Christmas trees anchor displays and allow customers to shop by theme: coastal, North Pole, Grinch, vintage, silver and gold, black and white, winter blues, cardinal and more.
"Christmas is by far the best seller, followed by general store items," Chatnik notes.
Sip and stuff stockings
There's much more in store at The Christmas Shop, with a robust selection of penny candies, fudge, coffee, dips, sauces and other pantry delights that are mostly local and make great gifts or extras for under the tree.
"It's great for kids who might not want to shop," Chatnik says of the family-friendly environment. "A parent can help them pick out some fun candies and other treats."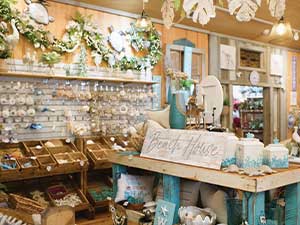 There's a festive spirit for adults, too, with the addition of an expansive wine section, where daily tastings take place.

"We had this space in the general store we didn't know what to do with, so we were inspired by a shop in Florida that added a wine department and just loved the idea," he says. "It's something we will grow. People can keep returning to try different wines, and we don't sell it online, but we are happy to ship or hold for pickup."
"There are so many aspects to coastal Christmas, and it's a fun theme to go with because there are so many ways to incorporate shells, color, ribbon and garlands." — Gary Chatnik
Many of the wines are sourced from North Carolina, and there are Christmas-themed adult beverages, too.
One of the best sellers is a German mulled sweet wine that is served warm. "Even in the summer, it blows out of here," Chatnik says. "It's a popular gift and something nice to keep at home for the holiday."
The general store has a gifty vibe, but it's also convenient for vacationers who might want to pick up something to nosh or sip on after enjoying the beach. For the shop, it's a growing avenue to expand the demographic to locals, too.
Overall, Chatnik says, "People love to come in, shop and get ideas for throughout the year, and many of them follow the posts we put out on social media for inspiration."