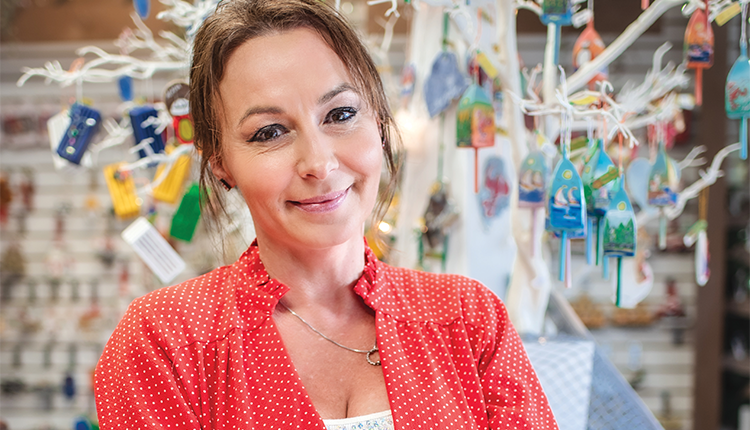 Photo: Brittany Atwater
The ritual of unearthing Christmas tree ornaments from storage and finding just the right branch where one can dangle, sharing stories and "remember whens" with family all the while, was inspiration for The Christmas Vacation Shop in Bar Harbor, Maine.
"These gifts are memories that reflect a moment in time, an experience, family, joy — that is the driving force of the ornaments," says owner Ellie Oczkowski, who is often found creating the items in the shop.
As a coastal Christmas tradition, Oczkowski celebrates Bar Harbor and nearby Acadia National Park, along with scenic attractions like Cadillac Mountain, Thunder Hole, Sand Beach, Jordan Pond, Bass Harbor Lighthouse and the blueberries that flourish along the coast.
"Because we are in Bar Harbor, lobsters are incredibly popular as are blueberry-themed ornaments and products, along with anything shells and driftwood," she says.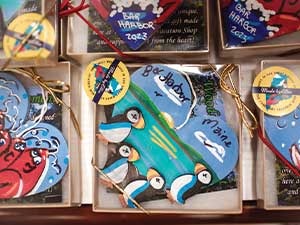 Ultimately, the shop's purpose is to provide unique finds and holiday decor so guests can celebrate their beachside visit. Personalization is paramount for some customers and is available for any ornament, as is the one-of-a-kind aspect of the Christmas ornaments Oczkowski makes and curates for her 150 Main Street boutique.

"Everything I carry is souvenir driven, but the focus is always leaning toward coastal Christmas, Maine, New England and Bar Harbor," she says. "We tie in Christmas with vacationland."
Handmade and one of a kind
Craftsmanship and connection to the locale are running themes that inspire Oczkowski's artwork and the products she sources from other artisan vendors and suppliers.
"My designs are also driven by what customers are asking for, and as the owner, I can test small batches of new items I make every day and see what folks like," she says. "Listening to customers is the No. 1 reason any of my products are in the store."
Also, Oczkowski is committed to supporting local "women self-starters," seeking out entrepreneurial spirits who appreciate collaboration and community. "This is how we offer unique items that are not found in other locations and stores in Bar Harbor," she says, reiterating a remark she hears often from guests who shop the store. "I love the collaboration that goes into stocking the store and all of the creativity."
The byproduct of local ingenuity is a one-of-a-kind experience. No two ornaments, even of the same design, are exactly alike.
And because the shopper demographic is all over the board — children, families, couples, young, old and in between — the inventory is a reflection of who's perusing displays. "It's widespread," Oczkowski says.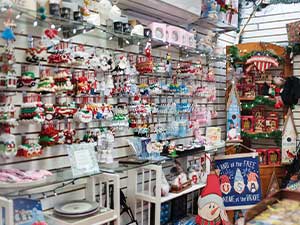 The shop's bestselling lobster claw ornaments are an example. Kids might reach for the Santa Clause "Claws" ornament with the jolly old elf's face painted on the crusher claw and the hat on the pincher. Mom might want the snowman version with an ocean blue background.

No matter what, it's completely individualized. Oczkowski says, "They are all slightly different."
Decking displays
Rather than resorting to efficient yet standard grid-and-slat wall displays, Oczkowski themes every display based on the ornaments. Yes, she uses the slat wall in parts of the store along with table displays and furniture pieces. But she adds a customized feel to the grid areas by organizing similar ornaments together, such as lobsters, shells and ceramic ornaments with blueberry motifs.
Then, you've got Bar Harbor buoy designs and Acadia National Park naturescape ornaments — all popular grabs from the racks.
"It's humbling. We hear so many folks tell us, 'We put these on our tree every year, and we come back every year to get a new one.' It means a lot to me." — Ellie Oczkowski

Painted glass ball ornaments depicting detailed scenes are another collection at The Christmas Vacation Shop. Mural-esque designs illustrate lighthouses, puffins, loons, Eagle Lake, Cadillac Mountain and other park destinations.
Aside from tree decor, the shop is a treasure trove of gifts, such as jewelry crafted from sea glass and beach finds like a crushed lobster mussel blue clam abalone shell jewelry pendant. It's as if you gathered a smattering of these quintessential coastal elements in your palm and sprinkled them like confetti into a bold, round bauble.
A section of wood gifts combines ornaments both painted and some with jig-sawed voids in the shapes of a Maine moose or, of course, the ever-popular lobster. Wooden buoys and slender tree trunk cross-sections bearing rings and subtle painted designs are also originals that shoppers take home to deck their halls and remember their times in Maine.
As for the No. 1 selling products? Oczkowski says, "It's the ones I create."
Vacationers return year after year to collect another special piece from her business, which started 20 years ago and has amassed a following. Just ask Tripadvisor.
It's not just the ornaments that evoke memories and become family keepsakes. It's the relationships guests form with Oczkowski as they scavenge the kitschy New England beach store for something that suits them just right.
"It's humbling," Oczkowski says. "We hear so many folks tell us, 'We put these on our tree every year, and we come back every year to get a new one.' It means a lot to me."