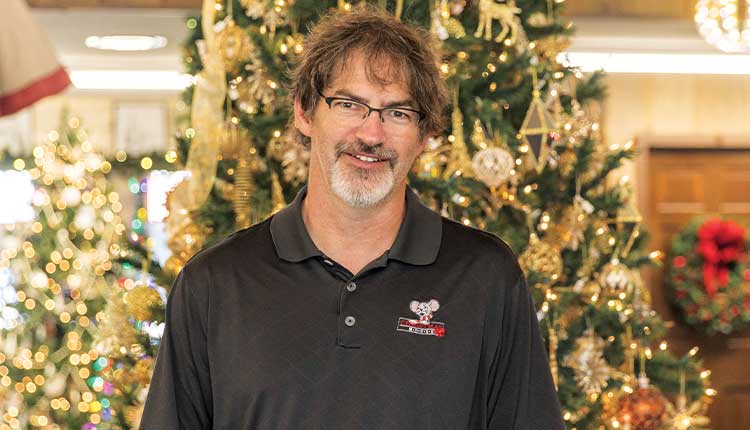 Photos: Elizabeth Collado
Specialty ornaments are the calling card at Christmas Mouse, comprising about 80% of sales — and there are 33,000 items in rotation on shelves in the nine shops owner Rob Marshall operates along the eastern seaboard.
"When folks are on vacation, they want to take home a memory of their adventures, whether that's hang gliding off Jockey's Ridge in the Outer Banks or finding ornaments based on their interests," Marshall says.
Ballet, soccer, alma maters, pop culture, camping, jingle bells, you name it. Naturally, there's a strong focus on nautical holiday themes, from lighthouses and mermaids to name-drop mementos. Themed trees, up to 50 of them depending on the store, are dressed to the nines with ornaments, tinsel, lights and other accessories for sale.
"You're basically walking through a forest of trees and lights," Marshall describes.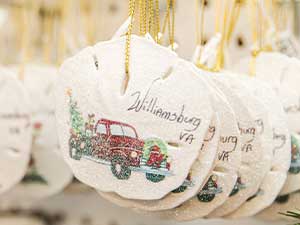 He's sure to set the mood for winter wonderland shopping, even if it's a blazing 90 degrees out on the beaches. When guests enter Christmas Mouse, they are transported to a holiday haven.
"We have Christmas musing playing and cinnamon brooms throughout, so you feel the warm, inviting atmosphere," he says.
Hospitality is always in season
Holiday spirit carries on to the customer service approach at Christmas Mouse. It's back to the Golden Rule, "and we remind our associates the most important thing is to just treat people as you would want to be treated," Marshall says. "It's easy to lose sight of just being kind and having someone say hello to you. We want people to come in and feel welcomed."
The way ornaments and holiday goods are presented is also designed for a hospitable and smooth shopping experience, as well. The decked-out trees are the basis for displays with peg boards flanking those that hold similar-themed items.

"We start with a tree, then a peg board, blend that into another tree and another peg board, and it flows this way all the way around the store," Marshall explains.
This setup creates a traffic pattern, which is important during the stores' busy seasons in summer and through the end of the year, with "November and December also very strong," Marshall says. This is because more local customers are finding Christmas Mouse during off tourist seasons.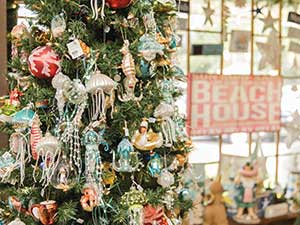 "More recently in places like Myrtle Beach, where there is a bigger retirement community and a lot of construction 20 to 30 miles beyond the beach, we are seeing a lot more regional traffic," he says.
Of course, Christmas Mouse does cater to tourists — but the locals and visitors buy different types of holiday products. While lighted products like glitter water lanterns, resin trees and Santas are trending, those aren't as easy to pack and take home as ornaments.
"We used to be more seasonal with our buying, but a couple of years ago, I said, 'If it's a good item and a vendor has it, then we need to have it.' That has changed our buying patterns and warehousing." — Rob Marshall

But aside from those, other simple grab-and-go-home items that are easy to flat pack include wreaths, hand towels, lit canvases, stockings, Christmas cards and calendars.
Christmas Mouse also stocks collectibles for guests, such as Byers' Choice Caroler figurines, playful Jim Shore figurines and Possible Dreams Clothtique Santas in a variety of poses — including with Frosty the Snowman or petting a Labrador with a stocking in its mouth.

Stocking up
Marshall stocks up for the year at the Atlanta Market, and he says his buying preference is "not really trend oriented."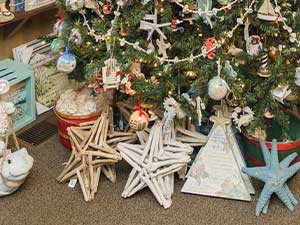 "We maintain a large selection of coastal and tailor products based on the store location," he says.
Christmas Mouse has three shops in the Outer Banks in North Carolina with a mall popup; locations in Duck and Nags Head, North Carolina; a North Myrtle Beach, South Carolina, store; an outpost in Pawleys Island, Virginia; a Virginia Beach, Virginia, boutique; and two souvenir destinations in Williamsburg, Virginia, including the headquarters with storage for inventory.
"The store manager directs how trees are decorated, so in Pawleys Island we had a turtle tree at the door and she used colors with blues and greens — it was pretty and a bit different," Marshall shares.
Most of all, Marshall wants to be sure there are ornament options that suit every age and stage in life, an assortment of hobbies and alma maters, along with celebration moments like Baby's First or anniversaries.
This year alone, he bought 9,100 different items to sell across his stores. Stocking up has been key since the pandemic, he points out. "We used to be more seasonal with our buying, but a couple of years ago, I said, 'If it's a good item and a vendor has it, then we need to have it.' That has changed our buying patterns and warehousing."
Before, Marshall typically maintained an inventory of about 3,000 items in the Williamsburg warehouse. Now, there are 5,100 items in storage so he can be sure shelves are full.

See it, like it, buy it is the way he approaches acquiring inventory. Because if you don't have it, you can't sell it.
And people are thinking Christmas even at the beach, he adds. Among surf shops and souvenir shacks, customers find the holiday vibe to be an inviting change of pace. Marshall says, "Our stores are an annual stop for many beachgoers."