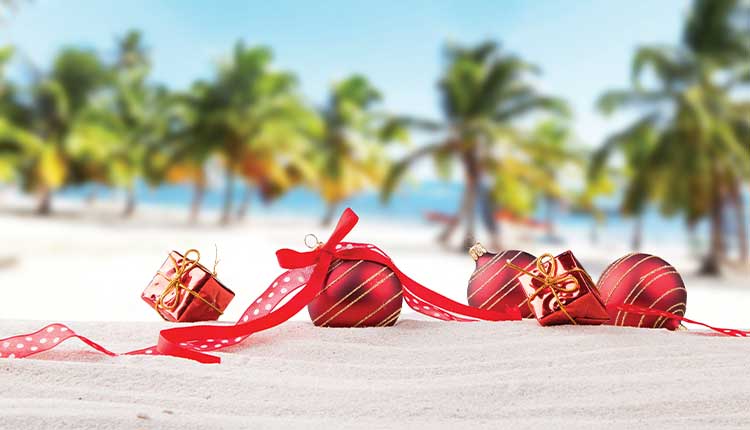 The winter holidays may be months away, but souvenir-seeking customers on vacation are only in your store once a year, and they are thinking ahead. You can capture their attention with a holiday display and offerings that will have them thinking about both good tidings and good tides.
"Carry Christmas ornaments all year long. Keep your store well stocked during the peak travel season, not just the holidays," advises Karen Sotomura, president, Joseph K. & Co., a wholesaler of souvenir Christmas ornaments. "Most people will not be buying the ornaments as a form of decoration, they will buy it as a keepsake of their vacation in your town, resort, no matter what time of year they are visiting."
Sotomura notes that people are "spending well" on their vacations. Joseph K. has started carrying higher price point items. "I let the customer decide how much they want to spend and never assume they are looking for low-price point souvenirs only."
David Beaupre, CEO of Beacon Designs, a custom brass ornament maker, has also noticed quality is resonating with customers. "We are witnessing a trend toward higher-quality products that are made in America."
The company's 2023 ornament collection includes the Coastal Wreath Namedrop and the Beach Chair with Wreath Namedrop. "We strive to offer our customers a diverse selection and these new products were inspired by our top sellers," he says.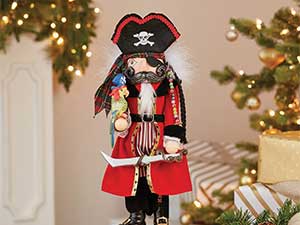 Dune Jewelry & Co. has also noticed higher-end holiday goods trending. "People are back to life again, and while our day-to-day habits have changed, we're showing up for important moments with significance," says Holly Daniels Christensen, founder and CEO. "I expect to see gifts with higher perceived value and sentiment, rather than gadgets and trinkets."
Dune is launching its 7th annual Snowflake Ornament for Christmas in July. "We have some serious collectors looking forward to the launch," she says. "A lot of people will get our Snowflakes customized with sand from their summer vacations with the beach name or date engraved on the back."
Nostalgic Noel
Cape Shore continues to see sea glass, driftwood, shells, and very natural looks trending with its coastal customers. "We have also seen a rise in the vintage/nostalgic look," says Tara Merrill, sales and marketing manager. "Whether it is resin or blown glass, customers are gravitating to that look. We have especially noticed this in our ornaments."
The company added a few nostalgic ornaments to its line, including Coastal Santa and Beachy Snowman "and they have quickly become top sellers," says Merrill. "Customers love their sophisticated, vintage look." In 2024, the company will be adding Coastal Angel and Shell Turtle as well as Mermaid on Rock.
Merrill recommends offering customers a variety of choices, including balls, resin and metal ornaments. They can be displayed on a tree if there is space or just adding a string of lights or a bit of garland can help attract customers. "It really draws customers in," she says.
Kurt S. Adler has added new styles of mini pirate characters, jellyfish, turtles and flamingos to its ornament lineup.
"There are also new sand sculpture ornaments, a glass beach house, colorful mermaids and nautical boats," says Michael Adler, account executive. "The coastal colors are a lot of corals, blues and sand colors."
The company is also seeing trends in larger decorative table pieces with its Fabriche Santas, nutcrackers and gingerbread beach house, which all come in beach, coastal and nautical stylings.
"Consumers are making holiday purchases earlier than ever before. Hosting a Christmas in July event featuring your new Christmas items is a fun way to launch those Holiday items." — Abbey Grooters, Sincere Surroundings

Fancy That Gift & Decor is noticing a similar trend. "Our customers are responding to our larger-scaled pieces," says Carmen Mendelson, president. "There are lots of choices when shopping for ornaments, but larger, door greeter or tabletop statement pieces are more limited."
This year Fancy That expanded its coastal tree skirt, stocking and pillow offerings. "It's a good category for us and there is not enough variety currently in the market," notes Mendelson.
Beyond red and green
According to Abbey Grooters, marketing director of wooden home decor and gift wholesaler, Sincere Surroundings, Christmas no longer encompasses the traditional red and green that most of us grew up with.
"Our coastal holiday collection is filled with unexpected pops of color creating the perfect blend of shoreside hues and the nostalgic colors of Christmas," she says. "Everyone loves bright color, cute turtles and humor. You'll find these themes throughout our Nautical Holiday Collection."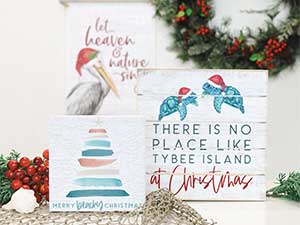 She says it's never too early to stock up on holiday products. "Consumers are making holiday purchases earlier than ever before. Hosting a Christmas in July event featuring your new Christmas items is a fun way to launch those Holiday items and test what products consumers are resonating with."
Caloosa WaterWear Founder Rebecca Fordham says her brand is known for its coastal and holiday designs. "The color blue is very important for holiday 2023 in general and it complements coastal retailers even more," she says. "Baubles and orbs are trending for holiday this year, as well as anything nostalgic."
One of Fordham's goals when she started Caloosa WaterWear was to create what she describes as the "Florida Ugly Christmas Sweater." Customers come back each year to refresh their holiday look, she says. "This year, we've designed an anchor wrapped in Christmas lights as a nod toward the bauble and orb trend."
She sees old glass buoys emerging for coastal regions. "Think of selling them as ornaments for trees, or stack them into the shape of a tree," she says. "Also look for nautical icons wrapped in vintage Christmas lights. Consider a citrus and fig pattern for this holiday season and beyond. These fruits are symbolic of prosperity and work especially well in the southern regions."
"We have also seen a rise in the vintage/nostalgic look. Whether it is resin or blown glass, customers are gravitating to that look. We have especially noticed this in our ornaments." — Tara Merrill, Cape Shore
Pumpernickel Press, which makes unique sculptured embossed greeting cards, has seen a slight shift in its coastal Christmas designs. "These days, we're seeing interest in designs we call 'transitional' — classic styles, but with a contemporary twist," says owner Bob Harju. "Clean lines and patterns, but still retaining many familiar elements that evoke a particularly nautical sense of nostalgia."
Popular color palettes for the company currently include soft neutral tones, along with warm accents like teal and gold, says Harju. Newer introductions include Sea Shell Menagerie, Joyful Seashell Wreath, Nautical Christmas and Coastal Tree.
Harju's biggest piece of advice to retailers is, "Variety is key!" He says, "Even within a single design genre, you will still find a wide range of diverse customer interests, backgrounds and tastes. Offering a range of artwork, styles, and color schemes to appeal to a broad audience base is more vital than many retailers realize."
Customize
Customization should not be overlooked, and Impulse Souvenirs' sales manager, James Melley says, "Custom ornaments, from embroidered to wood, can always capture a destination's memories with unique art." He adds, "Ornaments continue to be a major year-round collectible. Sea life, Santa in a coastal theme and tropical designs are always a big hit."
Adler suggests having someone with nice handwriting on staff who can personalize items in the store for customers. "Families, loved ones and friends love the in-store personalization experience to gift one another."
In addition to ordering ornaments with the destination name-dropped, Sotomura suggests having the year printed on ornaments that you buy early in the season. "People want to remember the year they vacationed in the area."
"Christmas ornaments with a name drop are important year-round," notes Fordham. "This year, consider bringing in stockings and other items that can become collectible as well. Also look for items that can live longer than the holiday time frame. Plaids and fruit patterns can work into general winter and not be so overly holiday."
At Old World Christmas, "capturing a person's memories so that they can memorialize them on their tree or throughout their home is our main goal," according to Neal Applefeld, president and CEO. "This year we have everything from Santa sunning himself to a seahorse to a beach bag and beach house – all great reminders of activities throughout the year."
He also reminds people that ornaments can serve more than one purpose. "Ornaments are not just for hanging on the Christmas tree. People are getting really creative in how they display ornaments. We see ornaments put in wreaths, used as gift tags, displayed on mantels under cloches — the creativity is endless. We're also seeing ornaments sold year-round for decorating homes and for putting away as holiday gifts."
He concludes by saying, "Don't underestimate the sentimental value and happiness an ornament can bring." And when it features a customer's favorite beach location, or sea animal or icon, those feelings become even more special.