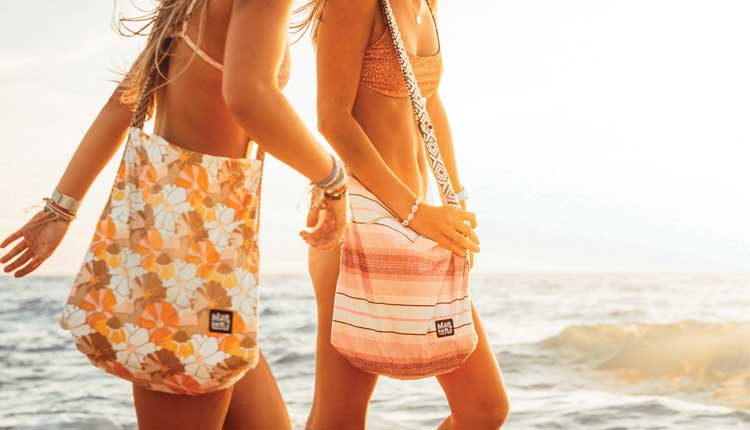 If there is one thing most everyone needs when they go to the beach it is a bag. Whether your customer is hanging with her bestie, sunning with his significant other or building sandcastles with the kiddos, there has to be a way to get all your belongings to the beach and keep them safe and sand free while they are there.
And the beach bags available on the market not only do those things, they also offer stylish selections that suit a variety of preferences. Customers even have the opportunity to support environmental causes and artisans with their purchases.
As a seaside retailer you can be ready to meet all your customers' must-have beach bag features with a variety of selections in your store.
Jourdain Foster, sales manager for Simply Southern, says her advice to retailers is to focus on creating stylish and multifunctional options.
"Consider the needs of your tourist customers who may only visit once a year and are looking to invest in a bag that they can use in multiple ways," she says. "Instead of simply merchandising it as a beach tote, promote it as a versatile and multi-use tote that can be used beyond just a day at the beach."
Foster says Simply Southern's beach bags are always in high demand, especially Calabash and Key Largo Totes, which have become this season's new bestsellers.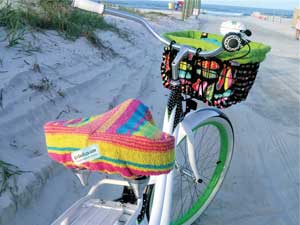 "These woven bags are perfect for coastal customers and offer a unique and stylish option," she says.
Simply Southern offers a wide range of beach bags with various sizes, durability, and sand-free/easy cleanup options, according to Foster. "We also strive to make our bags multifunctional and easily styled, allowing them to be used not just as beach totes, but also as grocery bags, picnic bags and everyday totes."
She says woven beach bags have become increasingly popular, featuring intricate woven details that blend three to five different colors. They have a solid metal logo at the top, and a pompom tassel detail on the handle. The Key Largo Tote offers a more structured design, while the Calabash Tote provides a flexible style, Foster explains. Size variations are also available.
Isn't it ironic?
For the Gen Z and millennial generations, the "Ironic Boat and Tote" is trending, according to Rebecca Fordham of Caloosa WaterWear. "This trend was started by Gracie Weiner taking the iconic L.L. Bean boat tote and embroidering ironic sayings on it," she says.
But that is not the only trend she is seeing. "I'm finding that customers want a lot of features in a beach bag. I get asked often for a large bag that has a top zipper closure and a pocket on the inside."
Caloosa WaterWear has versions of the ironic tote that customers can customize with their own sayings. It's 100% coated polyester, has a zippered top closure and interior and exterior pockets. The straps come in various color options.
Fordham also has a more sophisticated beach tote that is made of a heavy-duty polycotton canvas weave that has the look of linen. "It has an open top and comes printed on both sides," she says.
Double and triple duty
Gypsea Blue's bestseller is by far the Basket Liner beach bag. Owner and Designer Cheri Gardner describes it as "a basket liner for your bike that also doubles as a huge beach bag and can easily handle all of your stuff."
She adds, "It's handmade in Florida, machine washable and fits most any front bike basket too." The bags are made using cotton and beach towel materials, and they are easy to grab and go, according to Gardner. And that's not all: "There is a clip for your keys, a handy inside pocket and super fun tropical prints," she says.
Multipurpose bags are a definite trend that Gardner is seeing more of. She notes that the Basket Liner beach bag can also be used on your bike for trips to the market, lunch "or just about anywhere."
She advises seaside retailers to look for unique, handmade, small batch and American made products when sourcing beach bags. "We think this is what resonates with our customers most often, and we love to hear people appreciate a good quality made product that you can't buy in every big chain store around," she says.
Malibu Beach Gear is a new generation outdoor sports bag. "Other beach bags are one-dimensional. You end up buying a beach bag, a cooler, a pillow, towel clips and carrying your towels and blankets separately," says owner Robert Dowell. Not with this bag. The Personal Cooler tote bag has a built in 12-pack cooler, a pillow that unzips from the bag with towel straps, towel clips and a separate water-resistant pocket for valuables — "all in one and easy to carry for your fun day at the beach or at the pool."
It is appropriately marketed with the tagline, "One bag. Many adventures."
Buying all those accessories separately also adds up, according to Dowell. "People are looking for something new and exciting. Not the same old things — to get the most bang for the buck."
Staying stylish and dry
Marloru's splash-friendly bags take you from the beach to the street, notes the company's owner and designer, Christina King. "Your bag gets wet, your stuff stays dry. Functional for the boat, beach or pool, but so stylish you'll want to use it everyday," she describes.
The super soft material the bags are made of easily wipes away clean, making it your perfect go-to bag, she adds. The company's best-sellers are the Sunday and Twofer bags.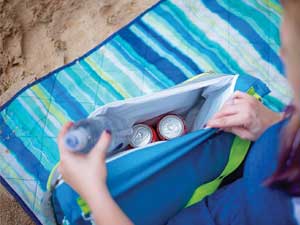 "All the girls are wearing sling bags which is why our Twofers are so popular," says King. "Our smaller Twofer bags have belt loops on the back so it's a cosmetic bag or a sling bag — two-for-one. Our bags are durable but lightweight which makes them popular with locals but also the perfect souvenir for tourists. The sling trend is so hot right now. Our Twofer Bags and crossbody Sunday Bags have been so hard to keep in stock."
The Original Bogg Bag has been a popular beach tote ever since founder Kim Vaccarella came up with the design after a beach trip to New Jersey. The bag is described as "stylish enough for a girl's weekend and large enough for family day at the beach."
She describes the bags as durable, washable, tip-proof and sturdy. "Simply rinse off at the end of the day and it's as good as new again, ready for the next adventure."
Vaccarella says bright and colorful options are trending in 2023. "Turquoise and Haute Pink are our most popular colors," she says.
Toting sustainably
Retailers who want to cater to their environmentally conscious customers have no shortage of options when it comes to bags. Sustainability has been a cornerstone of the Sea Bags brand since it was founded in 1999. The Maine-based company has saved over 1.5 million pounds of sail cloth material from landfills.
Tara Knupp, vice president, merchandising and product development, says, "Sea Bags carefully selects and cuts sails, taking into account unique stitching details, grommet holes and occasionally, treasures like tell-tales. Each sail panel is completely unique. Every bag is as rugged as they come and each one is a little different than the next."
The company's large totes, specifically the Ogunquit Beach Tote, continue to be a best-selling style with seaside retailers, according to Knupp. Other top designs are decidedly nautical or beachy: Navy Anchor, Multicolor Nautilus, Octopus and the new Mulitcolor Sea Turtle. The Blue Stripe and Sunrise Stripe round out the top sellers, with the Beachcomber Bucket serving as a best-selling accessory to the Ogunquit Beach Tote.
Kasey Fitzgerald Handmade's sail cloth wallets, wristlets, crossbody bags, tote bags and recently launched fanny packs and sling bags are all made from reclaimed sails as well.
"All our bags are made in small batches, which allows us to customize them to meet your needs," says Owner/Designer Kasey Fitzgerald.
The company's most popular bag is the classic large tote, but the newly launched fanny pack line has been a big hit, according to Fitzgerald. She recommends retailers carry a variety.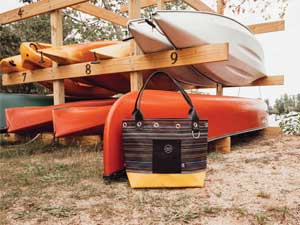 "A lot of shoppers enjoy carrying a large tote with a coordinating crossbody bag, wristlet or wallet. Having them all available allows shoppers to buy them as a set or to mix and match."
727 Sailbags is another company making quality products out of 100% recycled sailcloth. "Since 2005, in our workshop in Lorient, France, we've collected and recycled sails, each of which has their own story to be shared," says company spokesperson Audrey Le Goff.
"Customers are looking more and more for sustainable options as well as high-quality durable bags. They are willing to spend a little extra to invest in a beach bag that'll last them for years."
727 Sailbags is focusing on bright colors like pink and orange, which Le Goff says are popular beach bag colors.
Sails aren't the only recycled material that are used in beach bags. Rugged Seas makes its products from recycled fishermen's bibs. "That means the material is incredibly durable as well as waterproof," explains Owner Nikki Strout.
The company's Dry Clutches and Seaworthy Totes are bestsellers among coastal retailers. Strout has also been noticing that chart patterns and nautical themes are trending in 2023. "We actually offer our Gulf of Maine tote, which features a printed chart of the Gulf of Maine."
"Consumers want their beach bag to be easy to carry, easy to clean, and easy to store — so being foldable and packable is key." — Tara knupp, Sea Bags

Vaan & Co. is a company that focuses on bags that are made with leather and denim remnants. "The remnants are handpatched together to further make our products," explains Ajat (Jay) Dhawan, president. The company's Soul and Essence collections have been popular with shore stores, with totes and small crossbody bags leading in sales. One trend he is seeing in 2023 is "a lot of jute."
Meshing well
On the Road Again Founder Mary DiMauro's brand turns durable materials into handcrafted goods that are fashionably upcycled in the USA.
Bags are handcrafted from remnant mesh, fabrics and marine grade vinyl, making each item unique in its patterns and colorways. DiMauro's popular Raymond Tote Bags are made from upcycled post-industrial mesh from the trucking industry and seatbelt webbing handles.
"Durability, water resistance and mesh have been trending," she says, adding that customers like the easy-to-clean features. The mesh is also ideal for the beach, because the sand falls through.
JungleVine totes are also a mesh design that resembles a fishing net. "They are knotted at every junction so if it snags, the bag won't unravel," describes Amy McDowell, executive director, JungleVine Foundation.
The totes are handmade by indigenous Khmu artisans in Laos. They've used their tote bags for thousands of years to haul produce from the fields and forests around their villages.
"They handspin JungleVine fiber and create the pieces in their homes and villages, preserving their tribal culture. Their products never see the inside of a factory. Buying their handcrafted items supports indigenous artisans and uplifts entire villages," says McDowell.
McDowell is seeing more beachgoers prefer a crossbody strap and a tote "that stretches to hold everything from a big beach blanket to sunscreen and drinks."
When customers come into your beach shop, you can help them find a beach bag that checks all the boxes.
"The beach bag, now more than ever, serves different purposes: whether it's always packed and ready to go with towels, sunscreen, and toys; or it's the bag that travels from work to the weekend beach party, and back to work with a simple brush-off of sand," Sea Bags' Knupp explains. "Consumers want their beach bag to be easy to carry, easy to clean and easy to store — so being foldable and packable is key."