Rebuilding women's livesFor women escaping domestic violence, some of life's most important elements, such as housing, childcare and employment, are in a state of flux. But thanks to Pawley Island, South Carolina clothing and accessories store, Mimi Seabrook and its support of the local charity Family Justice Center, domestic violence victims are getting the help they need to rebuild their lives. Not only does the store donate a portion of its proceeds to the center, it also undertakes initiatives to make Mother's Day, the holidays and back to school a bit brighter for families facing what can seem to be insurmountable challenges.
Located in the small town between Charleston and Myrtle Beach, Owner Guilds Peace says the store's efforts to help in the community means "everything."
"We have a platform where we can help others," she says. "Of course we want to wear cute dresses and feel good about what we're wearing. But really, the main reason for us being here is to be the light of the Lord and give back to our community."
For justice, hope and solace
The Family Justice Center provides shelter, counseling, connections with victims' advocates and attorneys, help with continuing education and more to get women and their children back on their feet. "It is a full 360 to help the families," Peace describes.
"Any customer — they love to be involved, they love to help, and there's such a willingness to help. People want to give back, and I think it is genuine human kindness." — Guilds Peace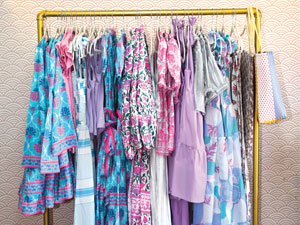 In April, Mimi Seabrook was working on providing Mother's Day gift baskets for 20 women. The baskets contained self-care gifts and devotional materials such as bibles. And the school year gets off to a smoother start with back-to-school backpacks and supplies provided by the business.
Customers can also grant wishes through the store's website using an Amazon wish list. For local customers, there is a holiday angel tree where customers can choose a tag with a gift request. Over the years the store's customers have gifted everything from bicycles and iPads to X-boxes and Legos to young people who might otherwise not receive any presents.
Giving and going forward
Moving forward, Peace is working on a program where other charities will benefit from the generosity of the Mimi Seabrook customers.
Starfish Awards recognize companies in our industry that are making a difference through charitable donations and efforts. Know of a company that is deserving of an award? Submit a nomination at www.seasideretailer.com/starfish-award.