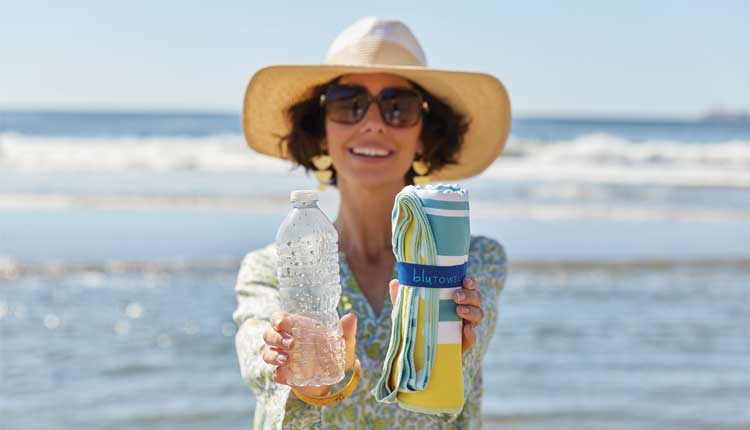 Whether it's the clothes they wear, the souvenirs they buy or the accessories they use, shoppers at seaside locations are becoming more conscious about the lasting impact their purchases are having on the environment.
"When I started this company over two decades ago, socially responsible manufacturing, eco-conscious fashion, and zero-waste ideologies were not a mainstream concept," explains Chris Anderson, founder of Nomadic State of Mind, a grassroots handmade sandal and accessories company based in Fayetteville, North Carolina. "Fashion has become more environmentally conscious, especially over the last eight years because consumers are more conscious about their purchasing — who makes it, where [it's made] and what it is made of."
In fact, according to a 2022 Sustainability and the Consumer Report from IRI, The NPD Group and the NYU Stern Center for Sustainable Business, sales of sustainably marketed products have grown 2.7 times faster than conventional products. The survey also says 93% of consumers have either increased their purchases of sustainable products or maintained their sustainable purchase habits over the past year.
"
Smart businesses are now focusing on sustainability and looking for ways to reduce their environmental impact," adds Amy Connelly, CEO and founder of Shaka Love, maker of fun and functional eco-friendly products and gifts based in Laguna Hills, California. "As more individuals become conscious of their global footprint and prioritize eco-friendly products, this market is only set to get bigger."
And seaside retailers are stocking their shelves with more eco-friendly options, proving that selling these products is not only a feel-good business idea, but a potentially lucrative one, too.
As Connelly says, "There's something for everyone looking to make more conscious choices."
Fashion first
The eco-friendly trend is taking over the fashion market with the movement of garments made from organic materials, vegan alternatives or by using sustainable production techniques.
And while "it's great that people are leaning that way, it will not be accepted if you don't make it fashionable and comfortable," points out Nick Nicolino, CEO of Blue Iguana Sustainable, maker of environmentally sustainable clothing and accessories. The Ybor City, Florida-based company's wood watches and wood sunglasses are made of responsibly harvested materials.
At Nomadic State of Mind, the "no scraps left behind" program uses organic cotton, hemp, upcycled sailcloth and reclaimed poly to make sandals, bags and rugs. This spring, the company is releasing a new purse and bag line with leftover scraps, as well as some retwisted, multiple color, filament sandals.

In many cases, a mission drives sustainable brands to make their products. For Bajio Sunglasses, protecting the world's saltwater flats, otherwise known as bajios in Spanish, inspired them to create sunglass frames made from bio-based nylon, which is stronger and lighter than plastic. The sunglass cases are made from sustainable cactus leather.
"For any brands in the outdoor retail space, it is almost a requirement to go eco," explains Andrew Piasecki, marketing and PR manager, Bajio Sunglasses, New Smyrna Beach, Florida. "With no mountains, rivers, oceans, forests, etc., the need for outdoor apparel, accessories and goods disappears. We must work together to protect the places we love."
Katie Shillinglaw agrees. After seeing trash wash up on the shores of a beautiful resort beach in Vietnam, the president and creative director of Rockflowerpaper in San Anselmo, California, was inspired to create the company's Blu line. Its Blu Threads beach tunics are made of recycled cotton. Millions of gallons of water are used to make traditional cotton, but recycled cotton uses scraps to reduce waste. Its Blu Towels are made from postconsumer recycled plastic and are thinner and more absorbent than terrycloth beach towels. Each towel is made from 10 recycled plastic bottles.
Beach goers will always need towels. Shaka Love's upcycled Turkish towel saves 3,000 gallons of water in production compared to traditional cotton towels and offers soft, quick-drying, lightweight absorbency. "Those are huge water savings that can have a major, positive impact on water scarcity and water preservation," Connelly explains, adding that the company's sustainable hats are made with recycled and organic materials that are lightweight and breathable for those warm beach days. The company also uses sustainable dyes in its products that are free from chemicals.
Kinder kitchenware
Everyone today is on the healthy lifestyle bandwagon, which includes drinking eight glasses of water a day. Those who like to reduce plastic waste are opting for reusable cups and straws instead of plastic water bottles.
Shaka Love's wine glasses are made from sand-based silicone, and they are unbreakable, foldable and compact — perfect for beach days. Partner the wine glasses with stainless steel, glass or biodegradable straws for a guilt-free indulgence. HAY! Straws makes plant-based drinking straws and stir sticks using wheat or reed stems and cutlery made from 100% bamboo.
"Our data shows that urban areas by the sea are more likely to shop for eco-friendly products," says Emma Gross, co-founder and COO of San Francisco, California-based HAY! Straws. This includes seaside cities in California, Oregon, New York and Florida. "A lot of customers are starting to use their money to support issues they care about, and the planet is a big one, especially for younger people."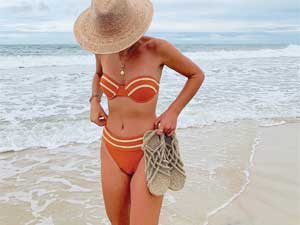 Rockflowerpaper's Blu Kitchen food storage covers are 100% cotton and can cover bowls and dishes or even a watermelon sliced in half to keep food fresh. Blu Kitchen also includes tea towels, dish cloths and cocktail napkins made from recycled plastic bottles. Blu Cloths include a line of reusable sponge cloths that are made of 70% cellulose and 30% cotton. They are 100% biodegradable and compostable, and their festive prints can spice up anyone's kitchen, Shillinglaw says.
And while your customers are cooking, they can set their phones in a baby sea turtle phone holder by #SaveUsFromPlastics made from plastic bottle caps, converting trash into a useful tool. Each phone holder saves marine sea animals from 40 plastic bottle lids.
Packaging for an impact
Not only are eco-friendly products trending at seaside retail locations, but so are the materials they are packaged in.
"More brands are exploring how they can reduce or eliminate plastic packaging and replace it with paper-based packaging," says Jessica Black, director of sales at Cincinnati, Ohio-based JBM Packaging, which makes recyclable paper packaging products. "In 2021, paper recycling rates were 68% — approximately four times the rate of plastic recycling," Black says.
"A lot of customers are starting to use their money to support issues they care about, and the planet is a big one, especially for younger people." — Emma Gross, HAY! Straws
And the National Association of Convenience Stores reports that 54% of respondents to a survey consider sustainable packaging when selecting a product.
For seaside retailers, considering the local environmental impact is also important, Black explains. "Plastic accounts for more than 85% of marine litter, with levels expected to triple by 2040," she says.
JBM's top-selling product is glassine, which can be used to make a bag, pouch or envelope. The newest launch is EcoView, a windowed, plastic-free package for small accessories, such as stickers, patches and jewelry.
Beyond Products
Many of the manufacturers showcasing eco-friendly products are also on a mission to support the core causes that have inspired them to create their products.
Bajio Sunglasses employees take part in beach cleanups and oyster and mangrove plantings. With every Blu purchase, rockflowerpaper donates to the Ocean Conservancy, and Shaka Love partners with the nonprofit organization One ATTA Time. For every upcycled Turkish towel purchased, the company provides a water filtration system to a needy family.
As Connelly says, "For seaside retailers, offering sustainable products helps attract more customers and increase sales while helping the environment."