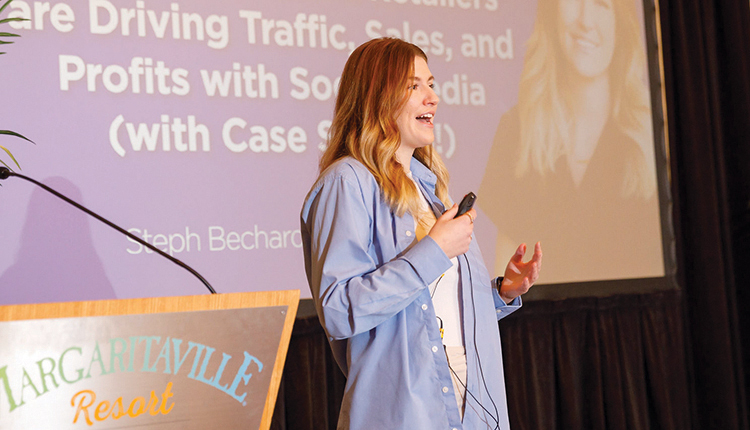 "Social media moves so fast: monthly, daily, weekly, things are changing," Crystal Media's Steph Bechard told attendees of the January 2023 Coastal Connections Conference during her presentation "Drive Traffic, Sales and Profits with Social Media."
The last session of the event served as a motivator for beach, coastal and nautical retailers to invest time, ideas and implement improvements to their store's social media platforms.
Bechard, who serves as brand and content manager for the retail-focused social media ads management and digital marketing company, said, "I hope you are able to write something down during this session that you can implement right away."
She encouraged retailers to play the long game when it comes to social media, and not to expect tremendous results overnight.
"The long game is the social selling mindset where you are committed to consistently showing up for your audience as a small business owner, building your community (versus just selling to them) and building your brand," she said.
She encouraged attendees to set SMART goals, which is an abbreviation for Specific, Achievable, Relevant and Timed.
Some examples of achievable goals she gave were to increase average purchase price by 10% by the end of 2023 or doing a weekly Facebook Live for weekly for three months to see how it performs.
She recommended sticking to your brand personality. Lean into those personality traits like using humor or being sweet, she said. She also suggested content pillars, which can be five things that your page consistently posts about. Colors and hues should also be consistent from post to post, she added.
"People should see your post and be able to recognize that it is your brand," she says.
Instagram Reels and Tik Tocks are a good way to increase following because they get free organic reach, versus just showing up for your existing followers. Posting video has never been easier as the social media apps allow you do create them right from their app on your phone. She noted that 92% of people access social media on their mobile devices so posting vertical videos is important.
From Q2 to Q3 2022, the potential audience for Facebook Reels grew by 50%. "In just three month's there's a 50% increase in people spending their time there," she said.
Posts that show a carousel of photos also get more views than a one-image post, she added.
Adding engagement stickers and polls to reels also helps with engagement. "It's easy to do and can also produce huge results for you," she said.
"I highly encourage you at least post a weekly reel on Instagram and Facebook."
She concluded by saying, "You have to be engaging to earn engagement." She explained, you have to have a personality and earn that engagement. Crystal Media sends out a social media tip every Monday called The Rise and Shine in its newsletter, which she encouraged attendees to sign up for.
The Coastal Connections Conference was held Jan. 22-24 at the Margaritaville Resort in Orlando, Florida. Dates for the next edition will be announced soon. Visit www.coastalconnectionsconference.com to learn more.