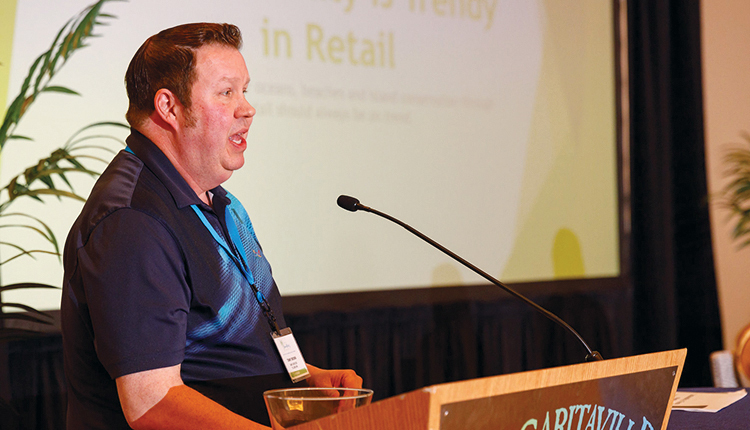 Understanding the latest beach, coastal and nautical merchandise trends is important for retailers who want to make sure they are carrying goods in their store that will resonate with shoppers. During the January 2023 Coastal Connection Conference, attendees heard from several speakers who follow trends and are in charge of buying for their organizations.
Opening up the session on Emerging Beach, Coastal and Nautical Product Trends, moderator Kristin Ely, editor of Seaside Retailer magazine shared some of the trends that the magazine has been following. She quoted Michael Schermerhorn, CEO of BeachBub USA: "Beachgoers are realizing there are higher quality products in the marketplace that make their day at the beach easier, more enjoyable and safer, and going into 2023 they will continue to seek these products out."
She also shared insight from Mary Watters of Beachables, who noted in a recent article, "No one wants a boring beach towel." People want bright colors and fun patterns, in high-performance light fabrics like Turkish cotton, sustainably manufactured. They also desire multifunctionality, as is found in the Beachables product, a beach towel that is wearable and also serves as a chair cover.
Other trends she highlighted were:
Comfy home decor. Beige and turquoise are still popular, but brighter accent colors like marigold and coral are starting to trend. The pandemic has had a lasting effect on home decor. People care more now about how comfortable and functional their homes are than how 'chichi' they look.
Drop that name. People like items with place names on them as souvenirs and to show town pride.
Turtles, turtles, turtles! Turtles are here to stay. They've become symbols of conservation. Besides, they're adorable and people love them!
Eco-friendliness. People not only want sustainable goods, they want to hear the story of how and why those items were created.
Casual day-to-evening apparel. Customers want versatile clothing that can be dressed up or down and are good for the beach as well as the beach bar later.
Jewelry. People still want ocean imagery and colors in their seaside jewelry, but we're seeing more vibrant colors and gold. They also want special packaging.
Locally made goods. Tourists want things made by local artisans.
Tommy Brown's presentation, Sustainability is Trending, highlighted several aspects of that concept. The retail manager and conservation buyer for the Saint Louis Zoo, stated, "Nearly 80% of U.S. consumers consider sustainability when making at least some purchases. That's why it's important to tell the story behind your eco-friendly goods through video, QR codes, social media or signs in your store(s)."
The trends-within-the-trend include:
Avoiding plastics. Offer cotton or reusable shopping bags such as the biodegradable ones from Ragbags. Put your logo on them. Consider souvenir items that are made of bioplastics like those from Kalan and Billco and goods from cause-driven brands like TerraCycle that removes at least one pound of trash from waterways for every one of their products sold.
Sustainable foods. People want food from brands that are making a difference by doing things like supporting pollinators.
Social responsibility: Customers want to support stores and brands that give back to the community and the world, like supporting women's empowerment by offering items like the Tuttle Bubbies, handmade by women in Ecuador.
Fair-traded and handcrafted goods. People want unique, handmade items from around the world made by artisans who are well-compensated for their labor.
Rochelle Lynn, divisional buyer for SSA Group, stressed how it's really important to use responsible sourcing in creating sustainable goods. She said that SSA recently released a line of sustainable plush toys made from 100% recycled materials. Since launching the Quest Toy line in 2017, close to 7 million single-use water bottles have been recycled.
The Monterrey Bay Aquarium, where SSA manages the gift store, was the first facility in the U.S. to eliminate all single-use plastics.
She showcased several companies that make these sort of goods, such as Marley's Monsters, a woman-owned business that provides sustainable solutions for every area of the home; Potting Shed Creations, a company that designs products using reclaimed objects and Fin Pin which offers ocean-themed products and has a give-back program to benefit wildlife conservation and scientific research were a few of them. (A Fin Pin was included in conference-goers goodie bags, a stainless steel, round badge that says "Healthy Oceans Need Sharks" in ocean blue letters.)
Companies SSA buys from like Betty Belts, Dune Jewelry Co., and Smartglass use sustainable sourcing practices to transform materials into beautiful accessories that incorporate natural elements. Wild Republic's Ecokins is a plush-toy line made from 100% recycled fabric and plastic fill. Their tags describe how 16 water bottles are recycled to make one 12-inch Ecokin. Rareform offers one-of-a-kind handbags, totes and wallets made from recycled billboards, an idea inspired by a trip to El Salvador where the company's founders noticed billboards being used as roofing materials. Ocean Sole turns discarded flipflops into artwork and functional products. For every $25 purchase the company removes 182 pounds of ocean trash.
Dave Seehafer's presentation, titled The Evolution of Shop-Branded Goods, focused on another trend in beach, coastal and nautical products. He likened the evolution of shop branded goods to the familiar ape-to-man progression graphic. First came blank, unlabeled, unprinted goods, evolving to name-drop goods and finally to shop-branded goods.
Why shop-branded? It's a way to differentiate your shop from other local retailers. It puts the 'special' in 'specialty retailer.' Anyone can name-drop, but your store is your brand.
Your logo should be easy to read, not too fancy and clearly visible. "If they can't read it, you're not going to build awareness," he said. If your logo isn't strong, strengthen it. You can have variations of your base logo using different fonts and colors.
Consider offering private-label goods. "Only put your logo on good-quality products; it's your reputation that's at stake," he warned. One suggestion he had was, spend the money to make your private-label towel the same weight or even better than the name-branded towel at the off-price store.
He also suggested offering gifts-with-purchase. Throw in a hat, shirt or sticker with your logo on it. It costs very little.
The Coastal Connections Conference was held Jan. 22-24 at the Margaritaville Resort in Orlando, Florida. Dates for the next edition will be announced soon. Visit www.coastalconnectionsconference.com to learn more.