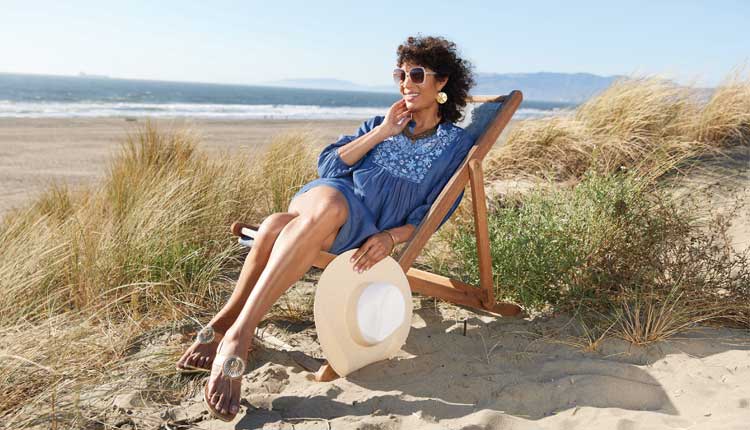 The inspiration behind fashion trends goes deeper than what is on the surface. When Atlanta Apparel releases its semi-annual trend reports it takes many factors under consideration such as current environmental and economic conditions. These crucial forces affect the colors, prints, fabrics and styles designers use to create outfits that speak to consumers.
As Atlanta Apparel's Fashion & Events Director Morgan Ramage explains, "For Spring/Summer 2023, the number one things we are seeing are innovation, quality and versatility are still key, especially with insecurities around pricing, inflation and the potential recession. However, there is a rush of creativity in the industry that is very much a celebration of life coming off of a challenging few years. We are still seeing a lot of vibrance, a lot of color and a lot of creativity in the industry, so it is kind of a balance between those two forces."
"It may be a solid core piece but it injects a fun print or updated color to it, or maybe it is a playful detail or a different material, so that is how we are seeing them being achieved: by balancing the two," Ramage explains.
Color combos
Competing forces are showing up in color schemes, according to Ramage, with optimistic bright shades alongside comfortable, classic neutrals. Sundial a mustard, earthy color is being paired with Digital Lavender or Tranquil Blue for pops of smart color. Digital Lavender, the WGSN and Coloro Color of the Year has been described as "an imaginative color set to converge across our virtual and physical world in 2023."
"Consumers will be seeking calming, restorative shades that can provide balance and connect them to nature as an everyday healing practice," says Ramage.
"Humble everyday hues will resonate," she continues, "but should be balanced with uplifting mood-boosting brights, which will appeal to those who spend their time between the physical world and the virtual metaverse."
She says the metaverse is "huge right now so I think that is also part of the spring/summer palette. You have those comfortable neutrals, but you also have those crazy, bright pastels because they feel good."
Ramage notes that deeper hues not typically associated with spring and summer are adding an unexpected directional update and are set to make an impact across the season and into the trans-seasonal autumn period.
Trending styles
Apparel trends will follow trend themes and key colors across silhouettes and styles. "Skirts are huge right now," notes Ramage. Mini, wrap and column skirts allow for further comfort and individualization in sizing.
Slouchy trousers; utility carpenter trousers; skinny, minimalist trousers and vacation shorts will allow for personalization through relaxed fit, innovation and further comfort.
Ramage describes vacation shorts as looking professional but still comfortable and can be dressed up or dressed down.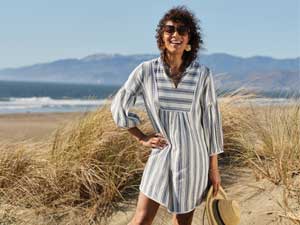 Tops will emphasize the optimism and craft in crochet, artisanal, halter neck, front-tie and wrap-top styles. Ramage is seeing a lot of 90s inspiration in tops, such as the 90s tank or cami.

"It's a key item people can easily grab and incorporate," she notes.
Wrap blouses usually work for lots of body types, shapes and sizes, whether it be a knit or a matching set. "They're really great as cover-ups and [gives you the option of] beach to bar."
Dresses will cover a wide variety of purposes, from utility to style with open-weave, crochet, patchwork and knit maxis, halter midis, boxer minis, active dresses and cut-out beach dresses dominating.


"Pendants are still really big whether it be a coin or drops of stone that can be easily layered with other simple necklaces. — Morgan Ramage, Atlanta Apparel's Fashion & Events Director

The popular "bleisure" dress is a dress that Ramage describes as functional, fuss-free and easily adjustable. The trending trapeze dress is a beach-to-bar dress that comes in fun prints, Captain, oversize, easy to throw on and go, versatile for all types of people and ages. Bold slip dresses, also big in 2023, are being introduced in fun, saturated colors that can be dressed down or up for special occasions.
Based on Miami Swim Week, swimwear styles will follow 90s, minimalist, tiny styles with asymmetrical cuts, strappy designs, collage fabrics and cutouts, according to Ramage. "We're seeing lots of extra straps and ties and knots. Asymmetrical styles were everywhere on the runway," she says. "Also rashguards were everywhere."
Accessorizing in style
Accessories will be crafted with long-term design and sustainability in mind with qualities that align with a more flexible lifestyle. Party set earrings, layered and beaded necklaces with pendants, body and belly chains, woven bucket hats, beach bags, mini handbags and everyday underarm bags are all trending.
"We're seeing fun, bright, beaded necklaces that look hand-crafted and artisanal," says Ramage. "Pendants are still really big whether it be a coin or drops of stone that can be easily layered with other simple necklaces."
Retro frames are making waves in sunglasses styles, including hexagon-shapes, as well as oversized aviators.
And believe it or not, says Ramage, belly chains reminiscent of Britney Spears of the 90s are also trending, "so that is something to note, especially in a coastal town."
Bags are also important for coastal retailers and Ramage says, "The bucket beach tote is very trendy right now as are minibags — both in bright colors like orange or green."
Footwear is also bearing the dual theme of comfort coupled with the desire to dress up again, says Ramage. "We are seeing a lot of soft finishes, easy indoor and outdoor living style such as a puffy, soft flip-flop or slide. The 90s platform is also back because they're comfortable."
When stocking up on the latest fashions, Ramage suggests, "Keep in mind balancing the need to be optimistic, colorful and bright but also using that great classic style that's popular in your store. Buy it in a different print or color so it gives people that option. It's about the safety of what they know but also stepping out and trying something new."