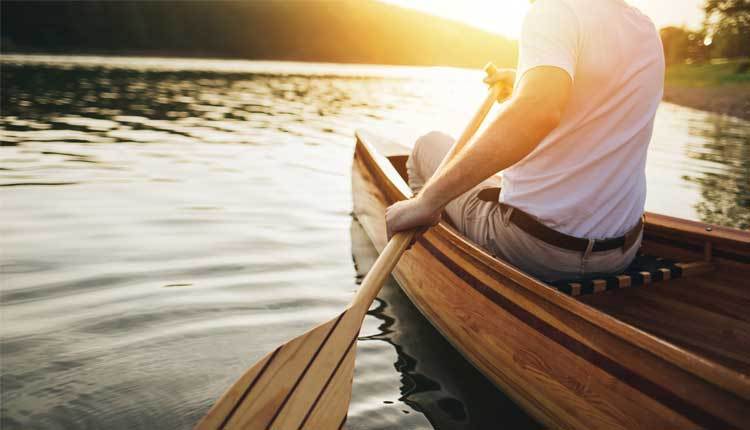 © Adobe stock | yossarian6
A quiet lake town has always been a draw for people who need a break from hectic city life. The pace beside a lake is slower. Vacationers are surrounded by nature, wildlife and outdoor activities. Whether people want to swim, fish, lounge, grill, hike or even ice skate, lakes are year-round playgrounds for active and easy living.
Making lakeside memories that last a lifetime is the mission when escaping to these shores. But coming up with ways to remember those times and savor those special moments is a big goal of lakeside vacationers. Seaside retailers are looking for ways to boost their lake products to meet this need and wholesalers have plenty of ways to help them succeed.
"We see the lake market as a growing opportunity for our lakeside customers," explains DeVon Miller, director of marketing and e-commerce with wholesale company P. Graham Dunn in Dalton, Ohio. As a result, "we've doubled down on introducing a broader offering for them to choose from."
Tara Merrill, sales and marketing manager with Cape Shore, a Yarmouth, Maine, wholesaler, agrees. "The coastal/ocean market has always been at the forefront of our sales," she says. But "over the last few years, the inland/lake market has really started to expand. [Lake] vacation dreams and memories keep us going through our hectic workdays and busy lives."
Key icons
When it comes to lakeside products, there are some key images that stand out, including anchors, sailboats, canoes and compass roses, Merrill explains.
"In land-locked states, people still love the water — whether those are lakes or rivers," emphasizes Laurel Ryan, owner of Nautically Northern, a wholesale gift and jewelry company based in Cape Cod, Massachusetts.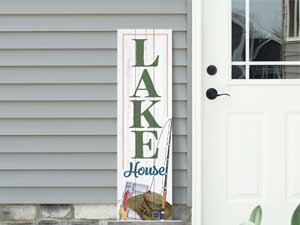 While oceanside locations will add shells, sharks, whales, starfish, mermaids and lighthouses to the mix, lake locations are incorporating more woodland themes, such as moose, birds, bass, loons and bears, as well as products that tout adventures, including hiking, boating, camping and exploring the great outdoors, Ryan notes.

Birds like the iconic cardinal or darling chickadee are highly desired images as well, adds Lynn McKernan, vice president of product design and development at Rightside Design Studio, based in Chester County, Pennsylvania.
"We crave our time by the water to get back in touch with ourselves, slow down and breathe," McKernan says.
"The scenery, sounds and sea life among the shores inspire us to capture the textures, colors and shapes of coastal living."
Seaside retailers can use these classic lake-inspired images to fill the shelves in their stores, inspiring shoppers to take little pieces of their trips or experiences back home with them.
For instance, people want to celebrate their lakeside trips with small engraved souvenirs, such as metal ornaments or keychains in lake or sailboat shapes. Especially when vacationers are traveling from a distance, they gravitate toward smaller items that can be carefully tucked away in a suitcase like picture clips or coaster magnets, says Abbey Grooters, director of marketing for the gift and home decor company Sincere Surroundings, Rock Rapids, Iowa.
"It's about remembering the trip," explains Mike Sayig, owner of Lakeshore Impressions in Saint Clair Shores, Michigan, adding that the goal is to offer fast-selling, high-quality products. "When travelers are visiting a new place, they want a trinket to commemorate their trip. That's what makes these
markets quite sustainable; people are always traveling."
Lakeside colors
People go to the lake to relax and unwind, and the colors of lakeside products match this easy feeling.
Lake products will typically come in a base of calming colors that are traditional and comfortable like pale blues, grays and light browns, McKernan says. Nautical colors like navy and white are also common pairs seen in lake products, sometimes adding a touch of red to the mix.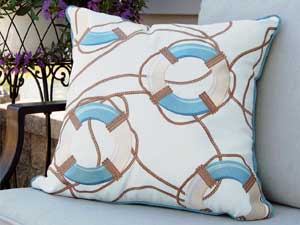 Depending on your seaside retail location, reflecting specific local colors is also appealing. Holly and Jason Snider, owners of Leisurely Lakeside, Bryan, Ohio, like to add a rustic finish to their dark blue, gray, cream and blue-green color palette to reflect their key market: the Great Lakes.
"Customers love the 'broken-in' look and weather-faded colors often found along the Great Lakes," they explain. "The colors of the Great Lakes can change dramatically with the weather even within the same day, so we take our inspiration from that, and our decor and products reflect that."
The latest trend is adding more natural, woodsy tones to this mix, including rosemary greens, pine greens and even a bold orange, McKernan says.
Bringing the lake home
Lake-centric home decor items give customers who love the lake — whether they own lake houses or are just vacationing — a chance to bring that lake feeling home. These coastal comforts include everything from pillows to pottery to switch plates and linens to totes and candles.
The market for lake home products is huge "because people who travel to the lake are staying in homes more than hotels today as they desire more privacy and serenity," explains Ali Pfeifer, sales manager of the company, MD-Brand, Baltimore, Maryland, which includes popular brands like Puppie Love and Live Oak Brand and manufactures clothing, dog bandanas, blankets and drinkware.
"The colors of the Great Lakes can change dramatically with the weather even within the same day, so we take our inspiration from that, and our decor and products reflect that." — Holly and Jason Snider, Leisurely Lakeside

Items like lakescape artwork and wooden blocks that spell out "L-A-K-E" can add those nautical feelings to a space, the Sniders explain. "Our customers are people who own lake homes or love the lakes and don't have a lake house but want to bring a piece of the lake into their homes," they say.
Decorating a lake house or room at home with outdoor adventure elements like canoe paddles or buoys of varying sizes is also a unique way for seaside retail customers to blend a sense of lake activity memories into their home interiors, the Sniders share. Think of cabin-inspired or chalet-inspired themes.
Homeowners looking to add a simpler edge to their decor may opt for actual wood slabs turned into signs that can stand on their own on tabletops, bookshelves or dressers, adding natural style, Miller says.
Other easy lake-themed home additions are kitchenware items like bottle openers, spoons and coasters that can be customized with lake outlines or themes. Cutting boards customized with a specific lake shape and the latitude and longitude of the lake are popular souvenirs or gifts, Ryan shares.
Comfort all around
In addition to adding lake themes to homes, seaside retailers are also expanding their lake apparel collections to bring that cozy comfort to clothing with sweatshirts, long-sleeved T-shirts, embroidered branded apparel, and even branded personal accessories like tote bags and pouches that can all go from boat to beach to dinner out on the town, according to the Sniders.
Whether it's hats, T-shirts, sweatshirts, bags, towels or blankets, seaside retailer customers can get "everything a boater would need to be adventurous and casual on the water," says Annette Alsobrooks, creator and owner of Lake Folks Designs, Soddy Daisy, Tennessee. "They are buying that awesome, casual lifestyle that they love."
"Life at the lake can be energizing, relaxing, funny and sentimental." — Melissa Johnson, Lakegirl
"Life at the lake can be energizing, relaxing, funny and sentimental," explains Melissa Johnson at Lakegirl in Detroit Lakes, Minnesota. "It translates to family picnics on the Fourth of July, water skiing till the gas runs out, fishing at dusk and singing around a campfire while fighting off the mosquitoes. Above all else, life at the lake is comfortable."
The casual lifestyle is what drives clothing with lake puns and themes like Lakegirl, Rivergirl, Lakebaby and Dockboy. "The lake girl wants to dig her toes in the sand and enjoy life," Johnson says, adding that the clothing is all about evoking a feeling of effortlessness and coziness.
Also, nothing ruins a beach day like running out of sunscreen or forgetting it completely. Sunscreen struggles inspired Megan Luchtel to design Lake Label swimwear, particularly the sunsuit that offers full-body, UPF 50-plus coverage in lightweight, breathable material for kids.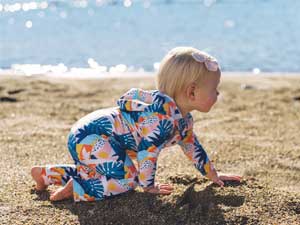 "My family loves to be outdoors, especially in the water, but getting three small kids boat-ready is not easy," says Luchtel, owner and founder of the Phoenix, Arizona-based business. "I've spent hours chasing the shade with a newborn and lathering up my toddlers with sunscreen only to find red spots on their shoulders after a long day of swimming and boating. After five years of sunscreen in the eyes, reapplication tantrums and watching all of my hard work rub off in the sand and water, I knew there had to be a better way."
In addition to clothing, seaside retailers can add a bit of whimsy and sparkle to soft sweatshirts and sun-shielding swimwear with lake-inspired jewelry, which continues to sell big at seaside retail locations, explains Bret Kimes at DKD Co., St. Louis, Missouri.
"Personalized jewelry is our most requested item, and we don't see that ending any time soon," Kimes says. "Popular link style necklaces and bracelets are easily customized. Our customers love … curating a line of jewelry that is exclusive to their store that highlights their lake or resort town. It helps a store set themselves apart from others in the same market. People love their lakes, and they are proud to wear or purchase products that promote and celebrate these areas."
Kimes says jewelry with pearls, shells and flowers are on trend for 2023, as are requests for more sterling silver items.
Nautically Northern's latitude and longitude cuff bracelets and bar necklaces are also top lake sellers, notes Ryan.
Name dropping in high demand
Seaside retailers are also taking advantage of their specific lake locations and surroundings by adding numerous customization options to their products, which has helped drive sales, Merrill says, calling this "name dropping."
Personalization is a continued trend that customers love, Grooters adds, mentioning how stores appreciate being able to create unique pieces specific to their areas or local festivals.
"There's nothing better than getting special requests and turning our customers' thoughts into tangible items they can sell in their stores," Sayig says.
Customization also does not have to be expensive or involve large orders, which helps retailers offer these options without holding excess stock, Kimes adds.
As Kimes says, "People love their lakes, and they are proud to wear or purchase products that promote and celebrate the area."