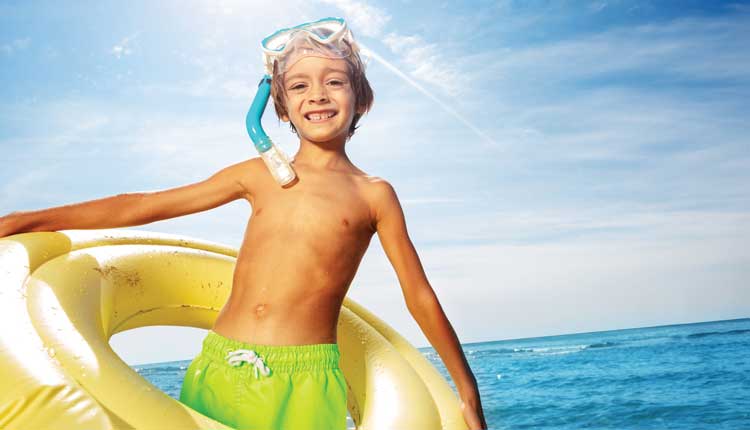 They may be smaller in stature, but their spending power is great. Children, often in tow with mom and dad as they peruse a seaside gift shop, souvenir store or boutique, want to explore the store too. But they may be disappointed if they can't find anything geared toward them. That letdown might also lead to a shorter visit from the family as a whole.
There's a way to avoid that rushed departure. You can offer enticing products that kids won't be able to resist spending their birthday money or allowance on — or nudging mom and dad to splurge on. Nearly every product category a shopper can find in a seaside store has some sort of kids' option. This is in addition to the obvious toys and games you can offer them. Apparel and accessory brands are also focusing on kid-centric options with beachy themes that coastal kiddos will gravitate toward.
For wholesale brand Mud Pie, kids' gift is its fastest growing division. In July, the company expanded its flagship showroom at AmericasMart Atlanta. The showroom was expanded to 20,900 square feet and the additional 1,264 square feet is entirely dedicated to the brand's growing baby and kids gift collection, resembling a retail environment. Coupled with the increase in kids and baby offerings, the brand decided to add to its pool and beach products, with towels, toys and pool floats for kids.
"We understood there was a need for trend-forward, giftable product in the [baby and kids] market," says Michelle Labovitz, Mud Pie director of public relations. "This coupled with the boom in coastal travel, made the decision to expand pool and beach offerings a no-brainer."
Labovitz says LED toys and books, water-activated color-changing product, and nestable or collapsible toys are trending in the kids' category for the brand.
Wild for animals
Toy wholesalers like Warm Fuzzy Toys are also seeing some trends emerge. Sea life is always big among kids who are in beach mode, according to Karen Knir, director of sales.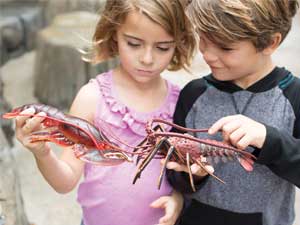 She has seen an uptick in sales of the company's hatchling toys, like the Growing Shark Egg "where you put an egg in water and watch it hatch." Squishable toys are also big for the company going into 2023 like its light-up squishy dolphin.
Warm Fuzzy Toy's website, www.warmfuzzytoys.com, recognizes the popularity that following each animal can have and, therefore, categorizes all its animal-themed toys by species. Customers can click on the "shop by animal" menu and select the animal icon they are looking for, such as sharks, alligators, penguins, turtles and dolphins.
"We try to make it easy for everybody," Knir says.
Safari Ltd. carries a large variety of true-to-life animal figurines. The company's best sellers in seaside retail locations are its Leopard Seal, Leatherback Sea Turtle, Cownose Ray and Spiny Lobster. "These are the best sellers not only because they are widely recognized by children but also because of their unbelievable detail," says Alexandre Pariente, CEO of the Safari Ltd. "I have held each of these figurines in my hands and it impresses me as an adult. I'm sure children are even more impressed by how lifelike the figurines are."
The company's Minke Whale and Salmon Shark are the Wild Safari Sea Life picks to watch in 2023, according to Safari Ltd. President Christina Pariente. "We released these three figurines last quarter and they have been wildly popular among our wholesale partners. The Salmon Shark, especially, does not have a lot of representation in the world of figurines so we're seeing people very happy about this release."
Turtle Tracks is another brand appealing to kids' love for animals. Each children's book is educational, beautifully illustrated and includes discussion facts. The stories also have easy to understand conservation messages.
The books, "Turtle Tracks," "Loggerhead Life," "Happy Hatchlings," "Calypso Conch," "Dolphin Discovery," "Manatee Magic," "Monkey Mischief "and "Gecko Getaway" also offer plush toys of the story characters that can be purchased with the books.
"High-quality and clearly branded books, toys and accessories make an eye-catching display and an easy 'upsell' for our retailer partners," says creator Sue Trew, who also owns five retail stores. "Our fun, educational stories capture the imagination of young children, helping them learn to read and teaching them about the fascinating world around us."
She adds, "Adults and older children love the discussion facts in the back of each book which provide additional information for the inquisitive reader."
Ever popular plush
Plush toys are always a big hit with the younger kids. They're soft and cuddly and many come in sea life that children see when they visit the coast, a zoo or an aquarium. Plush that is significant to the local area helps their appreciation grow for the location.
"Plush toys play on your emotions, evoke creativity and stimulate play and imagination — all wonderful things for any child," says Kay Griffith, national rep group sales manager for The Petting Zoo.
Customers also appreciate that The Petting Zoo's plush is made from recycled materials. "Eco-friendly renewable toys are certainly important to lovers of sea life," notes Paul Cugini, The Petting Zoo national sales manager.
The company's Conservation Turtle continues to be a best seller, as is the new colorful Ombrez line.
Wild Republic is another brand that offers plush toys that connect "people, planet and wildlife." The brand also creates its plush from recycled materials, including fill made from recycled water bottles.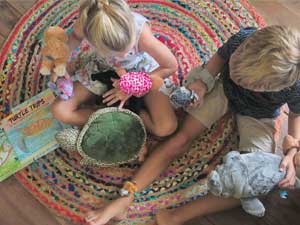 Director of Marketing Kristin Kovedsky suggest that when adding or expanding on an existing kids' section that retailers offer merchandise programs that relate to their particular location, have a sustainability focus, an educational offering and include brands that give back.

The company's bestsellers in seaside locations include all of its aquatics offerings like the Message from the Planet line, Aquatic Cuddlekins and Living Ocean collections. Sharks, dolphins and sea turtles are among the most popular animals.
At the toy company Fiesta, the colors of the plush factor into what sells. While the company's best sea life seller is the blue shark plush, "Rainbow Sherbet does awesome for us. We've had it for five years now and people just love the bright colors on it," says Coral Reynolds, president.
During the Las Vegas Souvenir and Resort Gift Show in September, Fiesta displayed its new Swaddle Babies collection that come with a plush toy so a child can walk around carrying their baby sea life animal in a swaddle. "These have done amazing," says Reynolds.
Mermaid madness
Mermaids have always been a popular toy with little girls, but with Disney's upcoming live action Little Mermaid release coming out next year, momentum is building for the alluring mythical sea creature.
The Petting Zoo's Boho Mermaid Dolls with Friends are always a first choice with little girls, according to Griffin.
Wild Republic is also gearing up for the movie release. "Our mermaids are category disruptors like Bratz dolls were to Barbie," Kovedsky says.
And its not just plush getting in on the mermaid madness. One & Only Creations' neoprene backpacks come in a mermaid version for toddler girls. "They like that the color pops and it's different," says Wendy Lee, sales manager. "You can take it to the beach and it won't get wet, and moms love it because you can wash it and it still looks brand new."
A shark version of the neoprene backpack is a hit with the toddler boys. The company also sells hooded towels and just released a new line of pillows that are a three-in-one plush, pillow and blanket.
Puzzles that inspire
Surf Shack's collection of puzzles are made from premium 100% recycled Eska board and printed with nontoxic inks. Founder Mahina Tuteur named the company Surf Shack "to capture that laid-back, cozy vibe that inspires our eclectic collection of artists. Plus, we live and operate this small business out of one."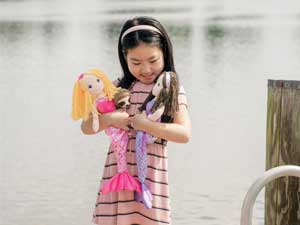 There are puzzles for all skill levels: 1,000-piece, 500-piece and 70-piece. The 500-piece puzzles are popular with families coming together for vacations or the holidays, according to Tuteur. All the puzzles are created through a collaborative process with various female artists.

"We are very intentional about picking designs that are proven to induce relaxation and inspire joy," says Tuteur.
Tuteur started the company a year and a half ago when her son, who was three at the time, was "really into puzzles" but the options were "boring," she says.
Not anymore. Kids love the colorful options and the fun artwork of Surf Shack puzzles. For example, Waimea Bay Day by Dinoflora depicts dinosaurs recreating in the water, and Santa's Tropical Christmas by Suzanne Jennerich shows Santa lounging on the beach while his reindeer are surfing.
The company is a member of 1% for the Planet because, "I wanted the business to be a vehicle to support the issues we care about," says Tuteur.
For the beach
Health and beauty products aren't just reserved for adults. Kids need protection from the sun, sand and water, too. Amy Tucker, CEO of AWC Truck Co., knows that firsthand. Her company created Salty Britches because her young son could not enjoy playing in saltwater due to the painful saltwater chafing.
"Nothing on the market seemed to work very well or for very long," she recalls. "We created Salty Britches for our family and now are thrilled to share it with yours. Salty Britches is super robust and will outlast extreme conditions, even a six-year-old that can play all day at the beach."
Aloe Up also offers its Aloe Up Kids to help keep young ones safe from the sun's harmful rays.
"It was important to us to have a line of products that were focused on the most sensitive skin," says Luke LaRock of Aloe Up. "Kids Sport Sunscreen is our strongest SPF combined with a hypoallergenic formula and is water resistant for 80 minutes."
The formula is based with 35% aloe gel and contains no alcohol, octinoxate or parabens. It's ocean safe and biodegradable.
From head to toe
A kid losing a flip fop at the beach is a pretty common occurrence. Footwear at the beach is challenging to keep on, especially when going between the sand and the water. Flopeeze footwear is designed to solve that issue.
"I think one of the great traits about the infants and the kids' version is that they are unlike any other beach shoe because once they put them on they literally can run around the beach, go into the water and the footwear will not come off," says Dan Blondeau, managing director of Flopeeze.
Pro tip: Offer merchandise programs that relate to your store's particular location, have a sustainability focus, an educational offering and include brands that give back. — Kristin Kovedsky, Wild Republic

They feel free to run around and because they aren't encapsulated like a water shoe, sand and water doesn't get trapped inside, Blondeau says. Kids are attracted to the fun designs too like polka dots, sea mammals, zoo animals and a trademarked footprint pattern.
Another perk is that all the shoes come in dual sizes, Blondeau points out. So rather than buying a new pair with each size increase, infants and toddlers can grow into the shoe as their foot grows. "They're great for kids," he says.
Kim Hartz and Courtney Campo are another example of moms who formed a company to solve their kids' problem. They witnessed kids, including theirs, stealing their parents' sunglasses because it was "too bright" or "the sun was hurting their eyes."
Hartz was talking to another mom about how there wasn't a good kids' sunglasses brand on the market with polarized lenses that were affordable.
"We looked at the sunglass options available for kids and they were either too expensive with upsells for polarized lenses or so cheap they broke almost immediately," says Hartz. The frames themselves were also boring. They decided since they couldn't find it, why not create it themselves?
Sunnies come standard with polarized lenses and all the UVA and UVB protection. They also are made with an antislip material so they don't fall off while kids are playing.
Hartz's kids like wearing the glasses and have helped pick out colors for them. The Milo Man and the Wilhelmina styles are named after the Hartz's kids.
"They're little brand ambassadors," she says of their involvement.
Families have many choices when they go shopping, and if you have something for the kids, they are more likely to want to check out your store. With so many ideas for products to carry, you'll be ready when they come in your door.