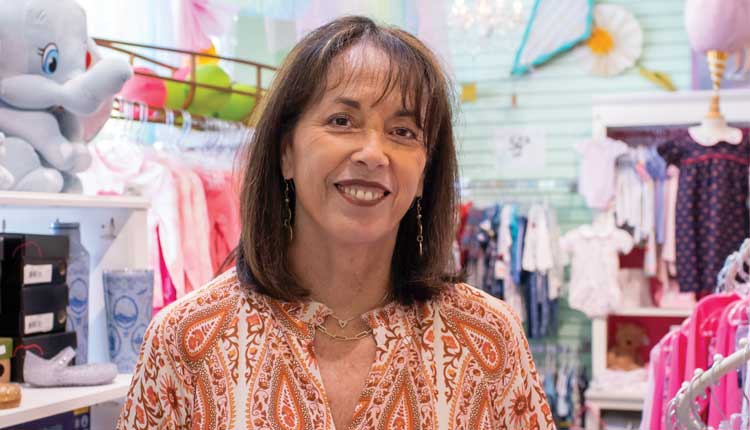 Kids' keepsakes and specialty clothing — layettes, lovies and learning toys — are just a handful of reasons why customers bag children's items from Gumbo Limbo Coastal Kidz in Stuart, Florida. Owner Patty O'Connell opened the companion store to her coastal gift shop Gumbo Limbo after guests repeatedly asked her if she carried items for the younger set.
"Basically, it was the request of customers saying, 'We love your store — and we'd like to buy children's gifts and clothing from you," O'Connell says. Initially, she figured she'd carry items that might be gifted at a baby shower or birthday party. She carved out a curated children's section in her gift store and her first vendor was Mud Pie.
It grew from there. "Before I knew it, children's toys and clothing were a quarter of the store, and I loved buying it — so I decided to buy more and more, and I felt like what we were doing was somewhat of a niche," says O'Connell.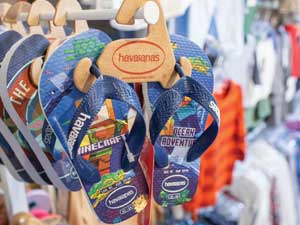 Photos: Robert Holland
The shops today are co-located, and guests can cross from one side to the next. "We have dedicated shoppers for both sides, and a lot of customers say it's one-stop shopping," she says. "And we overhear shoppers say, 'I could spend hours in here! Where do I start?'"

Little learners
Speaking of where to start, the treehouse display in the center of Coastal Kidz is where many customers gravitate first. The hand-built display (thanks to O'Connell's husband) is stocked with an enticing array of finger puppet books, hardcover reads and toys that are educational and interactive.
For example, Mud Pie offers kits like a Let's Go Fishing backpack filled with pretend play props. "Our Mud Pie sets are soft and with young children you do not have to worry about safety," O'Connell says. "There is a set for cooking, makeup, golfing, grocery shopping — and they are great for young play."
The shop carries Melissa & Doug toys along with Jellycat plushies. "We found that having these lines as part of our basics is important, and especially items that are coastal related," O'Connell says, pointing to fish and octopus. "The demand is there."
When selecting books, O'Connell goes for titles that teach lessons. "We look for different themes about courage and mindfulness or welcoming a new baby brother or sister — and then there are stories like 'How to Put an Octopus to Bed,'" she says. "We have a whole spectrum, including the fun-to-read-at-night books."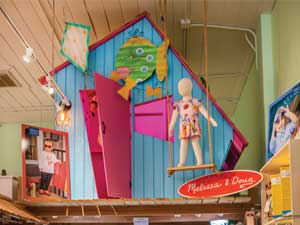 One series called Little People Big Dreams is about mentors like Martin Luther King, Marie Curie — and others like Elton John and Dolly Parton. "We also like the Savannah Guthrie series and 'Princesses Like Pants' and we have a lot of Great Grandsen books too," she says.
Sometimes, O'Connell will spot books during her travels and track down the distributor. She discovered "Little People Big Dreams" while at The Biltmore in Nashville.
Ultimately, "giftable" is the overriding theme. "Customers like the quality of the brands we carry, and that is very important because a lot of them are shopping for special occasions or want to buy items that will last and can be handed down to children and grandchildren," she says.
Playful presentations
Aside from quality, comfort and the cuteness factor are also key when O'Connell selects children's products. Materials like bamboo and Pima cotton are top sellers. The shop sells Kissy Kissy layettes that are "elegant and sweet," Mud Pie baby blankets, bibs and holiday outfits and super-soft onesies, dresses and sleepers by Magnolia Baby.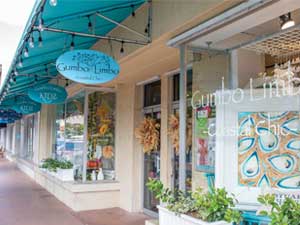 Most layettes include patterns — "everything from hedgehogs to mermaids to giraffes," O'Connell says of popular themes. "We do a lot of holiday too, and swimwear is through the roof and sells all year, along with beach totes and goggles."

Coastal Kidz pours on some southern charm as well. Brands like The Beaufort Bonnet Co. offer lines like Christmas Night Nights, Properly Pastel and Dolly & Me. The Kickee Pants brand includes swing and twirl dresses in solids and prints, jumpers and rompers and soft knit pants that are cozy for active little ones.
Clothing is organized in departments — boys on one side, girls on the other, with books and toys together. "We make it whimsical and fun. It's not just clothing racks back to back. There are big cotton candy cones hanging from the ceilings and different colored chandeliers — we make it different and visually appealing."
"Customers like the quality of the brands we carry, and that is very important because a lot of them are shopping for special occasions or want to buy items that will last and can be handed down to children and grandchildren." – Patty O'Connell

A retrofitted tiki hut houses clothing, and O'Connell mostly organizes wearables by brand so customers can easily find the lines they love. Layettes are grouped together, and seasonal/holiday wares are front and center. "Then, it's about guiding customers and helping them," she says.
Gumbo Limbo Coastal Kidz focuses on products for newborns through size 6, and while O'Connell hates to see customers "age out," space is limited. "It's a whole different ballgame when you get into the older age groups where kids really have a mind of their own," she points out. Buying for elementary and tween children can tend to be focused on pop culture and what's "in," from popular Netflix series to the latest movies and games, she notes.
O'Connell appreciates the timelessness of the brands Coastal Kidz carries. And there's nothing better than watching the generations shop together. "So many moms, dads and grandparents come in with their children and it's so nice."