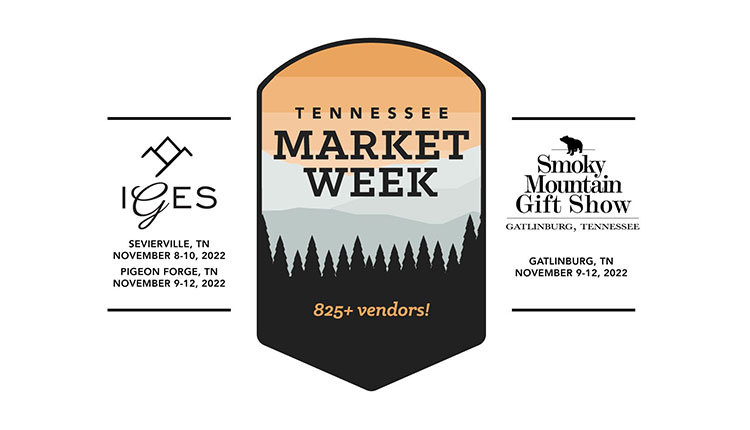 Clarion Events, producers of the
Smoky Mountain Gift Show
, and Emerald, producer of the
International Gift Exposition
in the Smokies (IGES)
have once again come together to create a comprehensive gift, resort and souvenir buying experience. Tennessee Market Week will host over 825 vendors and more than 5,000 buyers across three locations Nov. 8-12, 2022.
The Smoky Mountain Gift Show will be located at the Gatlinburg Convention Center (Nov 9-12) while the International Gift Exposition in the Smokies (IGES) will be located at the Sevierville Convention Center (Nov 8-10) and Le Conte Center at Pigeon Forge (Nov 9-12). Both events will feature the top name lines and new products from hundreds of leading manufacturers and newcomers. On the show floors, attendees can expect to find gifts, apparel, accessories, souvenirs, decor, gourmet foods, jewelry and more, in a variety of in-demand options including custom name-drop, Made in America, sustainable merchandise and others.
In addition to sourcing, convenience and hospitality remain pillars of each event. Complimentary transportation is provided with shuttles running to and from the Gatlinburg Convention Center, Le Conte Center at Pigeon Forge and Sevierville Convention Center. Each team has also put together many networking events, including Made in America, Sustainability and Zoo & Aquarium buying tours, complimentary coffee and donuts, happy hours and buyer dinners, show parties and more.
The events are supported by top buying groups, such as the Zoo, Aquarium & Garden Buyers Group (ZAG) which hosts its annual meetings, education, and mixer during Tennessee Market Week.
Lisa Berry, vice president of the Gift & Souvenir portfolio at Clarion Events, says, "After a successful start to the fall and winter 2022 tradeshow season, we are so excited to come back to Gatlinburg for the 57th anniversary of the Smoky Mountain Gift Show. As always, we remain customer focused, bringing together buyers and manufacturers to see, touch and experience products in person."
Berry also notes the great momentum going into this year's event – including a sold out show floor featuring many new exhibitors and hundreds of new products.
"Buyers are looking forward to our Made in America and Zootique Tours led by Tommy Brown of Saint Louis Zoo, which make it easy for them to learn more about companies in these in-demand categories." She continues, "Our close partnership with IGES to create Tennessee Market Week has created an unparalleled experience for the market. We are so thankful for the support of the gift and souvenir community and can't wait to see everyone in-person in Tennessee!"
"IGES is excited to partner again with the Smoky Mountain Gift Show as this allows the gift and souvenir community to have a seamless experience," says Karalynn Spouse, Emerald executive vice president. "We are also excited to share that this year, we've seen tremendous growth in Sevierville, where attendees will be able to view over 150 new vendors, making this location double the size it was last year."
She adds, "We're also looking forward to seeing 75 Made in America vendors and 25+ companies in our Campground Pavilion. This is especially important considering our customers have expressed a deep desire to secure new merchandise for their retail shops and connect with new suppliers. I am truly looking forwarding to seeing our friends and colleagues move business forward this year."
Buyers have echoed that sentiment. Ann Henderson from Virginia State Park commented, "After a two-year absence due to travel restrictions, we are excited for the chance to return to normal and our favorite show. The Smoky Mountain Gift Show allows our team the chance to shop for new products, network with current vendors, see what is trending for the coming year, and find that one unique product that will be flying off the shelves next summer. With so many vendors and product lines in one location, we are able to streamline our visit to get the most out of the show. Whether we are looking for American Made, small businesses, or eco-friendly products, we are always able to do our seasonal shopping at the Smoky Mountain Gift Show."
Judy Rancour, Director of Retail Operations for the Saint Louis Zoo and ZAG Board President, shared that "The IGES show is the must shop venue for a diverse selection of products and vendors. It covers all gift categories and continues to surprise with new items and suppliers. Of particular interest this year is the Sevierville location offering the new Sustainability in Retail Professional Program and over 150 new suppliers – what a great way to kick off an exciting show week!"
Tennessee Market Week also supports local businesses including hotels, retail, restaurants and ground transportation. Both the Smoky Mountain Gift Show and IGES work closely with the Gatlinburg, Pigeon Forge and Sevierville tourism and convention bureaus to promote the unique experiences in these destination cities. Tennessee Market Week will help to support many of the destination and travel businesses that attend the shows as buyers.
For more information, please visit the event websites; Smoky Mountain Gift Show, www.smokymtngiftshow.com and the International Gift Exposition in the Smokies, www.iges.us. Registration is free for qualified buyers and each event requires separate registration.