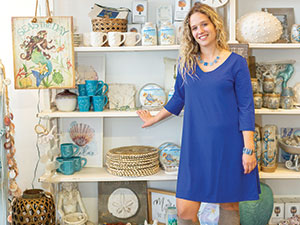 Sea La Vie, like other retail establishments, seaside or otherwise, has been dealing with the consequences of the coronavirus crisis. Though the doors to the Virginia Beach, Virginia, store were still open in late March, business was noticeably down.
"It is nothing like it usually is," says owner Madeleine Philipp.
Normally, March is when the town really starts hopping, with a big uptick in visitors marking the beginning of the busy season.
"We've heard news that some of the hotels down here are shutting down," said Philipp on March 18. "We're like, 'wow,' because this is the time that they would normally be all sold out."
Philipp herself has had to postpone an open house she had scheduled to commemorate her store's two-year anniversary. She was planning it to coincide with the Shamrock Marathon, which draws some 50,000 people to the area, but it, too, was canceled. This time of year is typically filled with festivals and races.
Nevertheless, Sea La Vie's owner is trying to stay optimistic in the face of this unprecedented situation. She's hoping that folks staying at home means that they're taking the warnings seriously and that it will help the situation resolve itself quickly.