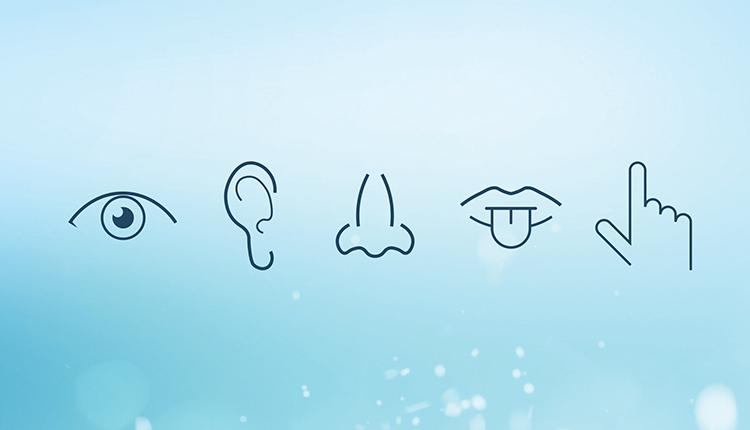 Editor's Note:This article was written prior to the COVID-19 Pandemic. Some of the advice shared in the article is not advisable during this time, but we hope you can gain some insights to implement both now and in the future in your retail store.
In a world where people can buy virtually anything with a few taps on a smartphone, a small retailer needs something powerful in order to compete. You already have it.

"The chief advantage brick-and-mortar stores have over online retailers is their ability to deliver an experience that stimulates all the customers' senses, not only the visual," says Anne Franze, visual merchandising director for retail distributor Giftcraft, Brampton, Ontario.

It's all about creating that ultimate multisensory experience and connecting with customers on an emotional level, Franze says. And it's your ace in the hole over the online competition.

A multisensory experience is what the Seaside Country Store in Fenwick Island, Delaware, specializes in. "We make our own peanut butter, fudge, dips and cheese," says owner Amy Vickers of her olfactory factory. "You can smell the peanut butter grinding, or the fudge cooking, inside and outside the store. And we offer samples of everything."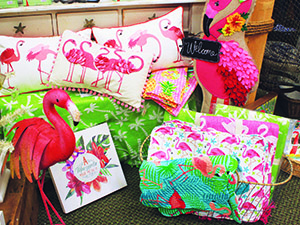 Once inside, the customers' eyes are drawn to the well-arranged merchandise. "We focus on having really attractive displays from the windows all the way inside to the counters; they're organized by theme," says Vickers. "As a country store at the beach, we have a lot of seaside-type items but also dishes and calendars with chickens, pigs and cows."
For the ears, "there's always music playing," Vickers says — and as for the tactile sense, "everyone touches everything, especially the gauzy beach clothes and table linens."

Everything about the store invites people to take their time and savor. This is probably why the 10,000-square-foot shop started by Vickers' grandparents has become a landmark for locals and a must-see for tourists for the last 52 years.
But any store can offer something sweet or savory without installing a full-blown kitchen and tasting room like the Seaside Country Store. Free tea and cookies can go a long way toward building customer goodwill, says Franze.
Eye candy
Sight is usually the first sense to be stimulated and is often the determiner of whether someone enters a store.

"For me, it starts right outside the front door, at the storefront window," says Franze. "If I look at the window and something captivates me, I'll want to check it out."

What's in the window is a visual handshake — it creates the customer's first impression.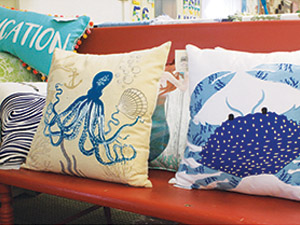 Maureen McBride has curated her store, Tabula Rasa Essentials, Manhattan Beach, California, for maximum rod-and-cone impact.
"The way my store is set up, it's like candy for your eyes; there's always something to look at," says owner Maureen McBride.
Textures and blues are expected to be a hot trend for summer "so we're featuring lots of rattans with natural sandy colors, and sea glass and ceramics with the beautiful turquoise hues of the ocean," she says.

"That first impression is very important," agrees Karen Dadush, owner of the Sea Salt Boutique in Myrtle Beach, South Carolina. "So we change our front window often, put new clothes on the mannequin weekly, and make sure we show off whatever we have that's new."

Giftware is arrayed on antique furniture to helps give the store 'a bohemian, boutiquey vibe," says Dadush.
Avoid the temptation to cram too much into a display. This can be hard to resist, especially in a small space where every square inch of rented space counts. Franze suggests thinking outside the shelf and using the air space above it.
"The vertical dimension can be exploited to draw a buyer's eyes upward," she says. "It can be as simple as a banner that's suspended from the ceiling that promotes a specific product or collection, or a mannequin sitting on a pedestal."

Even the cleverest merchandising will be lost on buyers if they can't see what you're selling. "Good lighting plays a huge part in appealing to a customer's sense of space," says Franze.

"It may even be the most important element in creating visual appeal. When the lighting is right, you're able to take a customer on a retail journey. It draws the eye to the displays and invites people to take a closer look, to see the shape, color and texture of what you're selling."

Good smells, good sales
Scent is powerful, whether it's the mouth-watering smell of fudge cooking or the heady fragrance of tropical flowers. It can transport a person to an exotic locale without the need to buy expensive tickets or hassle with TSA lines.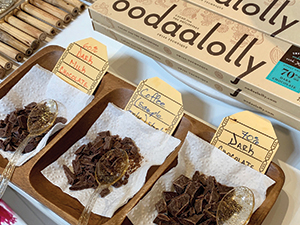 That's what Melissa Antrim tries to achieve at her Flipside Boutique in Seal Beach, California. A proud Filipina who also lived in Hawaii, she tries to make the experience of shopping at Flipside like a quick island vacation. "People are always commenting on how good the store smells," she says, "and how, coming into the store, they feel like they're in Hawaii."

She was recently thrilled to discover a candle with the scent of Sampaguita, the national flower of the Philippines.

"We want to provide not just a visual, but a total sensual experience for our customers," says McBride, so carefully chosen oceany, woodsy and floral fragrance blends are always emanating from candles and reed diffusers in her store.

"A lot of the scents really resonate with people, maybe 'cause it reminds them of childhood or a fun vacation they had."

Sounds to shop by
While your customers are looking and sniffing, they're also listening. Franze says the sounds in a store greatly impact customer emotions.
"What are your customers hearing as they're shopping?" she asks. "Are they hearing employees engaging positively with customers? Talking excitedly about new merchandise arrivals? Is there laughter? All these little things add up to a positive customer experience."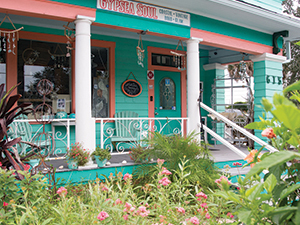 Tempo is important. Franze says mellow music encourages people to feel as though they can take their time and shop, while faster-paced tunage tends to make people move faster. That might be something that's desirable at a coffee shop — but in retail, we want people to hang out.
Outside the mermaid-themed Gypsea Soul store, in a little turquoise-colored cottage in Bradenton, Florida, several Alexas stream music from the Pandora app.

"The Alexas are out on the porch to attract attention," says owner Ashley Louda. "We're always playing music," she says, "both inside and outside the store. And because we're called 'Gypsea Soul,' it's mostly Stevie Nicks."
"Music is another element that sets the vibe for who you are," says McBride.

Tabula Rasa Essentials plays everything from '70s yacht rock, to hula to jazzy lounge music.
"People walk in here sometimes just because of the music, it draws them inside," McBride adds.
Antrim strives to give her patrons a full island experience, and music is part of that.

"We have Hawaiian chant and music going all day," she says. She recently added a tasting element — free samples of Oodalolly-brand gourmet chocolate bars. The Filipino-owned company hand makes chocolates from cacao sourced in the Philippines.

Tactile tactic
Online shoppers can't touch, smell or taste the thing they're buying — and can't even be sure of its exact color. This is where the analog retailer wins.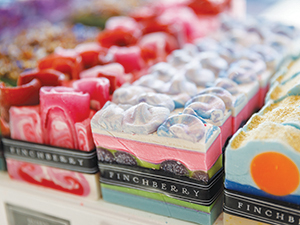 How many times have you bought something simply because of how nice it smelled, or felt against your skin?
"It's all about what it feels like," says Louda. "I do all my clothes buying for the stores based on 'feeling' weight."
She wants to make sure they'll be comfortable in the Florida heat and humidity.

"I found some rompers and sundresses at Surf Expo that are beautiful and work great in this climate, made of very thin, lightweight, comfy fabric."
Antrim also understands touch sells and keeps beachwear on racks so customers can easily feel it and experience how soft it is.

As a real-world shopping venue, you are able to give shoppers an experience they can't get from a computer or a smartphone.

Use your advantage to the hilt. Fill people's senses, and they in turn, will fill your till with cold, hard cash. ■
---
Mermaids and mimosas
If you happened to walk by Ashley Louda's Gypsea Soul store in Bradenton, Florida, one recent Saturday, you would have been invited to participate in the "Mermaids and Mimosas Sip and Shop." No worries if you missed it, though — the event was a big hit, and will happen again.
"This is going to be a regular Saturday thing," says Louda. "What could it hurt? It's not a great big effort. I mostly just ordered some sparkly multicolored sugars to put on the glass rims of the 'mermosas.' I know I would appreciate it if I was a customer — it's lots of fun."
Does offering free drinks pay off?
"Oh absolutely," says Louda. "It kind of warms up the situation. It takes them a minute to drink it. After they get a little bit of the bubbles they get chatty and conversation happens, and the conversation leads to a sale."