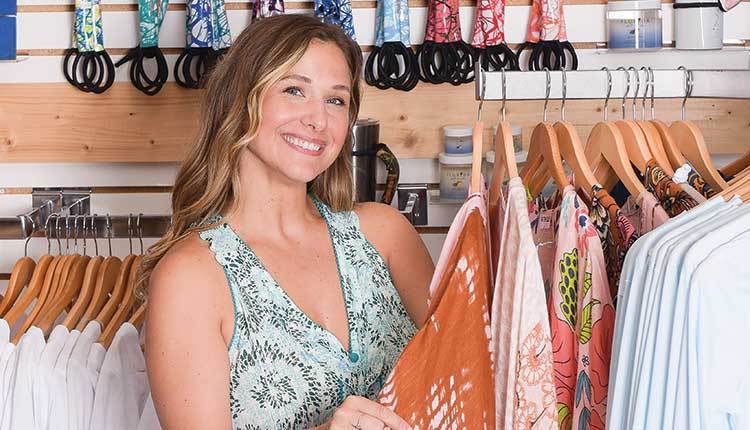 It's all about the story — the why, the how, the cause. Casual apparel brands with a purpose appeal to customers at The Sand Pebble in Punta Gorda, Florida, where co-owner Kat Lorini has cultivated a collection of men's and women's clothing to elevate the souvenir and T-shirt offerings at the longtime family business.
"Working with these brands, it has been really neat to see customers respond directly — they want to hear that story," Lorini says, pointing to labels like Mang that plants a mangrove for every purchase.
"It's a botanist out of South Florida and he and his brother go and plant a tree for every shirt — it's what they do, and they are not in big department stores, so he can keep up with the growth and his aunt draws all the images for the shirts," Lorini says of the give-back brand.
One popular motif is a shark fashioned out of mangrove roots. "You don't even have to sell that product because you can print out the story on a sign and when customers see the price on the tag, they feel it's worth it," Lorini says.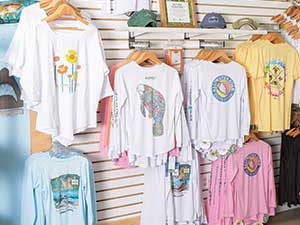 Photos: Candy McCall
Another example: The Duck Co. out of Arvada, Colorado, that assures its artists and associates are paid properly and receive benefits. "You feel better working with them. While the price is higher, customers really go for that quality, and we have been able to expand in those categories," she says.

The company's men's shirts with humorous sayings are an easy seller. The company is officially licensed with Volkswagen. The Sand Pebble carries a few shirts with the VW logo and the Punta Gorda namedrop. Lorini says, "Those blew out — I had no idea they'd do so well."
Shoring up business
When The Sand Pebble opened in 1983, Punta Gorda was a quaint harbor town — it's one of the country's largest natural harbors. Lorini's parents who met in Boston and fell in love with sailing had been cruising around the world on their 62-foot rig. It sank in the Bermuda Triangle, and the couple swam to a Bahamian island with less than 100 people living there. A mail boat would come monthly. Her father took a sea plane to Marco Island, Florida, and fell in love with the area. The couple lived there while waiting for insurance and other loose ends to settle with their beloved boat.
"They found Fisherman's Village and bought the store, and it has been the perfect community for them. My father, Tony, has been building that store ever since," Lorini shares.
Meanwhile, Lorini attended University of Tampa for business and earned a degree in fashion design and merchandising. She left home to work in New York City, designing high-end wares to sell in stores like Bloomingdale's.
When her father had health complications six years ago, she returned to Punta Gorda to help at the shop and fell back in love with retail. "I found a couple of cool clothing pieces like a hand-crushed cotton, and we were able to raise price points but still offer affordable options," Lorini says.
Punta Gorda was undergoing "a cool resurgence" at the time, according to Lorini. "Everyone was looking for more charm when they were visiting, and my dad had a great store that kept delivering."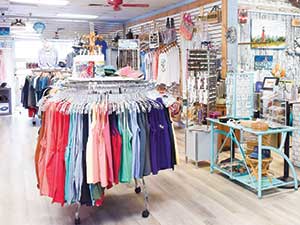 Since Lorini has been running the shop, The Sand Pebble's casual apparel lines have expanded, and they're thoughtfully curated. There are two main price points. One is quality-on-a-budget even if a shopper is not necessarily pinching pennies. "These are shirts we get in surplus like prints that are $8.99," she says.
On the higher end, Spirit Jersey namedrop apparel is priced at $64.99. "They're long enough to wear with leggings, and a lot of our tourists from cold-weather states like them because they want something they can wear on the plane," Lorini says. "I see them collecting Spirit Jerseys from different places, so it's been copied, but they are looking for that tag."
Otherwise, Lorini focuses on brands and styles that customers can't find in other shops. One is a brand called Cottonseed Casual Wear out of Tarpon Springs, Florida. "We sell zip-up hooded jackets with a drop shoulder and the fabric is amazing," she says.
Lorini is big on texture and fiber. And when she selects casual apparel lines, she looks at price point first and asks, "Why?"
"Is the fabric special, is there a charitable donation involved, are you really giving back to the turtles?" are just some of the questions she wants the answers to.
Expanding apparel
Lorini is excited about the store renovations in progress and how improvements will help her display more casual apparel in an appealing way that invites spontaneous sales. She invested in a slatwall and rounders throughout the shop that allow for showcasing seasonal apparel. "Our customers change from spring to summer to winter," she points out.
Signage by clothing with a cause tell the story so shoppers recognize they're buying more than a shirt or hoodie. And soon, The Sand Pebble will offer fitting rooms.
"Working with these brands, it has been really neat to see customers respond directly — they want to hear that story." — Kat Lorini

Training sales associates about the fabrics and brand stories is important to Lorini. "Product knowledge is what helps us at the store," she says.
Lorini plans to expand casual apparel because she says it complements the shop's souvenirs and delivers a more elevated yet accessible experience. "We are always looking to expanding the apparel side and bringing in more products that give back.