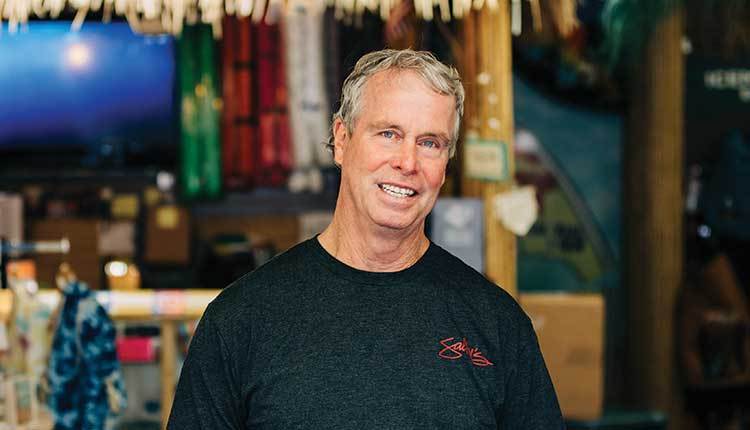 Surf life attire kicked off with the landmark Quicksilver brand at Salty's Surf Shop, where owner Joe Waters has built a store chock full of go-to wave-riding brands including Billabong, Sundek and Roxy — along with a house Salty's line of namedrop apparel. The shop has a longstanding reputation in Florence, South Carolina, where Waters opened in 1985, two years after the first Salty's launched in Ocean Isle.
"Quicksilver was our first line and it put us on the map for sure," says Waters, who eventually opened a Columbia store too.
But once he had kids, the back-and-forth to shops wore down on family life for him and his wife Connie, and his hometown of Florence became the focus.
Unlike the former Ocean Isle store, which has new ownership, Florence is year-round and gave Waters an opportunity to expand clothing lines to suit the "southern style" that locals are proud of and visitors enjoy experiencing.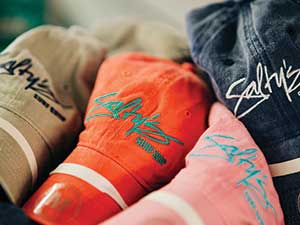 Photos: Katie Phillippi
"We got into southern clothing about 10 to 15 years ago and that really helped diversify the shop," Waters says, noting the first beachfront store was strictly surf and gear. "Here, we have a big variety — when you're in a small town, you've got to be everything to everybody, and we make it work because that's what a small town is all about."

His family is also integral to the business. Connie manages bookkeeping and their college-aged son Trevor is a built-in trendspotter. "He helps me pick out clothes and keeps me on the ball with what's going on in his age group," Waters says.
Their grown daughters Kelsey and Adrienne influence apparel style in a big way. (The Waters family is a surfing gang.) Adrienne, a graphic designer, rolled out a few lines for Salty's and beyond: Seak, Southern Salt and Southern Trucker.
"We put them in the shop and they are selling along with other lines we offer, and that has been really cool," Waters says, Customers don't realize the connection unless they ask.
"At Salty's, we've been around for so long, we are generational, and people like that," Waters says of the homegrown shop. "And we accommodate what is happening in the moment, the styles people like here in town."
Dressed for success
Casual apparel is a big part of how Salty's has sustained decades in business, and a combination of known surf lines and lesser-found brands gives customers who are looking for specific names their finds — and something for shoppers who want something different. "We are not a boutique, we are a surf shop, so I stick with surf brand price points," he says.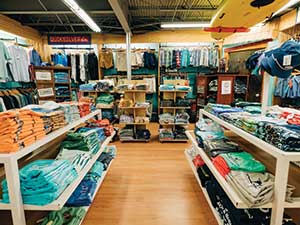 "I try to go for name brands and notoriety, and then style, comfort, price and quality," Waters says. "I pull all of those together to come up with the right mix for Salty's. Since we are a surf shop and not a boutique, I have to watch those price points and I can't go too high."

For Salty's, that means staying in the $50 to $60 range for shorts and $25 to $40 for tops and T-shirts. "I definitely keep surf-wear in the mix but also bring in clothing the kids will wear — the preppy lines like Chubbies."
The colorful swim trunks are wear-anywhere attire and so are the stretch-cotton shorts in neutrals.
Because of the way Waters buys, the high-profile surf brands and known names for accessories like Bogg Bags brought in business during the toughest years amid the pandemic. "The demand for those lines has meant so much," Waters says.
Longtime lines
Customers at Salty's are connected to the southern lifestyle, "which is fishing, the beach, piers, water, boats and all that," Waters says. "They love it."
To capture that vibe, Salty's carries lines that are unlike the main-market Vineyard Vines or Southern Tide. "Others carry that," he says.

"I try to go for name brands and notoriety, and then style, comfort, price and quality, I pull all of those together to come up with the right mix for Salty's." — Joe Waters
Sure, Salty's offers big surf brands. "Our casual apparel includes lines that people like and hear about, and it's a big deal to have the QuickSilver and Billabong lines that are tried and true."
But when it comes to seaside casual apparel, he looks for unique finds including Coastal Cotton, Southern Point, Fish Hippie, Southern Marsh and AFTCO, which offers fishing apparel.
He mixes this with accessory lines like Kavu bags and shoes by Birkenstock, Savu, Toms, XtraTuf, Reef, Teva, Vans and the fast-selling Hey Dude line. "Those have been phenomenal for us, and they have some new designs coming out for 2023 that we are looking forward to seeing," Waters says. "Bogg Bag has also been another big one for us."
As for presentation, Waters keeps T-shirts folded on tables and all designs are spaced out. "We like to keep lines together as far as surf gear, the Chubbies and so on."
An entry presentation table is decked out with seasonal gear. "That's what's happening at the moment, whatever holiday is coming up — Mother's Day, back-to-school…" Waters says.
Salty's is surf and more with it's big brands, homegrown lines and tags with unique southern comfort. Casual apparel complements the shop that is a go-to for boards, skates, water gear and beyond. Waters says, "People love to come in and see what is happening for the next season."