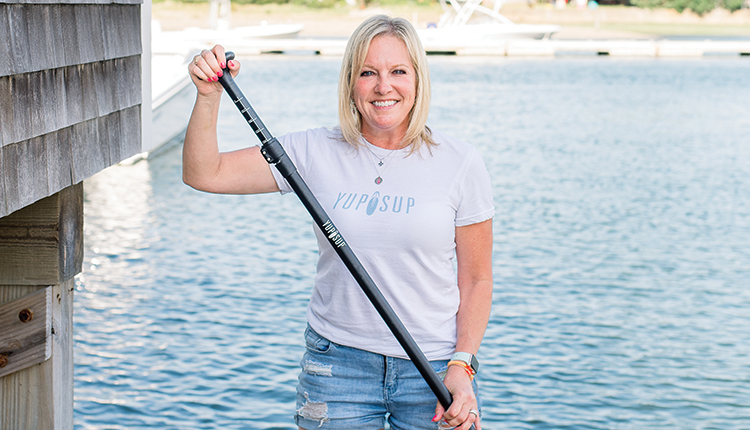 Life + Water = Happy is the winning equation for Yup Sup in Marshfield, Massachusetts, where owner Christine Perkett runs a seaside gift store and rents her custom-made stand-up paddleboards.

"There was a gap in the market — nothing else like this has ever been down here," she says, describing the "fun vibe" of the space that shares property with a marina. She has kept her boat there for the last 15 years.
When the storefront that was once a sandwich shop went vacant, she saw it as a sign — and place to sell her wares.

"Our first boards were made in 2019, and I planned on being an online SUP shop. The idea was to make boards with inspirational sayings and artwork on the deck that encourage people to get out on the water," Perkett says. With the brick-and-mortar store she now has a way to showcase them.

Top-sellers include a "Just Keep Swimming" board with graphic blue fish, a beach motif with the store's logo and tagline and one with a birds of paradise print.



"I love making people happy, and it's so nice to see people's smiles, especially after all everyone has been through during the last two years. It's just a sense of good vibes." — Christine Perkett

Customers can also request designs and phrases. During the early pandemic days when Perkett's marketing and public relations business slowed, she decided to market the paddleboards on Facebook and sold out in one day. "They are unique for around here — there are neons, they are Made in the USA and one with the word, 'Worthy' on the deck with a heart was just the right timing," she says. Perkett launched a website, and last year, the marina space became available as a spot where she could offer rentals.
"It all fell into place at the right time and in the right way, I had time to do it and the space was perfect," Perkett says.

Yup Sup is entering its second season, and Perkett's rental business complements a curated coastal gift shop that carries local art, apparel, home decor, jewelry and SUP accessories. "When you come in to rent a paddleboard, you walk through the store and see other items, and that was the idea," she explains. "A lot of people are like, 'We're shopping when we come back from paddling.'"


SUP-lementing rentals
Yup Sup is one of the only female-founded paddleboard companies in the country and world. The shop produces predesigned boards, custom designs and limited-edition boards that celebrate customers' unique personalities and feature ocean motifs. The company works with two manufacturing partners: one in South Carolina and the other in California.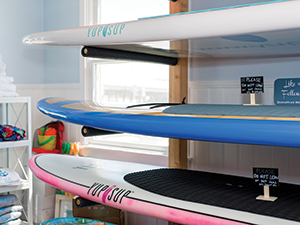 Photos: Anne Holden
Now with a shop on the White's Ferry Marina property, Perkett can sell the boards to customers, rent them to visitors to enjoy the day on the water and supplement the experience with gifts and staples that aren't found elsewhere.

"I started curating online at different sites like Etsy and Instagram, along with reaching out to artists who might not have ever thought about selling in a store," Perkett says.

For example, you'll find vintage beach prints, handmade greeting cards, clamshell art and jewelry dishes and prints with water views.

"Our shop is on a river and across the bridge from the beach so there is only one other shop and it doesn't sell clothing or water sports. It's more beach toys and touristy things," Perkett says of differentiating Yup Sup's retail offering.

"I wanted to live up to the uniqueness of this space and for people to feel like they are on vacation — you know how you get 'vacation brain' and you're happy and vibrant?" she explains.

What's happier than a brightly colored Water Girl bracelet to commemorate a beach vacation or relaxing day on the water? You'll also find bucket hats with daisy stripes and happy faces, caps with phrases like "live in the moment," bathing suits and cover-ups.

"People are surprised of the quality and variety of items, and it's a little like my own brain, jumping from one thing to the next all the time," she says of the collection. "There is something for everyone, and it also all makes sense."
Perkett also sees a demand for Yup Sup T-shirts, sweatshirts and travel mugs. "I was surprised because we are so new, but people really like the tagline so that gear sells really well."


Gifts and good vibes
Yup Sup rentals took off its first year, and Perkett added kayaks to the mix. "The timing was great because people wanted to get out, be active and do something that felt 'normal,'" she says of the launch during the COVID-19 pandemic.
The shop setup and location is also ideal. The neighboring business is Crawford Boat Building, makers of the Melonseed skiff. The owner offered to build a paddleboard rack for Yup Sup. "The owner, Roger, said, 'It's just so nice to have you down here. It brought new life to the neighborhood,'" Perkett shares.

The marina told Perkett, "You absolutely have to take this space. It's so perfect." They put a dock in for Yup Sup for her paddleboard and kayak rentals.

"Initially we were thinking of doing portable rentals — we'll come to you — but we were figuring out the trailer system and all the time it would take," she says. Now the store is a short walk away to the boats in the marina, this presents a ready customer base.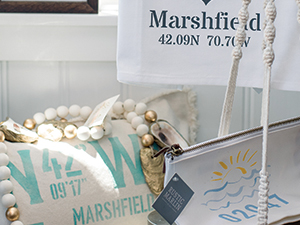 Going into the busy season, Perkett says, "We are getting new interest already. The community has been amazing, so supportive and welcoming."

Yup Sup will add tandem kayaks this year. "It's something people have asked for and I always feel good when I can fulfill customers' requests," she says.

The gift business is thriving and Yup Sup is now partnering with a local woman-owned company, Wicked Om Yoga. "They will rent boards to do yoga classes," she says.

Word is spreading, and the yin-yang of retail and rental is paying off in a way beyond what Perkett imagined.

"I love making people happy, and it's so nice to see people's smiles, especially after all everyone has been through during the last two years," she says. "It's just a sense of good vibes."