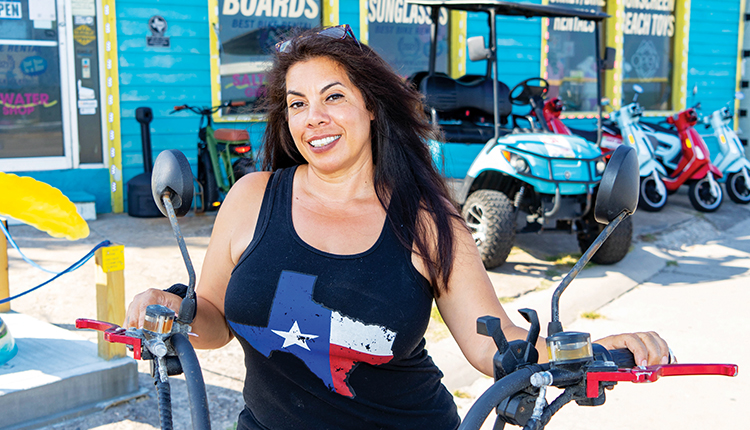 When guests staying at the DoubleTree by Hilton hotel pull into the lot to begin a memorable vacation on the Galveston, Texas beach, they pass a cheery teal beach shop with tempting signage announcing, "We rent scooters!"
Parked out front are golf carts that hold up to six people, four-wheel surrey bikes in several sizes, electric scooters of all kinds and Onewheels. Those are self-balancing single-wheel electric boards that look like skateboards with a fat beach tire in the center. (They're often called electric skateboards.)

"My goal was to be a one-stop shop for whatever beach fun people are looking for," co-owner Bert Dagnon says of the robust rental business he runs with partner Brianna Lancaster. They took over the shop three years ago and have greatly expanded the rental selection and gift shop offerings.

The two businesses play extremely well together.

"It's like, why do you have a convenient store at a gas station?" Dagnon quips. "It's a good complement and it's about maximizing sales."

Lancaster adds, "Customers come back after renting scooters and electric bikes and they have nothing but praises!"


Stocked for the beach
When a guest enters Saltwater Gift Shop to look for Galveston souvenirs, pick up a beach towel and sunscreen, or grab a drink from the cooler, they say 90% of the time the customer returns for a rental within a day or two.

The same cross-selling works for those who find out Saltwater rents out beach umbrellas and chairs, bicycles and e-scooters, golf carts, Onewheels and surreys. "If they rent a surrey, you say, 'Wow, it's going to be hot out there. Understand that you've got to pedal this thing.' They'll run over and grab four or five drinks," says Dagnon.

"Customers come back after renting scooters and electric bikes and they have nothing but praises!" — Brianna Lancaster

For the younger set, Saltwater Gift Shop is stocked with beach toys like buckets and shovels, inflatables and so on. Dagnon jokes, "I call it the 'please shut up shelf.' While the kids are waiting for mom and dad to fill out rental release forms, they wind up with some toy in their hands."
Saltwater Gift Shop also sells items that vacationers might have left at home or lost by the pool like sunglasses and towels. Because of its proximity next to a hotel, the shop stocks basics like over-the-counter medicines, toiletries, first-aid necessities and hygiene supplies so customers can skip going to big box stores and maximize their fun time on the beach.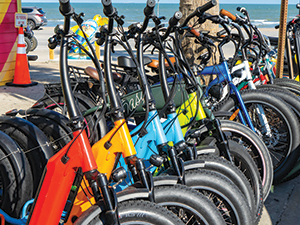 Photos: David Fitzgerald
The store features a product of the week like seaglass necklaces or whimsical papier-mache turtles made by locals. Overall, Lancaster and Dagnon work with more than 60 vendors.
Rentals for sale
At first, Saltwater Gift Shop rented only surrey bicycles in three sizes: a "limo" for four adults and two children, an "extra-large limo" for six adults, and a smaller "double plus" for two people.
But what they found out later was, pedaling these heavy bikes is a lot of work.

"The surrey business has limited appeal, and this is Texas on the beach and it's hot," Dagnon says. "You pedal and start sweating pretty fast."

Dagnon and Lancaster decided to branch out and offer electric scooters. Now, Saltwater Gift Shop rents out sit-down scooters they call "fat boys" that look like motorcycles but they're electric.
Guests can rent a trike, a three-wheeled electric scooter. And there are electric mopeds, gas-powered scooters, golf carts and Onewheels. (The shop offers lessons for electric skateboards and other equipment.) More traditional beach bicycles are also rentable.

"Everyone comes in to rent those," Lancaster says. "I have 9-year-old kids with their parents, and we had a 78-year-old come in, so it's really for anyone; and if they think they can't do it, we can prove them wrong real quick. It's one of my favorite rentals because it's fun to see the excitement when someone gets on one and they realize they do have the balance."
Rentals not only lead to gift shop sales, but some customers want to know if they can buy the ride they tried out for the day.

"My line is, 'Everything I own is for sale,'" Dagnon says. "We just have to agree on a price."

The rental business is a natural segue into operating as a vendor for the e-scooter and Onewheel lines.
"You don't necessarily start out that way, but if you rent something, the next thing people ask is, 'Where can I buy one?' And you also need to turn over your gear, so you can sell the used and buy new to replace those and rent to customers."

Aside from selling used equipment, Saltwater Gift Shop is a dealer for Onewheel so customers can buy brand-new electric skateboards on-site.


Steering around roadblocks
Running a rental business with a gift shop element has been a boon for the business overall. But there are some challenges with rentals, such as carrying the proper insurance. Every time Dagnon adds to the fleet, he must assure that his policy will cover the type of ride. Also, renters tend to beat up equipment more than if they were operating their own. "Stuff is going to get damaged," Dagnon says. "When I got my first e-scooter, I lamented over every scratch and ding, and you can't do that."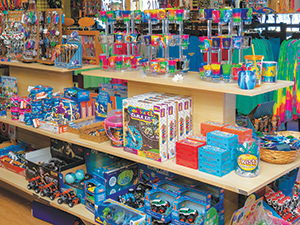 Dagnon has no problem denying a rental if he gets the feeling that a customer will not operate the equipment responsibly. "You need to have a good antenna for people who come in and be willing to say no," he says, adding that this rarely happens.

Age guidelines are essential, and insurers lay out the rules. Contracts are also a must. But Dagnon warns, "A contract is only as good as the people who are signing it."
You'd think handing over a driver's license to rent equipment would prevent theft, since the customer's ID is back at the shop. "But I've had that happen three times where they stole scooter and I'm holding on to their ID," Dagnon says. Now, golf carts have GPS and he added theft insurance to the e-scooters.

Finally, Dagnon and Lancaster partner with a local mechanic since a large portion of their fleet is motorized.
"Rentals are very good revenue compared to the margins we make in the gift shop business," Dagnon says of what he loves about this side of the shop. "Plus, it's fun. We enjoy seeing our customers have a good time. There is always that Instagram moment when someone rents a surrey and asks us to take a picture of the family. It's pretty cool that we can offer that memory."