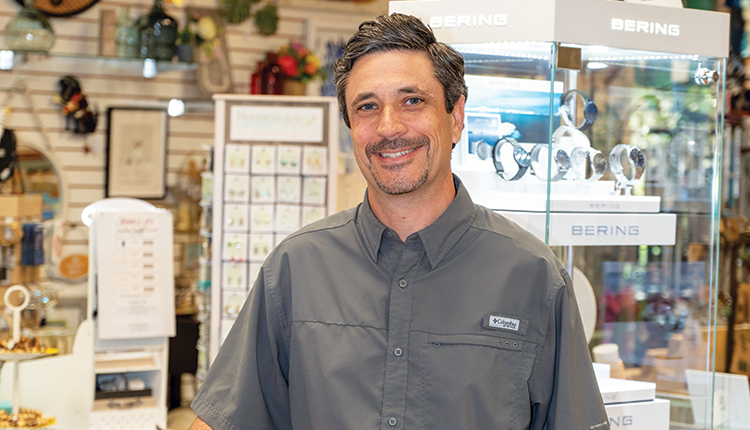 Baubles and bolts, something with sparkle and supplies to shine up the home — the synergy of combing a stand-alone gift shop and Ace Hardware is "phenomenal," says Scott Hamblen, chief operating officer of Crowder's Gifts & Gadgets in Bradenton and Lakewood Ranch, Florida.

"I hear all the time from guests that they love being able to go as a couple and one of them buys what is needed for the home, and the other goes off and gets what is needed from the home and they have different visions of what that means," Hamblen explains. "One may be lawn and garden or a tool to fix a pool and the other is buying home decor or candles or a jewelry gift."
The gifts and gadgets synergy is a win-win.

He can pick up a gallon of paint and a gift for her. Or she can find tools for a fix-it project and take home a trinket. "We have a guy come in to buy nails and his wife's birthday is coming up and, 'She likes blue. What do you think?' There is a great opportunity to cater to that," Hamblen says.

Crowder's Gifts & Gadgets opened in 1955 as a corner store and has expanded exponentially in the last 60 years. The jewelry, bags and decor corner grew to the point of warranting a separate shop and then evolved into multiple locations with one-stop-shop appeal.

Experiential jewelry connects customers to special memories. — Scott Hamblen

And jewelry is a real draw. Hamblen says, "We have seen significant sales increases and it is one of our largest growing categories."


Experiential keepsakes
Guests want to capture the Sarasota/Bradenton vibe when they select jewelry pieces, Hamblen says. "They come here to live or vacation to smell the salt air, and there's a lifestyle embodied in that," he says. "So there are pieces the ladies can wear that help remind them that they achieved that goal of getting to live by the Gulf. For those who are snowbirds, they can take a little bit of the beach back with them and share it with their friends."
Specifically, Hamblen is referring to the experiential Dune Jewelry line made with sand and earth elements. The handmade pieces include nautical-themed rings, necklaces, earrings and bracelets. "You can get the sand from where you got married or your vacation or anniversary, and the sand goes in the jewelry to make a real personalized gift for shoppers who are seasonal or vacationers," he describes.

"People love that the Dune pieces tie to a location, a place, and it recalls a memory and experience — it's not just about looking good," he adds. "It has that duality, so when people become aware of the line, they get hooked."

Other lines that draw guests into the store include Brighton, Spartina 449 and Anju. "These are great lines that play well whether you live on the coast of Florida or in another part of the world," Hamblen says.
Crowder's also carries a selection of Naia pieces with an emphasis on gold and aquamarine, along with Larimar rings, bracelets and earrings with their distinctive ocean blue gemstones. "We recently added Ocean Jewelry and that fits so well into the coastal lifestyle," Hamblen says of the Irish line that has a strong following.

Aside from seeking jewelry that evokes a sense of place, Hamblen says motifs like the sea turtle "live large" as do starfish. While mermaids and dolphins sell well on other products like decor, "the symmetry of a star or turtle on jewelry is cute and attractive."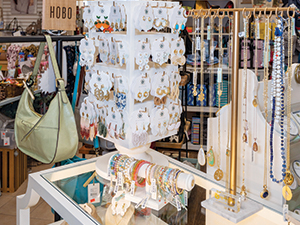 Photos: Lori Sax
Sand dollars are also popular in jewelry. "They fit into the same vein of bringing you to the beach and also having a non-jarring shape," Hamblen says.
As for display, jewelry is presented in glass cases segmented by manufacturer to highlight what is special about each line. "When you walk in the door, we'll have Brighton and Spartina 449, with handbags off to one side and home decor off to the other," Hamblen says. "Jewelry display cases are lit and our associates are behind the counter to help find the right size, shape and color to make guests as happy as possible."


Essential elements
During the early days of the pandemic with business shut down, Crowder's Ace Hardware stores were deemed essential while the gift shops were not. But this allowed the company to redistribute the workforce to sustain employment. "We were able to give positions for all of the gift shop staff at the hardware store or another part of the business," Hamblen says. "We offered the ability to take care of them in their times of need."

Crowder's is a family business. "They adopted me," Hamblen quips. Its Wynn Foundation offers employee assistance and funds other programs.

"Our culture and values are focused on taking care of your neighbor, and those are values you see written, but when they are executed and the staff is the beneficiary, it is wildly different than in a corporate office where you see it on a shiny wall," he says.

Once the gift shops reopened, "we had a ton of traffic," Hamblen says of pent-up demand for jewelry and more. Supplies have not been a major concern. "We opened back up and people were wanting to get back in, shop and feel normal, and we've had a significant number of people say, 'My travel options are not there but sitting in a beach chair is within the realm of possibility,'" he says.

As a result, the gift shops have experienced growth, particularly in jewelry, and Hamblen expects the trend to continue as the stores provide cross-selling opportunities. He says, "It's a brilliant combination where customers can enjoy both worlds."