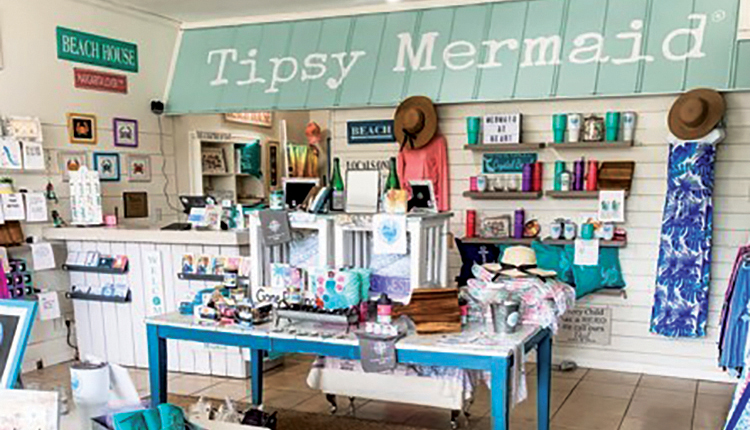 Walking into
Tipsy Mermaid Boutique
in Palm Harbor, Florida, is like entering a bright beach house. An aqua awning bearing the shop's logo is a focal point that owner Charrelle McLean didn't expect when moving into a new storefront location in the Crystal Beach Shopping Plaza.
"Before, it was an ice cream store with a big chalkboard at the top of the ceiling that spanned across the width of a wall," she describes. "It looked like it would fall down, but behind it was the biggest pleasant surprise: a great little beach awning!"
The move itself is a treat. Tipsy Mermaid Boutique nearly doubled its space and now has frontage so the shop is visible from the parking lot and main road. Since the move and January opening, McLean reports sales have increased by 40%.
Plus, McLean has space for her studio, where she makes signage, logoed cups, magnets and coasters. "Whatever I can think of, I make," she says with a laugh.
The Palm Harbor shop is one of two Tipsy Mermaid stores. The other one is located in St. Petersburg. Already, McLean says she has tested fresh presentation and display concepts in Palm Harbor that she'd like to implement there.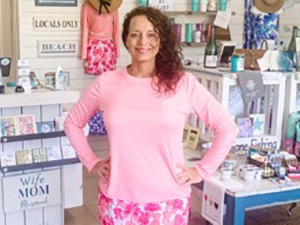 For example, rather than housing clothing on racks, merchandise is neatly folded or hung against the side walls of the rectangular-shaped shop. "That opens everything up," she says. "We also have room for more products and you can see it all now without walking through a maze of racks."
Tipsy Mermaid carries coastal clothing like breezy sundresses and on-trend jumpsuits, along with shoes, bath and beauty products, "bling" like gemstone earrings and sea-animal-themed necklaces, coastal decor like pillows and signs, locally made art and gifts.
Two display tables showcase seasonal and gift items, which are in the center of the shop by two ottomans that invite guests to stay a while. The shop is painted in coastal colors, and the signature shiplap wall from her previous store was reimagined. Because of the lumber shortage and higher pricing, McLean opted for one wall of white-washed shiplap and Hardie board on the opposing wall.
As for the move, which was shifting space in the shopping center, McLean says she and her husband carried over much of the merchandise. They had one month to move during the busy holiday season and prepared the new store while managing the existing shop.
"I announced the new store, but I said we were expanding to a bigger space," McLean says. "I called is an expansion vs. a move because I didn't want people to stop coming in the shop."
The new spot is next to a popular restaurant, which has proven to be a real boon for McLean's business. Patrons pass McLean's shop first, and those who dine outdoors or wait for tables often mosey in.
Tipsy Mermaid Boutique held its grand opening January 28, and since then it's been off to the races. McLean says, "We are going like crazy!"