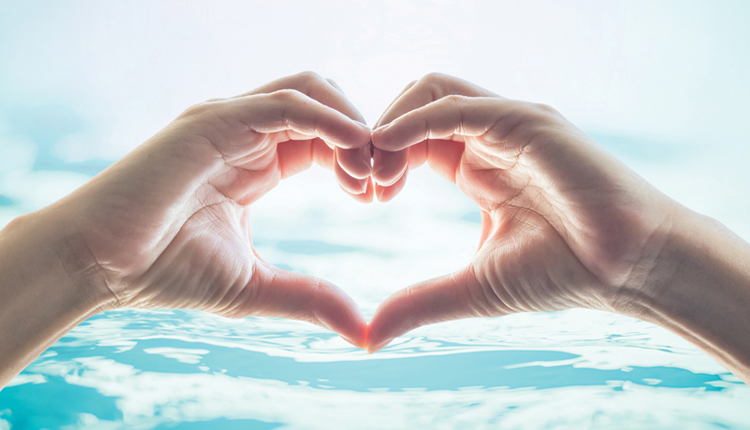 As awareness of the oceanic plastics crisis and pollution's effect on marine life has grown, more and more people are stepping up to the plate wanting to be part of the solution. Your current and future customers are no exception.
By stocking eco- and ocean-friendly products, an eco-conscious shopper can express their support for the environment with their purchase. Luckily, there are many such products coastal retailers can sell, and more are coming to market each day.
While it once was difficult to find eco-friendly merchandise, nowadays such products have entered mainstream. Any visitor to January's Surf Expo in Orlando, Florida, would have seen dozens of exhibitors showcasing items made from recycled materials or manufactured in environmentally friendly ways.
"Five years ago, that was almost a novelty," says Roy Turner, senior vice president of Emerald Exhibitions, the show's organizer.
It used to be more difficult for retailers to carry items made with recycled materials either because the quality didn't stack up against the competition or the quantities were limited. But that has all changed. "Now you can touch and feel these products and you can't tell the difference," Turner says.
Part of what makes the products appealing, according to Turner, is that "they have a story to tell."

Putting plastic to use
The founders of the Boca Raton, Florida-based 4Ocean, Alex Schultze and Andrew Cooper, determined that they were not merely going to make and sell bracelets made of recycled materials, they made the elimination of ocean plastics part of their business model.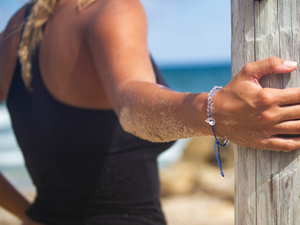 4Ocean's bracelets are not only made out of 100% post-consumer materials, for every bracelet sold, one pound of plastics is removed from the ocean.
4Ocean bracelets are made of 100% post-consumer materials. The glass beads come from glass bottles and the cord that strings them together consists of PET (polyethylene terephthalate) recycled from plastic water bottles.
For each bracelet sold, the company pledges to remove one pound of oceanic plastic. Since it began in 2017, 4ocean's cleanup crews, made up of volunteers from all over the globe, have removed 8.5 million pounds of plastic and other harmful debris from the world's oceans.
"Everything we do is completely funded by our products, and for a long time the only product we sold was the bracelet," says Kenny Katz, a 4Ocean brand manager.
The company now sells apparel, drinkware, cleanup gear and single-use alternatives. Wholesale used to be only a small percentage of 4Ocean's business, but that's changing.
"We do the bulk of our business on 4Ocean.com, but the volume of wholesale is getting closer and closer to what we are selling online," says Katz. "There's a market out there, and store owners can help clean the oceans by putting these bracelets out in front of people."
Deana Foster founded Whatsuplife in Toronto in 2019. Each of the company's oversized towels is made from 12 recycled plastic bottles. What's more, Whatsuplife donates 10% of its net profits to marine life conservation organizations.
The towels also help fight beach erosion by repelling sand, keeping it where it's supposed to stay — on the beach.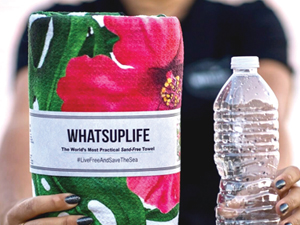 Each Whatsuplife towel is made from 12 recycled plastic bottles, and January 2020 Surf Expo buyers were eager to place orders for them.
"We are trying to reinvent the towel so you don't bring the sand into your car or house or boat, but we're also giving back to the environment," Foster says.
Whatsuplife received multiple orders from retail buyers at Surf Expo.
"People are really focused on ocean pollution because it is really bad right now, and unfortunately, it's getting worse," explains Foster.
It's not just newer companies that are trying to do their part. Los Angeles-based Flap Happy has been in business for 30 years making hats, clothing and swimwear that protect babies and children from the sun.
Two years ago, it launched an eco-friendly line made from Repreve, a performance fiber created from recycled materials, including plastic bottles.
"At first there were a lot of people who weren't very familiar with [recycled fabrics]," says Flap Happy Founder Laurie Snyder. "They just thought it was interesting. Now people are much more aware of it."
Snyder says it is gratifying to be able eliminate plastic pollution and pass that onto her customers.
"Customers can feel better about the purchase they're making because they are giving something back," she says.
Greentex America, Hallandale Beach, Florida, makes shirts out of polyester derived from recycled PET.
"We collect 40 million plastic bottles a year in Colombia and make recycled yarn from it to then make different fabrics," says CEO Nathan Beckerman.
Greentex also uses zero-water printing to add designs to the fabric.

A second chance
Plastics aren't the only material being made into sustainable products. Fabrics are also getting a second life.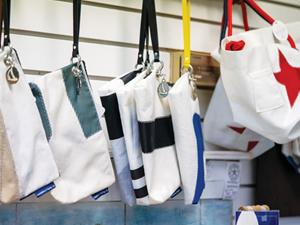 By the Bay Creations bags, crafted from repurposed sails, are popular with customers at Ophiuroidea stores in Maryland.
By the Bay Creations, St. Michaels, Maryland, makes a line of bags, accessories and gifts out of old canvas sails it gets from a sailing shop in Annapolis, Maryland. The items are sold in coastal stores boutiques from Maryland to Maine.
They're a big seller at Ophiuroidea with locations in St. Michaels and Grasonville, Maryland. "Customers love the fact that they're repurposed into stylish accessories and that they're handcrafted in the USA," says owner Kim Hannon.
Dona Bela Shreds is another repurposer, taking leftover fabric from clothing making and turning it into neckwear, headwear and wristwear.
Lindsey Van Heel, Dona Bela Shreds' wholesale manager, describes the company's neckwear as a cross between a necklace and a scarf that is light enough to be worn in the summer months.
Dona Bela Shreds products are sold in resort boutiques, gift shops and small department stores. Now more than ever retailers are drawn toward sustainable merchandise, according to Van Heel.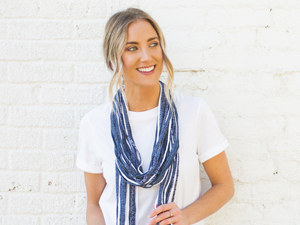 Neckwear from Dona Bela Shreds is not only trendy but sustainable. Pieces in the collection are made from leftover fabric used in the manufacturing of clothing.
"People are just becoming more conscious about the importance of what they're consuming and that their purchases matter," she says. "It's a really great opportunity for something we've been doing for nine years to become more relevant for retailers as they try to bring those elements into their stores."
The Costa Mesa, California-based Senor Lopez brand has been around for more than 30 years, shipping its Baja hoodies and blankets to hundreds of surf, resort and specialty stores around the world. It recently expanded into bags and accessories. The products are all made of 100% recycled cotton.
Aside from the quality, Ray Galindo, vice president of sales, says the recycled aspect of the company's goods is "our number-one selling point."

The last straw
Environmental groups estimate around 500 million disposable plastic straws are used daily in the U.S. These straws end up in landfills and in the oceans, where they injure marine and other wildlife.
As awareness of this problem has grown, plastic straws are being banned or restricted by many coastal cities and states around the country.
Some savvy entrepreneurs have developed products designed to let people continue to suck happily away at their restaurant beverages but without a sucky outcome for the environment.
"With more and more states implementing single-use plastic straw bans, the demand for eco-friendly alternatives is on the rise," says Lisa Harrington, co-founder of Mermaid Straw, Valparaiso, Indiana. "Consumers are becoming more aware of the impact that single-use plastics are having on our environment and are looking for ways to do their part."
Founded just two years ago, the company claims that people purchasing their stainless-steel reusable straws have already kept some 80 million plastic straws from entering ecosystems.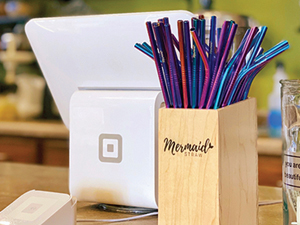 Reusable straws are becoming more prevalent as people look for disposable plastic alternatives to prevent more plastics from entering the oceans.
The company, which also makes drinkware and flatware in shiny mermaid colors, hosts beach cleanups on Lake Michigan from April to September each year to help spread awareness about the impact of plastic pollution.
Disposable plastic straws are also being replaced by reusable glass ones. "The best thing about glass straws is the taste factor — you only taste what you are drinking," says Kattie Blue, who founded DrinkingStraws.Glass with husband Jeremy Custer. "Also, the straws are see-through so you can see how clean they are," she adds.
DrinkingStraws.Glass straws are sold online, at trade shows and to wholesalers; they're featured in about 600 retail stores to date.
Not to be outdone by stainless steel or glass, GoSili, Traverse City, Michigan, has been making silicon straws along with other silicon food and beverage containers and toddler-feeding products for the last 14 years. But the recent introduction of straws that've been the big hit.
Co-founder Stacey Feeley attributes GoSili straws' popularity to the fact that they come in a wide range of colors to appeal to any demographic.
"We've been doing this for so long, but never in a million years did I think one little straw could carry us into 10 different markets," she says.
The list of available sustainable products and their manufacturers is a long one. The makers of beauty products and sunscreens are also going green.
"I think the younger generation gets it. They understand it. It's so immediate for them, which is amazing to see," Feeley says.
And with plenty of merchandise coming on the market, retail store owners today and in the future will be ready for them and their older counterparts. ■


---
SAVE THE DATES ... AND THE WORLD
Upcoming days that are important to the eco-conscious community are a great way to promote the environment at your store.


Earth Day - April 22
April 22, 2020, marks the 50th anniversary of the very first Earth Day, regarded as the birthday of the modern environmental movement. Today more than 1 billion people around the globe participate in Earth Day celebrations.

This year the Earth Day Network is calling for the world to rise up in a united call for the creativity, innovation, ambition and bravery needed to meet the challenge of the climate crisis and create a zero-carbon future.

The Earth Day Network also sponsors a host of initiatives to commemorate the day that anyone, anywhere can get involved in, including retail operations. While these events have been postponed in 2020, there is an opportunity to get involved when they are rescheduled.

One such initiative, The Great Global Cleanup, is a worldwide campaign to remove billions of pieces of trash from neighborhoods, beaches, rivers, trails and parks. The goal is to reduce waste and pollution, improve habitats and prevent harm to both wildlife and humans.

Artists for the Earth is another earthday.org campaign designed to bring artists around the world to use the power of their art to express our common humanity.

Learn more at www.earthday.org.



Word Reef Day – June 1
World Reef Day, first observed in 2019, is a day for consumers, businesses and organizations to reflect on the delicate ecosystem of the ocean's coral reefs and make simple changes to protect them.

The day was Founded by Raw Elements, a Huntington Beach, California-based maker of all-natural sun protectant and with the support of Hawaiian Airlines and Aqua-Aston Hospitality
According to the company, in recent years, a major decline of the world's reefs has been experienced: 40% in Hawaii and the Great Barrier Reef, 85% in the Caribbean and 99% in the Florida Keys.

Three things retailers can do to protect reefs are: promote the use reef-safe sunscreen, help reduce single-use plastics and spread the message.

"We celebrated the inaugural year in Hawaii to honor the work the state has done to preserve its reefs. We know that today's efforts will inspire others, and that's what it's all about. Our goal is to build the day each year and create a legacy for future generations," Raw Elements founder Brian Guadagno said after the 2019 celebration.
Raw Elements will be sharing updates on how everyone can join in on this day via its social media channels @RawElementsUSA.

Learn more at www.worldreefday.org.



World Oceans Day – June 8
First proposed in 1972 at the Earth Summit in Rio de Janeiro, Brazil, World Oceans Day is a celebration of the world's shared oceans and people's personal connection to them, as well as a day to raise awareness about the crucial role the oceans play in people's lives and the ways we can help protect them.
The World Oceans Day Global Celebration is tentatively scheduled for June 8 at United Nations headquarters in New York City, but communities and businesses in coastal locations can also host their own events. The United Nations Division for Ocean Affairs and the Law of the Sea is also actively coordinating activities associated with the day.
UNESCO's Intergovernmental Oceanographic Commission sponsors the World Ocean Network, which since 2002 has been instrumental in building support for ocean awareness events taking place June 8. Other celebrations take place across the world on that day.

Learn more at www.unworldoceansday.com.

---
PARTICIPATING IN THE 1%

Many companies that create sustainable products are part of a network called 1% for the Planet.

It's a global movement based on the idea that companies that profit from resources taken from the Earth should help protect those resources.

More than 2,000 members in over 45 countries have come together to protect the future of our world through 1% for the Planet.

1% for the Planet members support a vast network of environmental organizations that focus on six main issue areas: climate, food, land, pollution, water and wildlife.

"We connect our members with high-impact nonprofit partners that align with their values and add to their brand story," the 1% for the Planet website says.

Retailers can join or find out if a company they are interested in purchasing from is a part of the 1% movement at www.onepercentfortheplanet.org.