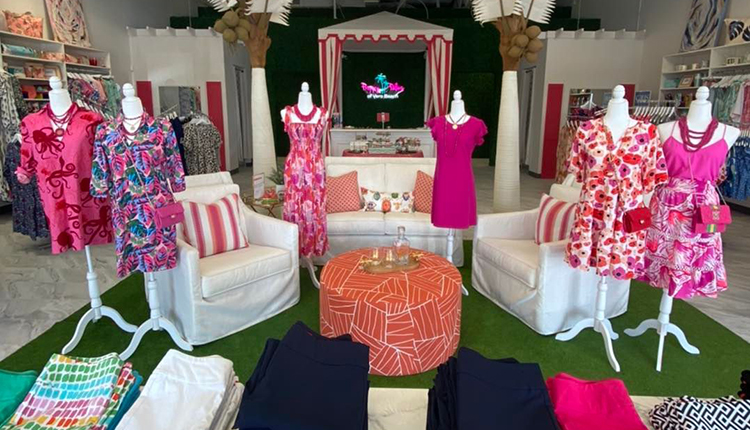 It started with pajamas and morphed into resort wear, accessories, shoes and jewelry. Decor Envy owner Tiffany Sweeney gradually introduced apparel into her Vero Beach, Florida-based housewares boutique — until she began running out of space. "We started getting a following of women who would come in routinely to see what we had new in our clothing and jewelry," she says, explaining the impetus for Preppy Palms, which opened in December 2021.

Now, Sweeney is managing both Vero Beach shops that have grown followings.

"My goal was to bring in products that are not easily found and the markers for me are affordability, quality and the look — very preppy, bold and colorful," Sweeny says of Preppy Palms.

Lines like La Mer Luxe, Katherine Way, Crazy Larry and Michelle McDowell fill neat displays with accessible price points in the $60 to $120 range. This, along with a commitment to color, are what separate Preppy Palms from other beach apparel stores in the market, Sweeny says.

Sweeny curates items based on customers' requests. For example, the shop offers a range of sleeveless tops with cardigans, and three-quarter sleeve tops to accommodate guests who prefer more coverage.

"What you'll get in our store is apparel with a classic form that is well-fitted, modest but flattering," she says.

Sweeney is also selective about the patterns and materials she carries. For example, dresses made from relaxed fabrics "are easy to travel with and great for work — a crossover between something you can wear to church or out on the weekends," she says.

As for the dynamic color palette, Sweeney quips, "Our mantra is life is too short for beige."

"We love our color and that Palm Beach coastal regency look, and that carries over into our clothing," she says.

This aesthetic also defines the store layout and how items are presented. The shop is about 1,000 square feet located at 974 14th Lane, on the outskirts of Vero Beach's downtown shopping district and positioned near a heavily trafficked commerce area.

The shop mimics a classic Palm Beach estate with a back wall covered in faux hedge greenery, vinyl tile flooring that looks like marble, and dressing rooms that are fashioned after backyard cabanas. "The shopper who walks in is immersed in this experience with beautiful, brightly colored clothing, shoes, accessories and jewelry," Sweeney says.

The store is receiving new product daily, she adds. And a hallmark of Preppy Palms is how associates act as personal shoppers for guests. Sweeney says, "We will help them find the perfect fit."