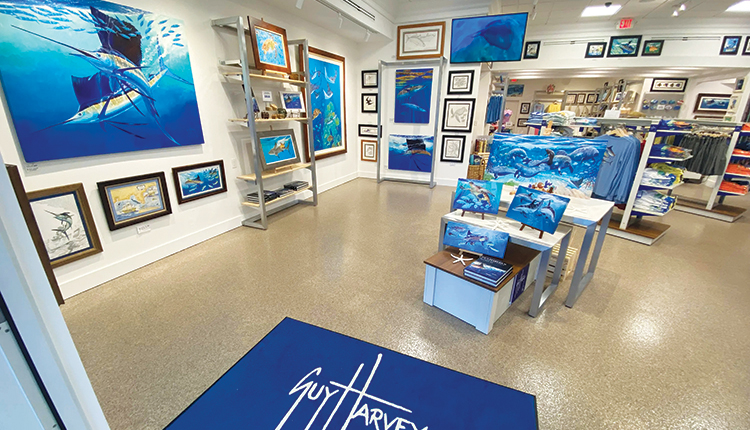 Guy Harvey first exhibited a series of drawings inspired by "The Old Man and the Sea
"
in Fort Lauderdale, Florida, in the mid-1980s launching a creative marine-art movement. He sold the entire collection at the city's renowned international boat show. An iconic coastal brand was born — and Feb. 10 marks the ribbon-cutting ceremony to celebrate its flagship store opening at 816 E. Las Olas Boulevard in the same city the brand got its start, Fort Lauderdale.
"It's a city where Guy's art career took off, and we love that we are near the ocean and can bring a familiar, marine-inspired shopping experience here," says Jane Tebbe-Shemelya, Guy Harvey Enterprises chief revenue officer.
During the pandemic, Guy Harvey's showroom store in Davey, Florida, closed and the company moved to fulfilling online orders only.
"As we began to move forward, we decided to open a retail store that was easily accessible to tourists, fans and residents," Tebbe-Shemelya says.
The growth Fort Lauderdale has experienced in its downtown district also drove the company to plant its retail location there. Plus, the company already has a customer base attracted to the brand. "We find that many Guy Harvey fans live, work and visit here," Tebbe-Shemelya says.
With the opening of the Fort Lauderdale store, Guy Harvey Enterprises now has two stores dedicated to the brand. The other store is located in George Town, Cayman Islands.
"This is definitely a special place," Tebbe-Shemelya says of the new Fort Lauderdale location. "We are not ready to announce any additional expansion plans at this point."
This strategic decision to open the store has nothing to do with sales, production introductions or new partnerships, according to Tebbe-Shemelya. The Fort Lauderdale store will greet guests with a splash of art, apparel, books and ocean-themed gifts and accessories.
"In the store, you'll find a wide variety of our product types and categories, whereas online you may not have a full assortment as you would in store," Tebbe-Shemelya says.
The company has expanded its sustainable product offering, including rolling out apparel lines using REPREVE, a fiber made from recycled materials including plastic bottles. "Customers are very interested in sustainable products and it aligns with our focus," Tebbe-Shemelya says. A portion of sales proceeds goes toward the Guy Harvey Ocean Foundation, which supports educational programs and oceanic research.
Other new product introductions include eco-friendly pet beds featuring Guy Harvey art and constructed with fiberfill made from ePet fiber with at least 75 recycled plastic bottles per bed. The designs are printed with 100% biodegradable water-based inks.
Also, the company launched 8-inch fillet knives and cellphone cases. "We are excited for customers to come out and see the new products," Tebbe-Shemelya says.
Guy Harvey himself will be hosting a meet and greet at the store Saturday and Sunday, Feb. 12-13 from 1:30 to 3:30 p.m. and 4 to 6 p.m. Fans who purchase $100 or more at the shop those days will also receive a free lithograph.
Also, Guy Harvey will promote the Fort Lauderdale opening and the brand's products at the Discover Boating Miami International Boat Show, Feb. 16 to 20 at the Miami Beach Convention Center and Pride Park. Commemorative merchandise will be available for sale.
Tebbe-Shemelya says, "Despite COVID, we had a strong 2020 and 2021 with adding new products with partners, and we are excited for customers to come out to the store, which has a sense of that ocean lifestyle experience."