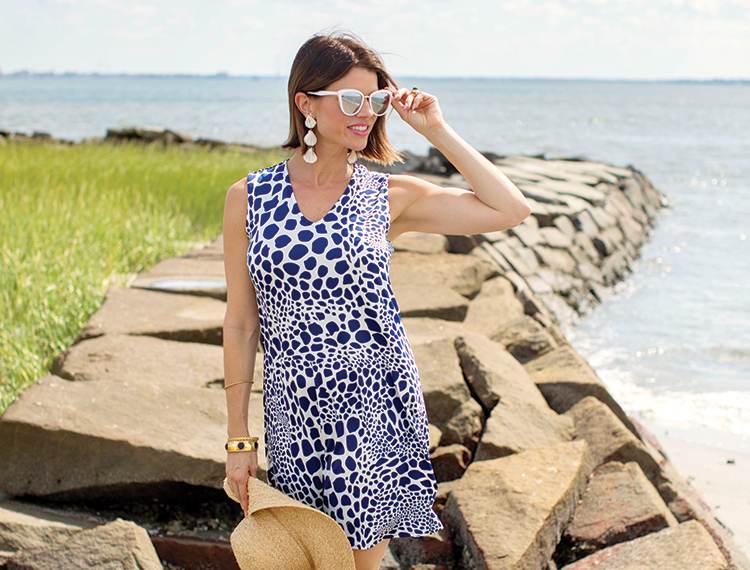 Blue has always been an integral part of any beach, coastal or nautical color scheme. But when it also becomes trendy beyond that specialty niche, the broader appeal can create a greater demand for items bearing that shade.
So when Pantone announced that the 2020 Color of the Year is Classic Blue, it was natural for coastal retailers to get excited.
Pam Thibault, manager of Crabby Chic, couldn't have been more thrilled with Pantone's choice. The Wilmington, North Carolina-based coastal home decor and gift shop that specializes in luxuries for women, was already stocked with dozens of blue items.
"We've always been all about all shades of blue," she says. "For us it was just an added perk this year because it allows us to be able to buy more of what we love since of course the color is everywhere."
Since the Color of the Year is a color that's already a huge part of Crabby Chic's selection, it allows for the store to carry an even larger variety of items in that signature color.
In years when the Color of the Year is not within Crabby Chic's typical color palette, then Thibault says, "We usually just try to slide it in through a small accessory or maybe some jewelry."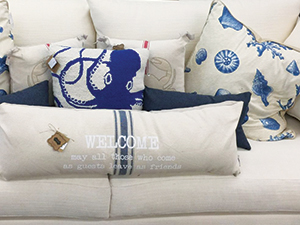 A bed set up in the shop with bedding from Annie Selke, lamps, pillows, and several clothing items are among items that you'll find at Crabby Chic sporting the Color of the Year.
Just about an hour away in Holden Beach, North Carolina, Susan Hessman, owner of The Memory Cottage had to figure out a way to incorporate the deeper shade of blue into her store. She says shoppers in her town are a little slower to adopt Classic Blue, than some more populous parts of the state.
"We tend to sell mostly teal, sea green and lighter blues," she says.
Hessman wanted to stay up on the current trends, however, "so I threw in some of the darker blues with some pillows and baskets and a few pieces of art. We've also been able to pull in some stark white with the deeper blues."
Classic Blue may take some time to take hold in Holden, but Hessman tries to persuade those who've traditionally decorated with lighter shades of the primary color to take the plunge into Classic Blue.
"Almost everyone who comes in, I encourage to try some of the darker blues. I encourage people to not feel like they have to do a whole room, but just a piece here and there to update."
It's a whole different story in trendy Southern California where customers at Bella Bazaar in Dana Point, California, stop owner Azar Salehi with an item and ask, "Is this the blue that is the Color of the Year?"
"People in this area are on top of things and very much want to stay on trend," Salehi says.
Bella Bazaar is like a traditional bazaar, according to Salehi, with a bit of everything from furnishings to clothing in the 3,000 square feet store. And Classic Blue has never really been out of fashion.
The test of time
For the past 14 years, Classic Blue has been the most sold color, according to Salehi. "It's always in style."
La Mer Luxe's brand of resortwear can be found at resorts, boutiques, spas, hotels, and smaller boutique department stores. Its CEO Natalia Castillo says consumers may not even be aware of their attraction to the Classic Blue items that are finding their way into stores.

"The draw to the color is unconscious," she says. "Because it's everywhere people look, they see it more often, so they know it's popular."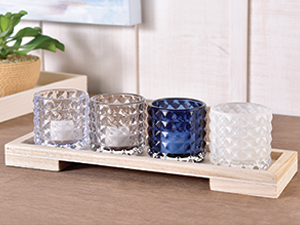 Even online retailers like Caron's Beach House use the Color of the Year as something to talk about, promote, and showcase.
Not only does the nautical, coastal and tropical decor retailer promote the Color of the Year on its website, it also pumps up Classic Blue items in its newsletter.
"We feature the Color of the Year and have products that include the Color of the Year," says owner Caron White.
Having the newsletter featuring Classic Blue items has led to more purchases, according to White. Grouping items that feature the color whether online or in a store is also a way to generate a buzz.
"If you are online or a brick-and-mortar store, you can pull together existing stock, and showcase it all together," says White. "When you group it together and it looks good, people get it and are inspired."
When the Color of the Year announcement is made, Salehi says it creates quite a buzz.
To capitalize on the excitement, the Bella Bazaar features the color in the first focal area customers see. This includes a sofa in the special shade.
"We feature the color in these areas of the store for the first quarter after the announcement and then mix things up since the excitement fades, and we change quite often," Salehi says.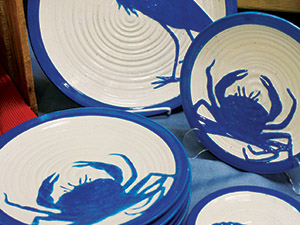 She is a big believer in accents and when she buys product for the store, she goes heavy for accessories in the Color of the Year. She suggests retailers to not overwhelm in the Color of the Year, but to have a significant number of items available in that color.
"It's important to have some of the Color of the Year in whatever category your store features," says Salehi.
While the Color of the Year presents an opportunity, you should be leery of going overboard, advises Marcy Hoke of Shabby Shore. Hoke who lives in the Great Lakes Region of Ohio designs home decor with a coastal look and sells them via art shows, pop-up shops, Instagram and Facebook.
She warns against relying on trends only as it limits the market.
"Have enough product that features the Color of the Year to make an impact and be timely, but always remember people like the classics," she says.
Have fun
Classic Blue is a standard color for seaside merchandise. For this reason, one might think it does not cause waves among designers and retailers. However, there's a clear excitement regarding the Color of the Year selection from wholesalers to designers.
"We're thrilled with the 2020 Color of the Year because it's a beautiful classic color that never goes out of style and is easy to relate to," La Mer Luxe's Castillo says. "It's one we like to work with as it works with all skin types and hair."
It also fits within La Mer Luxe established brand guidelines.
"While we've always had Classic Blue, it's fun this year because it's everywhere and there's much more to offer now," says White. "It encourages us to think outside of the box."
Hoke has a personal affinity for Classic Blue.
"The Color of the Year is perfect for me because that's how I decorate, and it's the color I have in my home," says Hoke. "Because Classic Blue was selected as the Color of the Year, it encourages me and excites me to do design and produce more for my spring collection."
"It's a beautiful blue, and it's universal," says Salehi. It's an easy color to redecorate with, she adds.
So, as you organize your merchandise this season, remember to have a healthy dose of Classic Blue. As a seaside retailer, that shouldn't be a stretch. However, as the Color of the Year, a popular color for seaside retailers is also trendy, and that could appeal to more than your traditional customer. ■

---
A perfect match
Before these Classic Blue items can show up at stores, designers and manufacturers of the products they carry have to develop them.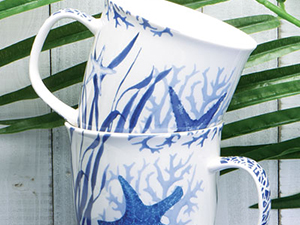 Pantone usually makes its annual Color of the Year announcement in November of the preceding year. It has selected a Color of the Year for the last 21 years. Whatever the color is, it influences product development and purchasing decisions for fashion, home furnishings and product packaging across all styles.

While it can be hard to predict what Pantone will decide as its yearly color, souvenir maker Cape Shore does its homework.

"We try to coordinate with what others are doing by looking at furniture, clothes, and other benchmarks," says Hilary McKinnon, Cape Shore creative director. "Often the color of the year in our market is one that was used in other markets previously."
Classic Blue ties in well with the company's products.

"It is perfectly matched to what we do for our coastal locations and an easy color to ask designers to work with," she says.

McKinnon and her artists plan to incorporate it into many of the hundreds of products they will be designing this year.
Because of the staying power of the Color of the Year new products featuring the color don't need to be rushed.
"We have time to do some work related to the Color of the Year and decide where to put our emphasis. Generally, the Color of the Year is in vogue for the next two to three years, so we can add to our collection and palette over the next few years," says McKinnon.