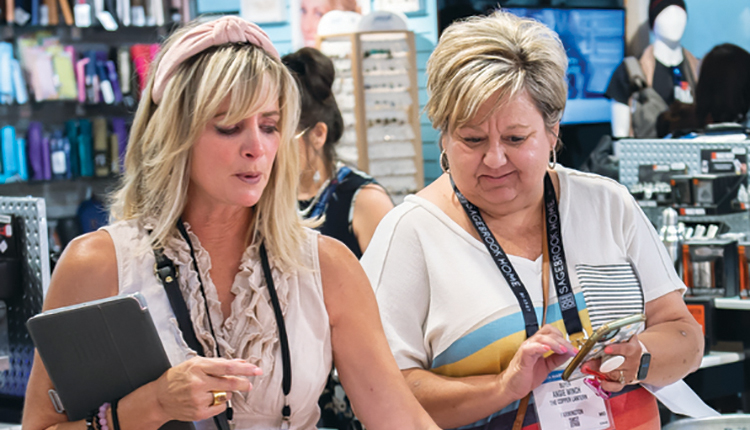 Atlanta Market is encouraging buyers and sellers to rediscover, reconnect and get inspired this Winter as it plans for the return to a full market experience highlighted by expanded resources and a complete roster of events at its Jan. 11-18, 2022 staging.
"Atlanta Market expects to welcome back buyers and sellers who have shopped with us in 2021, as well as those who have not been to a market in nearly two years," says Bob Maricich, International Market Centers CEO. "Temporary exhibit locations are reopening to accommodate expansive gift and décor resources and live, in-person events are resuming to engage and inspire buyers. Atlanta in January will be the market moment the industry is anticipating."
Atlanta Market continues the growth trajectory of its permanent and temporary exhibits – showing some 8,000+ lines – for the Winter 2022 Market.
The temporary exhibits have also grown again, with 3,000+ lines in 33 categories in 10 exhibit halls across Buildings 1, 2 and 3.
Showroom remerchandising in Building 1 continues to refine the home décor buying experience with new brands as well as expansions and reinvestments among the 300+ showrooms on 10 floors. The nation's most expansive gift offering of 700+ showrooms on 19 floors in Buildings 1, 2 and 3 further improves with new and expanded showrooms in general gift as well as gains in specialty categories like children's, gourmet and housewares, floral, outdoor living, seasonal and stationery.
Atlanta Market reignites its market programming with a series of 10+ at-market seminars, cooking demonstrations, industry celebrations, product displays, photo-ops and more. The Atlanta Market Demonstration Kitchen, again hosts four days of live cooking classes. In-person seminars also resume for four days during market. All-new photo-ops and product displays will be available in all three AmericasMart Buildings.
In connection with its successful year-end launch, IMC's JuniperMarket hosts events throughout the market week. The industry's newest B2B wholesale buying platform will host the Market Kickoff Party as well as photo ops, product displays, giveaways and opportunities for buyers to engage with the new program and sign up. JuniperCommerce also will welcome suppliers to its showroom in Building 1, Floor 9.
For the Winter 2022 Atlanta Market, showrooms are open Tuesday, Jan. 11 – Tuesday, Jan. 18, 9 a.m. – 6 p.m. and temporaries are open Wednesday, Jan. 12 – Sunday, Jan. 16, 9 a.m. – 6 p.m.