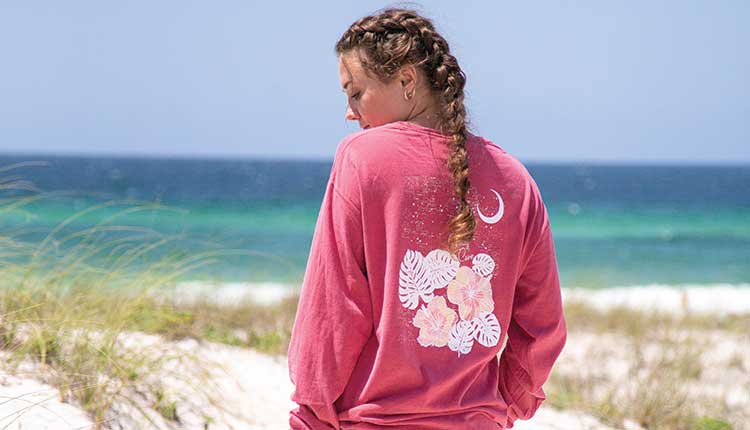 Ever since last year's lockdowns, many consumers have donned stay-at-home wardrobes consisting of comfy leggings and cozy hoodies. Now, as people transition back into work, school and vacation mode, they're loathe to shed their comfortable casual clothes.
"This year, especially, it's all about comfort," says Heather Dalton, who owns a small boutique in Marblehead, Massachusetts, called Seaside Allure. "People want soft, cozy, comfortable clothing that reminds them of the yoga pants they've lived in for a year."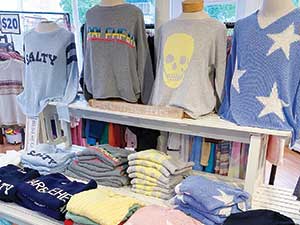 Over the past year and half, Dalton shifted her inventory away from formal dresses toward more relaxed coastal wear. Her goal is to offer versatile items that easily shift "from swim to din and beach to bar," she says. Looking ahead, she expects consumers to gravitate toward practical pieces that can easily make this transition. "It's a trend that's here to stay," she says.
As travelers return to their favorite seaside destinations, they'll be shopping for apparel as they shed their old wardrobe for something new. They are looking for casual styles, that make them look and feel good, but also items that accomplish that comfy, at-home vibe whether they're lounging on the couch or cruising down the coast. By stocking the latest beachwear trends alongside timeless classics, retailers can draw in customers looking to freshen up their attire.
Wear the rainbow
One of the biggest fashion changes Dalton saw this year was an expanding palette of vibrant hues, as consumers emerged from lockdown "looking for bright, cheery colors," she says.
Solid-color Lilly Pulitzer T-shirts are bestsellers at Seaside Allure, often paired with the brand's tropical patterned shorts. "This summer, I sold more of their plain everyday wear than I did all the patterns of the past," Dalton says. "People want a fun pop of color, but maybe not a head-to-toe print."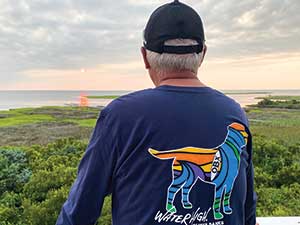 No matter how many different colors Dalton stocks, blue remains the most popular by far. "We sell blue all day long," she says.
The same color trend holds true further south. At Barefoot Trader, located on the Gulf Coast in Englewood, Florida, owner Toby Delbridge says Comfort Colors' Periwinkle Blue is his top color this year. "The Comfort Colors T-shirts are definitely the number one shirt, in almost any color," he says.
Besides Periwinkle Blue, other favorites include a bright orange called Melon, a seafoam green called Island Reef, and a salmon-colored Neon Red Orange, which Delbridge notes, was hard to get this year. "When we opened 31 years ago, every T-shirt we sold was white," he says. "Now, we sell almost zero white T-shirts."
From coast to coast, rainbows of vivid colors are pushing consumers beyond the dark athleisurewear they've lived in during lockdown.
"There's a lot more color usage now," agrees Jim Iwasaki, organizer of the quarterly OC Apparel Show in Irvine, California. "People are looking for color when they're shopping because it makes them happier. Since we've been cooped up in our homes wearing a lot of stretchy pants, we're happy to get out into the sun."
Performance fabrics
Although ring-spun cotton tees will always be a staple of casual apparel, consumers expect fabrics to do more than just feel soft. More than ever, people want clothing to protect them from the elements at the beach with qualities like quick-drying, moisture-wicking, built-in sun protection and wrinkle-free, wash-and-wear ease-of-care.
When David Randall launched WaterHigh in 2020, he wanted to build a brand to offer artistically designed, water-themed apparel and accessories. Although cotton tees are most popular with online shoppers and retailers alike, Randall is broadening his product line to meet an increasing demand for activewear.
"Our customers all want some sort of performance shirt or sun shirt," says Randall. A marketer and graphic designer based in Ohio, he vacations annually in the Outer Banks, where he debuted his brand. "Everybody walking down the beach is wearing long-sleeved shirts for sun protection, so it's become a must-have." WaterHigh's colorful slim-fitted rash guards are made of polyester and spandex, which offers an ultraviolet protection factor (UPF) of up to 40.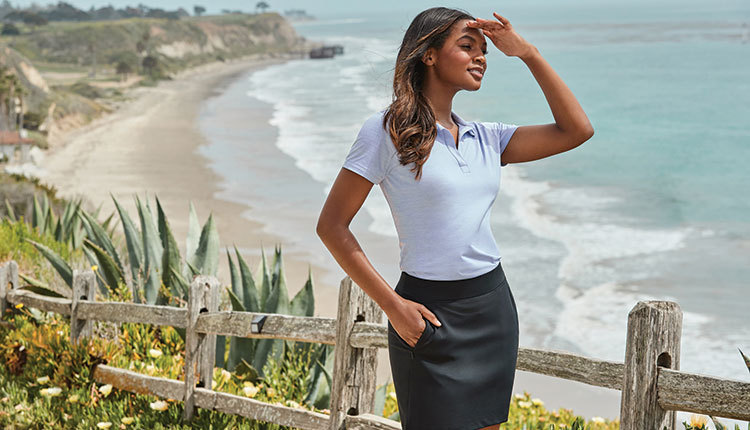 Delbridge also sees a high demand for UPF clothing in his stores. "We sell more long-sleeved Lycra than we ever have before because there's a lot more concern about sun protection," he says.
As fabric technologies advance, Iwasaki says performance wear will keep evolving to meet these concerns. His second OC Apparel Show in August featured several lines of sun protective activewear from brands like SanSoleil and BloqUV, which both use proprietary fabrics to offer permanent UPF 50 protection. "It's woven into the fabric, instead of just treating the fabric, so you're not going to lose that protection," he says.
Randall says performance features are becoming "mandatory" for seaside retailers. Quick-dry isn't good enough anymore, as innovations like hydrophobic fabric have emerged.
"Hydrophobic takes performance one level further," he says. "These are 100% waterproof, so they never get wet. The water just beads right off, like a rain jacket. This fall, we want to add hydrophobic shirts and shorts to our mix because we're seeing that as a trend for next year."
Sustainably sourced
Another fabric trend that reigned at the OC Apparel Show this summer was the use of recycled materials, reflecting a growing concern for the industry's environmental impact.
"Sustainability is a big catchword," Iwasaki says. "It's pretty phenomenal what these manufacturers are coming up with."
For example, the show featured sustainable swimwear from brands like Dippin' Daisy's, which makes 95% of its women's swimsuits from recycled nylon with inserts made from recycled foam. Likewise, men's swimwear from Fair Harbor made waves at the show with boardshorts fashioned from recycled plastic bottles.
Sustainable shoes are consistent hot sellers at Seaside Allure, where Dalton sold out of every color of Nalho sandals featuring cushy yoga mat soles. "People love anything we bring in that's recycled," she says.
Local name drops
Since many consumers turned to online shopping when they couldn't physically visit beach shops during the pandemic, retailers are now fighting to regain relevance by offering unique apparel that customers can't find elsewhere.
"It's difficult being a small boutique competing with the online world," Dalton says. "We cannot just keep ordering the same clothes we've ordered for the last eight years, because everyone — including my 81-year-old mother, learned how to shop online. That's why I'm trying to do more customization by creating hoodies, crewneck sweatshirts and T-shirts that are unique to our shop."
Dalton started offering apparel emblazoned with place names like "Marblehead," the local ZIP code and the more generic "East Coast," along with funny slogans related to local landmarks.
"Anything that says the town name seems to get a lot of traction. The sweaters that said 'Marblehead' just flew out the door," she says. "They're not something you would necessarily go looking for on Amazon."
Likewise, Barefoot Trader's bestselling item this year is a crewneck sweatshirt with a simple athletic font displaying locations like "Englewood Beach" or "Manasota Key" on the front. "It's selling to all ages, men and women, because of its simplicity," Delbridge says. "It's something that we've sold for 25 years, but it's probably the most popular piece this year."
Sea-inspired imagery
Although classic place-name apparel is a souvenir staple for beachside retailers, creative designs and colorful imagery can offer opportunities to differentiate your inventory.
"There's always going to be a high demand for your basic name-drop garment," Randall says, "but the trend continues to grow for people craving unique graphic design."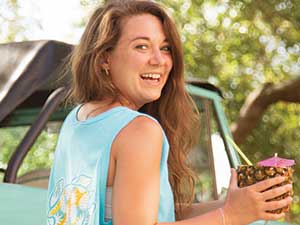 For instance, WaterHigh licenses original beach-themed artwork from signature artist Stephanie Kiker to illustrate the brand's fascination with water. While colorful waves and lighthouses are generally safe bets for beachwear graphics, Randall says that sea life and other animal motifs consistently rise to the top — especially if shirts feature turtles, dogs or dolphins.
"If you incorporate those symbols," he says, "it's going to sell up and down the coast because people love them."
WaterHigh's bestselling design is a close-up illustration of a loggerhead turtle, and a close runner-up is the Water Dog design, which showcases the outline of a canine filled with colorful waves.
Casual lifestyle brands like Shelly Cove and Buddy by the Sea bank their entire collections on these popular animal icons. Most of Shelly Cove's shirts prominently feature the company's namesake turtle logo filled with a variety of designs — from beach scenes to abstract art to other sea life like seahorses, whales and crabs.
"Pretty much all of our shirts have our turtle logo on them, and inside that turtle is a colorful pattern," says founder and CEO Matt Schroeder, who started the company in his parents' garage in 2015. He began wholesaling a couple of years ago. "Something that's always been really strong for us is detailed mandala-style artwork." An intricate mandala design on a mint-colored tee is one of the bestsellers on Shelly Cove's website, with more than 500 five-star reviews.
Likewise, Buddy by the Sea specializes in logo tees and hoodies that display the brand's surfing dog icon, packed with tropical patterns.
"Our classic Buddy logo tees in cool green and denim are always a strong staple," says executive vice president Jeanette Speenburgh. "They're in the top five every single year." The brand's most popular patterns include Key West, Tropical Treats and Good Tides, which all feature palm fronds in various palettes.
However, Schroeder sees florals fading out of vogue in beach apparel. "Floral was really popular two years ago, and it was still kind of popular last year, but now we're not seeing it do as well," he says. "In 2019, our Buttercup Blossom design was our third bestselling shirt, and now we're about to put it on sale to get rid of it."
Clothing with a cause
Even more than certain colors or graphics, though, consumers are drawn to the causes behind the brands they buy. Perhaps that's why companies like Shelly Cove, WaterHigh and Buddy by the Sea are growing so fast.
"We've noticed that more customers seem to care a lot more about the mission behind the company," says Schroeder, who donates 10% of Shelly Cove's profits to the Karen Beasley Sea Turtle Rescue and Rehabilitation Center in Surf City, North Carolina, where his family vacations regularly. "It's a huge reason why people buy."
Since 2015, Shelly Cove has raised over $200,000 for sea turtle care. Similarly, WaterHigh partners with water.org and related charities to improve access to drinking water around the world. Buddy by the Sea donates 10% of net proceeds to provide service dogs to people in need through charities like Guide Dog Foundation and America's VetDogs.
"So many people want to make a difference in this world," Speenburgh says. "Even if they aren't dog lovers, our mission really resonates with them and makes them feel good about what they're doing."
While it's easy for clothing brands to tell these stories on their websites, the real challenge is "putting that same emotion into retail stores," Schroeder says. "When stores use signage to describe our mission, the sell-through rate is so much higher."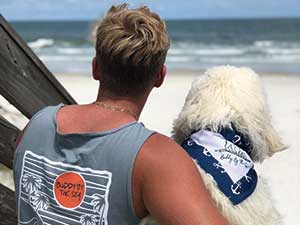 To make the impact even more personal, Shelly Cove includes hangtags on each garment with a unique serial code that consumers can enter on the company's website to track a turtle through rehabilitation and release. "That's a different way for customers to connect with our mission," Schroeder says, "and that's been a good selling point, too."
Casual fashion forward
As apparel brands release their first new collections since the COVID shutdown to stores and trade shows, now is the time for seaside retailers to refresh their inventories with styles that embrace bright color, livable comfort, practical fabrics and creative designs backed by meaningful causes.
"Because of the pandemic, a lot of retailers were just placing reorders for what they sold prior to COVID," Randall says. "This is a year for retailers to get out and freshen up their brand offerings. The demand is off the charts and [sales] volume is higher than it's ever been."