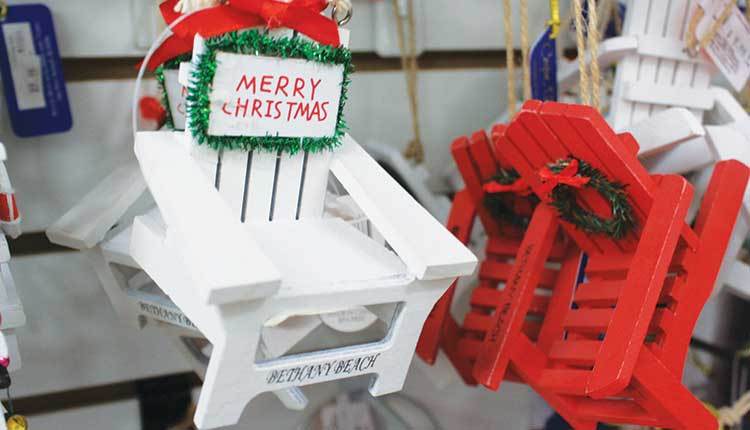 Decking the halls, the tables and the walls with Christmas decorations, gifts and ornaments might seem out of season in summer, but if you're a seaside retailer, it's a different story. People come into your store looking for souvenirs and mementos all the time. Having ones that harken to the holidays might just make customers' holidays even jollier if they are also reminded of their favorite vacation spot.
"Ornaments sell year-round," says Tara Merrill, sales and marketing manager of Cape Shore. "An ornament is the perfect souvenir. It is small, it is packable. It creates a perfect memory, especially if it's name dropped."
Yarmouth, Maine-based Cape Shore sells a variety of gifts to coastal retail stores ranging from mugs, wine tumblers, dishes, magnets, straw sets, emery boards and ornaments.
Ornaments make up 80-90 percent of its business. The company's resin ornaments, including a driftwood Christmas tree with sea glass, are the company's top sellers. Its shells, sea turtles and beach glass ornaments sell well in Florida, while lighthouse, lobster and moose ornaments dominate in the Northeast. Add the location to the ornament and the chances of making multiple sales multiplies.
"Anything you are putting in a store that has a name drop on it is going to sell much better than a plain item," says Merrill.
But name dropping only goes so far. Customers also need to see and be drawn to the merchandise with stellar displays. And there's more than one way to feature Christmasy items that will get your customers' attention.
Supporting role
Cape Shore's Meghan Palmer doesn't always suggest grouping all your store's Christmas items together. She uses other creative ways to invite Christmas into a display without making the holiday the focal point.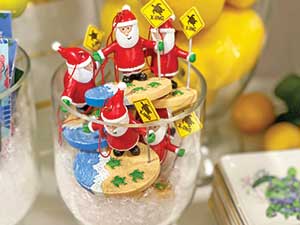 "I think it is often really effective to have a focal color," she says. "It doesn't have to be the standard Christmas red or green. For instance, sea glass is really popular, so you can pick a really fun blue within the collection and really build it out from there then pull in other products to go along with it."
Palmer, who builds the displays for Cape Shore's trade show exhibits likes to bulk things out by filling baskets with natural kraft paper shred or white paper shred. Fake snow and little LED ferry lights are also elements she incorporates into displays. She also suggests illuminating battery-powered ornaments.
Customers who visit Cape Shore at various trade shows will often take pictures of the displays Palmer assembles to recreate inside their stores. While many stores will hang their mugs and ornaments on a wall or put shot glasses on a shelf, Palmer will create a table with these items in baskets and bowls.
"They like that it is not all Christmas, that it is more theme based," says Palmer. "Because if customers are into a certain theme like beach glass or sea turtles, they might want different items in that theme."
Double duty
Christmas decorations provide a unique opportunity for stores, according to Cathy Donovan Wagner, owner of Chicago-based retail consulting firm Retail Mavens: they can be displayed in more than one place.
A sea turtle ornament for example can be placed among other sea turtle merchandise for cross selling, and the same ornament can also be placed in a dedicated Christmas section. "It's a beautiful way to get people to see it twice," she says.
That's how the Lazy Gator does it. The 13,000 square foot gift store in Murrells Inlet, South Carolina, sells a variety of apparel, accessories, gifts and home decor, most of which has a coastal theme. An entire room of the store is dedicated to Christmas.
"We do a lot of name-drop items with Murrells Inlet on them because a lot of people, when they are shopping in the summer, want a memento they can take home for Christmas," says Jennifer Beall, Lazy Gator store manager.
The store carries snow globes and other general Christmas items, but many of their ornaments are not ones travelers could purchase back home.
"You're probably not going to be able to find an octopus ornament in the Midwest," she says. "We try to get things that are very geared toward where we are because as a destination for vacationers they want a little piece they can take home."
You name the coastal icon and Lazy Gator probably carries it in an ornament. Flamingos, alligators, manatees, sharks, octopus and other sea creatures, Santa, snow- or sandmen on the beach are just some of them.
"I like to group things by theme like snowmen, beach or coastal, name drops and Santas. We have a little candy section that has holiday stuff for the kids," says Beall.
Christmas decorations are placed on tables. Ornaments also hang on a large wall. Some ornaments are grouped by vendor. Customers will visit specifically for glass ornaments from Old World Christmas, so it has its own section. And within that brand section, ornaments are further grouped by theme.
"I like to be uniform so people can find things more quickly and we have separate break out tables for each theme," Beall says.
Tree time
During the summer months, Lazy Gator has seven Christmas trees set up in the Christmas section of the store. "As it gets closer to Christmas, we bring more trees out to other areas of the floor," says Beall.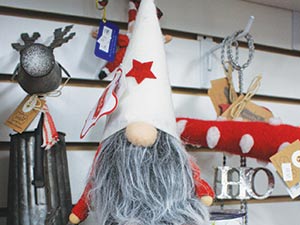 These extra trees are strategically placed in areas that coordinate with the merchandise. For example, a tree with candy items is placed near the homemade fudge area of the store. Preppy style ornaments from Kurt Adler pair nicely with the store's Simply Southern merchandise.
"People know what they like so if you give them all of those options together then they aren't going to put something they found down when they find something similar in another area of the store," explains Beall.
There are some exceptions. Santa can be found in various locations throughout the store. While you can find him in the Christmas section you might find a summery version of the jolly man in the red suit with the summer-themed merchandise.
The store also has tables with bulkier sit-around items and home decor — each set up with themes like beach or traditional.
The extra trees usually go up in early November. Some people complain that it's too early, but they're often the same customers that end up buying.
"We've all learned that if you don't buy it right away, it might be gone," she says.
The name-drop ornaments are the store's bestsellers, including a shark with Murrells Inlet printed on it. "We sell those all summer," Beall says.
Another store that can attest to selling Christmas all year long is the gift store ACK 4170 located on the island of Nantucket, Massachusetts.
Inside the store's 450 square feet, one will find unique gifts, many of which are locally made, and small batch finds. Visitors won't be able to miss the large 8-foot tree inside the compact store.
Owner Susan Fairgrieve says a friend joked with her that she should get rid of the big Christmas tree taking up so much space.
"You don't understand," she quipped back. "I sell ornaments all day long."
Fairgrieve says ornaments are one of the most popular souvenirs people buy. "They go away somewhere and they want to take home a little keepsake and they get an ornament and its perfect."
All the ornaments on ACK 4170's tree are handmade by various artists. Each ornament hangs from the tree and as each one is sold, Fairgrieve replaces it. "I'm constantly trimming the tree," she says.
But her biggest holiday sellers are the candles. She has one scent called Nantucket Sleigh Ride. Christmas Stroll is the other popular variety.
"I sell 500 every Christmas," Fairgrieve says of the candles, "But if I ordered 1,000, I'd sell 1,000, but I just don't' have room."
During the holidays the entire front of the store is covered in candles. People will pick up five or six at a time.
"Candles, ornaments and tote bags are my biggest sellers," she says.
Keep local focal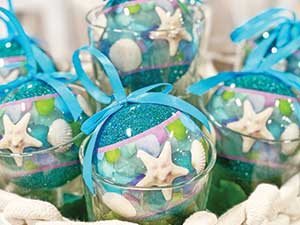 The local aspect of ornaments or any locally made merchandise can't be emphasized enough, according to Wagner.
"It's far and away the best thing a store can do because people want to bring home things from other places," she says.
In addition to pointing out items that are local, she also suggests signage reminding people not only to buy one for themselves, but to pick up one for a gift.
She also suggests being adequately prepared with enough inventory. "People often want to see a nice selection of holiday decor. When you get down to a couple of items in a category, they stop selling."
She's advising her clients to buy ahead of time and "buy a scary amount." "Worst case scenario," she says, "you could run a sale going forward, but at least you didn't run out."
While Christmas time may be a few months away, it can be alive and well in your store. Help your customers create happy holiday memories with reminders of their favorite destinations.