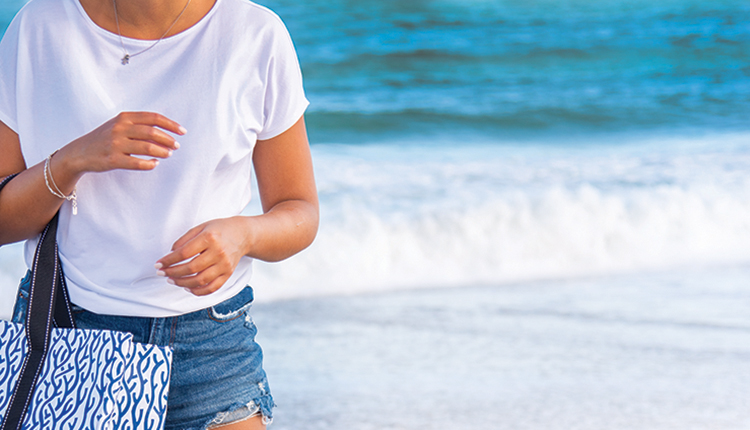 Carrying bulky towels, water gear and other essential supplies to the beach is not an easy job that most bags are equipped handle. This same bag must withstand the sand, saltwater and sun, while also making the person carrying it look good. Filling all of these requirements is not possible by most bag's standards. That's why a special breed of bags, known collectively as the beach bag, is specifically designed to accomplish all these functions.

But just as no two waves are the same, each beach bag is unique. They each have distinctive features, from the materials they're made from to the colors and prints they display. The stories behind them, are just as enticing. And there's something to satisfy every customer's whim.


Winning combination
Deb Waterman Johns founded Scout Bags about 17 years ago after recognizing the need for a stylish functional tote bag at an affordable price. After spending about a decade working in the New York City fashion industry, she moved to the historic and vibrant District of Columbia neighborhood of Georgetown. She continued to consult in the fashion world and would visit New York City and Europe regularly. It was the combination of an inexpensive oversized bag from New York City morphed with a fashion bag in Milan that was the winning combination for Waterman Johns.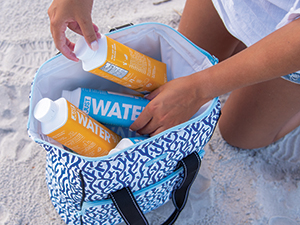 "I was working and raising four kids, all born within six years. I had a little pop-up shop in Washington, D.C., where I would find things on my travels to Europe and elsewhere and bring them together with a French partner," she recalls. "We were all in the thick of having kids and had lots going on, and we all needed big bags to carry stuff. I put these bags in my shop that I bought on sale at Pearl River Mart, which was at a great markup but also a massive bag, and everybody went nuts and fought over them."
She decided to take the idea of a large bag and make it into a very simple woven check pattern, inspired by the expensive plaid bag she saw in the store window in Milan. She took the line to markets in Atlanta and New York. "People went, 'This is cool. We want these,'" she recalls.
From there, Waterman Johns says she realized she could create beautiful fabrics and apply them to the bag with a film that covers the weave to make it smoother. She discovered new bag shapes and looked for new fabrics, and added molded cotton.

Waterman Johns joined her design capabilities with her husband's manufacturing background, and that's how Scout came together. The name and logo come from a dachshund they had at the time who was named after her favorite character in the novel, "To Kill a Mockingbird."

"We really believed that so many bags that started out large capacity started out too heavy and too bulky so by the time you add your stuff to the bag, they're insanely heavy to carry. So our idea was to have something that was very lightweight yet incredibly durable," she says.
And Scout's first bag design is still its most popular for beachgoers.

"Our all-weather woven, The Original Deano, our big open tote which a lot of people use at the beach, is still our number one seller. That's our original form so it's fun that it has had longevity," says Waterman Johns.
The durable fabric is also used in the construction industry. It is lightweight and inexpensive, helping keep the costs down.

"We had these layers of ideas built into this one bag and it just became something that morphed into an everyday bag," says Waterman Johns. "It also stands upright so if you are going to the beach and you are trying to put it down in the sand, it is not going to topple over as easily."
The bags are also water resistant so the fabric can be easily wiped off, "It is one of those bags that is really a lot of layers of capability but it also looks really cute," Waterman Johns describes.
The Four Boys Bag is Scout's largest bag. It got its name from one of Scout's original employees who had four sons. The Three Girls Bag is a slightly smaller version. Both have a zip top.

"Those you see on the beach all the time, too, particularly for families who are carrying all their gear to the beach like towels and sand toys," she says.
The bags have a drop down pocket on the inside. Smaller bags complement the bigger bags and can be used as compartments to hold suntan lotion or snack bags. "We have coolers, accessories and small bags and they all go in there very easily," says Waterman Johns.
This past year, the company added a polywoven fabric to its line. Those bags have also become popular for the beach, according to Waterman Johns. One is called The Bucket List and the other is called The Road Tripper.

"They've become a really strong beach bag, but their capacity is a little bit less," she says.
Scout is known for its prints, which Waterman Johns designs, and two artist on staff create. "I find images and influences that I love. I tell them what colors, what scales, what treatments I want, and they interpret what I give them. They're amazing."
Scout releases new patterns every season, but customers who like traditional Scout prints can also choose from eight signature patterns that never go out of print.

"We try to be very seasonal in our pattern selection as well as create colors that keep things lively and exciting," says Waterman Johns.


Finding a following
While Scout has become a well-known brand among seaside retailers, newer brands are emerging that also are finding a following. Rhonda Cardella and Lisa Martin came up with the idea for Gitingas six years ago after forming a friendship in Costa Rica where they both have homes.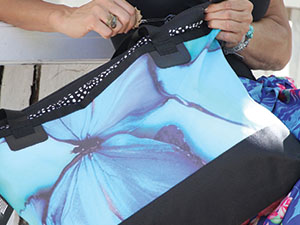 Cardella, who is originally from Wisconsin is a photographer, and Martin who is a self-proclaimed "Jersey girl" has a talent for sewing.
"I was bringing my artwork down to Costa Rica and selling it to an interior decorator and Lisa really liked my work," says Cardella. "At that point we'd known each other for a couple of years so we thought we should collaborate on something. We came up with the beach bag idea."
The beach bag they wanted to create had to be able to take a beating but still look cute. Cardella and Martin love going on sailboat adventures in Costa Rica. "There's always a dinghy that picks you up and sure enough, waves come. You can't just have this little delicate beach bag," Cardella explains.

The first bags they created were made out of vinyl mesh material with lining on the inside and a heavy-duty zipper because water resistance was important.

"We wanted something that people can throw on their shoulder or throw on a boat and still be bright and colorful and fun and different," says Cardella.

That's where Cardella's photography comes in. The photographs she takes are used on the bags. They are mostly depictions of nature that have an abstract artsy vibe. Cardella and Martin will work together on the designs and add colors or shift colors around. "We do a lot of collaborating," says Cardella.

To manufacture the bags, Gitingas partnered with a manufacturer in Costa Rica called Human Hope.
It is a social sustainability program that trains qualified prisoners in various vocational skills and teaches them basic business principals so they are set up for success after incarceration. A portion of the money Gitingas pays goes directly to the families of the men performing the work.

"We built giving back right into our business model, so we're going to be successful and we're helping other people along the way," says Cardella.


Called by COVID
It was the COVID-19 pandemic that prompted Christina King to launch Marloru, a brand of splash friendly, water-resistant bags. She and her husband, Adam, live near the beach in Amelia Island, Florida, with their eight-year-old daughter and six-year-old son. Her husband is a surf photographer and she spent 20 years as a graphic designer.

Being home with her kids who were distance learning during quarantine made her realize it would be a good time to start a business of her own.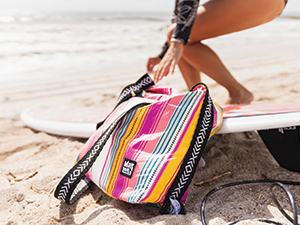 "Stuck at home, I decided to play to my strengths and find a way to lift people up through art," King says.
King started out with two bags, the Sunday bag, a cross body bag with an adjustable strap, and a smaller Twofer bag with a belt loop that can be worn as a hip pack or go inside the larger bag. She named the boho chic pattern she designed for the bags Mexi-Flo, a combination of Florida and Mexico.
"My first bag was so bright and happy and kind of like an everybody bag," she says. "This past year has been so gloomy and so sad and this is such a happy bag."
King is getting ready to release a second design called Coyote. This print is inspired by the wild sunsets and red earth she encountered on a trip to the mountains. It is also a nickname she has for her son.

Marloru offers a media kit for its retailer partners, which includes lifestyle and product shots to support social media feeds.

"Social media is such a blessing because it's given us an opportunity to brand Marloru and give it an identity through photography and a bit of story telling," explains King. "Marloru started as a way to escape and be creative but once it got out into he world, we were surprised at how quickly a community of support grew around it and suddenly it belongs to everyone, which we love."

Whether it is a fun pattern, a sturdy base, water resistance or some other feature your customer is in the market for when they search for the ultimate beach bag, you'll be able to guide them in the right direction.