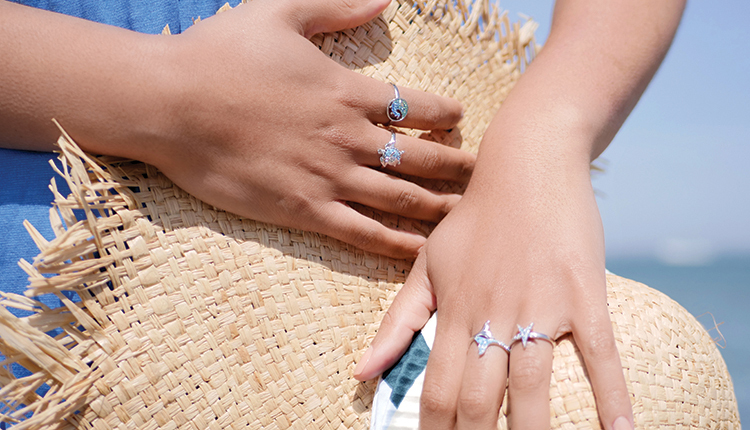 People who love the beach and the water like to be reminded of their favorite place even when they can't be there. Jewelry that can take them back to their beloved coastal destinations not only makes your customers look good on the outside, it helps them feel good on the inside.

Bracelets, earrings, necklaces, rings and other adornments from a vacation destination, winter haven or seaside hometown are constant reminders of a happy place or time in your customers' lives. There are also options for a variety of preferences and price points. Whether your customers are looking for beachy fun or sophisticated nautical, you can help guide them to the perfect piece that keeps their memories — and the store where they found their treasured piece — front of mind.


Secret ingredient
With so many styles and price points to choose from, it can be difficult to determine the right pieces and brands to carry in a seaside store. You want to know what sells. But no matter what price point, color is an area that can drive sales.

Ocean Jewelry entered the coastal jewelry market about five years ago. The Ireland-based parent company of the brand had success in the Irish American market selling Celtic jewelry. It had immediate success when it decided to expand into nautical and sea life categories. Ocean Jewelry began with a range of about 50 pieces at AmericasMart and Surf Expo and has been growing ever since.

"What really sets us apart from a lot of brands is the fact that we use a lot of color. We use exclusively Swarovski crystals," says Alan Clancy, Ocean Jewelry national sales director. "It really gives life to the pieces."
The co-branding with Swarovski has helped launch the brand too. The company recently introduced birthstone turtles to its lineup. "Birthstones have been a huge category in our Irish market so it just made sense to pick a really strong category, which is turtles, and make them into birthstones," says Clancy. The birthstone turtles have been a hit with seaside retailers, whom he says are constantly reordering.

Turtles do well in most markets, he says, from New England to the Mid-Atlantic all the way down to Florida. Waves are another popular choice. Whale tails are strong in New England, and the same pieces are marketed as mermaid tails in Florida.

"We're helping retailers achieve a higher price point than they would normally achieve with some of the more basic beach-type jewelry, so they're getting a 2.5-time markup, that's about $50 dollars to $200. We are really helping those stores achieve those larger sales in the $150-plus price point."
Clancy says his retail customers appreciate the higher price point because it can take the same amount of time to sell a $39 T-shirt as it does a nice piece of jewelry for $189. And the pieces have broad appeal, he adds. "It's a product that sells, from nine-year-olds to 89-year olds."
Another element customers like is the sentiment built into the pieces, like the company's mom and me starfish, that ties into family. The packaging also helps elevate the jewelry, according to Clancy. Each piece has a hinged box outside another protective box and a bag.

"We learned from our Irish business it's all about having the customer walk out of the store feeling like a million dollars, feeling like they just bought a really high-end piece of jewelry. It helps them with the gifting process as well," explains Clancy.

It also helps to elevate the store, he says, because they will view the store as a go-to for sea life jewelry.
"There's all these people moving to the coast. They're decorating their houses in these sea life motifs, and they also want their personal fashion to reflect their newfound lifestyle," he says.

Harry Presser, owner of Presco Sea Life Jewelry says plain silver will always sell because it never goes out of style and its price points are affordable. But in 2021, he says people are wanting to add personality and color to their jewelry. "It makes the piece come alive," he says. "We add crystal elements to give a bit of glitter to our jewelry."


Making a statement
Courtney Baird owned and managed retail operations in Beaufort, North Carolina, for many years. Her new Bimini Twist store is opening in May. She also crafts her own jewelry under the name Courtney Lynn Designs, sold in retail stores. She tries to appeal to anyone who walks through the doors.

"I try to have really good price points, I have everything from $14 to $450 so I can hit all the different kinds of vacationers," she says.

Depending on the time of year gift store customers can range from boaters to families. "Anything beachy or nautical flies out of the store. They're always a winner" she says.

She'll also create what she calls bigger "wow" pieces for some of the local clientele who maybe want to spend a bit more money.
"I always do something big with shells," she says. "Something real heavy around your neck — a statement piece."
Statement pieces are big with Ocean Jewelry as well. "We have bigger pieces like conch shells and sting rays," says Clancy. "The larger more statement, colorful pieces have definitely made an impact. People are really wanting to show that love or their association with that beach or seaside location."


Incorporating the elements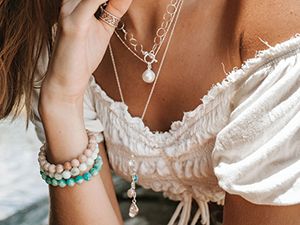 Aspen & Salt is a jewelry company that's inspiration comes from the mountains, the sea and the Earth's natural treasures.

"Our goal is to provide meaningful jewelry that brings each wearer a connection to a special place, moment or memory," says co-owner Susan Tasca.

The semi-precious stones and pearls used in Aspen & Salt's pieces are carefully selected from around the world.

No stone, bead or pearl are exactly alike, giving each wearer a unique piece. Everything is handmade "with love" in Rhode Island.
"Many of our styles are combined with charms that are meant to remind the wearer of their own unique journey," says Tasca. "Whether you get spiritual energy from the sea, inner peace from the mountains, or anywhere in between, we hope you will connect to that special place or moment in time."
Aspen & Salt's biggest seller is a 16-inch necklace with a 2-inch extender, with a freshwater pearl and 12 semi-precious stones. Other pieces include puka shells and charms.


A connection point
Customers wanting to connect to a moment spent in a beautiful place may also gravitate toward imagery.
"We are continuing to see a trend in experiential retail. People want items with meaning, a story and a connection point, and we fit that vibe," says Josh Astern, founding "fotographer" of Foterra.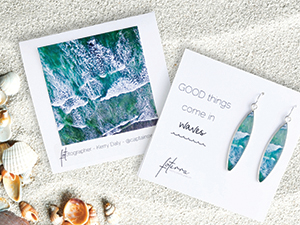 Foterra's jewelry features photos of breathtaking natural beauty paired with timeless jewelry design. The imagery used in the jewelry ranges from coastal, mountain and trail, floral gardens and jungles. The company's best sellers and focal point are coastal, which includes inspiring ocean scenes, stunning sunsets and sunrises and undersea creatures.
"The magic of Foterra lies in our ability to communicate fleeting moments in nature through our aesthetic," says Astern. "We focus on quintessential colors, textures and elements of each image and distill it to its core essence. The scenes are then paired with elegant, on-trend shapes and modern metal designs to create lightweight, fashionable jewelry that is both refined and durable for the active woman."
Once customers are introduced to Foterra, Astern says, "They love to start an 'adventure' inside the store, adding retention time to their shopping experiences."
Earth Bands takes elements from a specific destination and turns them into beads to make bracelets and anklets. They connect the wearer back to their favorite place and appeal to the earth-loving, eco-conscious customer.

"We're the ultimate connection," says co-founder and CEO Sandra Vaughan. "Every bead is made from the dirt or sand from every bracelet location.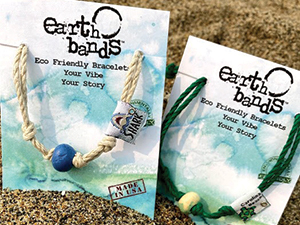 If Key West is your thing, then Key West is going to be in your bead, explains Vaughan. Each bracelet has an tag that identifies where the bead came from. Earth Bands replicates an ancient technique for creating beads. They are fired in a kiln in Dunsmuir, California.
And every part of the bracelet, including the bead, tag and rope is all sourced, designed and crafted in the U.S.

When retail customers place an order, whether they are based along Lake Erie or Pine Island, Florida, they send Earth Bands the sand or dirt and Earth Bands gets to work designing a specialty product just for them.
"They give me their colors and their artwork, and we create the tag for customer approval," says Vaughan, adding, "It's a very simple bracelet. It's affordable. There's a nice margin."

The bracelets and anklets are a hit, according to Vaughan, with stores reordering every season. "They're very popular in seaside communities. Customers love to wear something that reminds them of their vacation or where they got married, or it could be where their child was born or where they met their boyfriend."


Color quest
Most people are drawn to the perfect ocean and blue skies on a sunny day, according to Astern. Foterra's best selling pieces are those that feature the vibrant blue skies of a perfect day on the beach.

"We always ask ourselves this when considering a new photo — do people want to wear the colors in this amazing scenery?" says Astern. "Blue is always easy for almost everyone's wardrobe."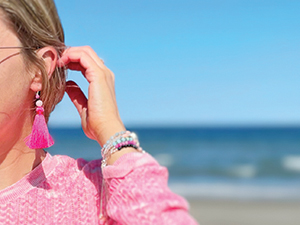 Mermaids and Madeleines is inspired by the ever-changing color and light of the coast. Owner Heather Auclair describes the style of Mermaids and Madeleine's as "coastal preppy meets mimosa chic." It's a style that she says is effortlessly able to transition navy blue striped tops and a favorite pair of jeans to flowy sundresses and comfy sandals.
The company's most popular jewelry pieces have consistently been the tassel earrings, she says.
"The silk is incredibly light while still offering a look of a statement earring. They're available in a variety of colors, which makes them simple to style casually for events," explains Auclair, adding, "I've also found this style has been attractive to the widest customer range."
The company's adjustable bracelets are also popular because of their easy-to-use, adjustable back, making them more giftable since there's less worry about sizing, notes Austair.

Allison Cole Jewelry is seeing a surge in orders for its nautically themed bracelets, particularly those with bright colors. Owner/Designer Nicole Recomendes says her neon SKUs have seen an uptick in 2021, including her popular Chatham and Solid Rope bracelets.

"I think people are ready to shed the dreariness from a long winter and 2020 as a whole, and wearing happy colors is just a small piece of that," she says. "Whether consciously or not, a lot of us associate colors with moods. Brighter colors evoke happiness, which can go hand-in-hand with optimism. I think we are all looking for something to lift our spirits during this time and dressing colorfully is a great way to do that."


A piece of the place
Elements, imagery and colors aren't the only ways people are connecting to destinations with jewelry. There are some that like wearing an actual piece of nostalgia from that location. That's exactly what Harborside Upcycled does with its bracelets.

A few years back, Christopher Vasconcelos would take his young sons for walks along the shoreline in Fairhaven, Massachusetts. They'd find shells, sea glass and bits of brightly colored rope along the way.
When he bought a new home, he began repurposing some of these materials, making rope coasters, a lamp out of an old lobster buoy and candle holders out of driftwood. He made rope bracelets for friends out of old fishing nets, too.

"One day I had so much rope, I started framing it, now my waves are sold in 16 gift shops across five states," Vasconcelos says.
His bracelets are made from recycled gill net floats and fishing net twine utilizing a double sliding knot. The ends are sealed with Harborside Upcycled's logo and various nautical symbols using heat and embossed with a custom machined tool that Vasconcelos designed himself.

"I have yet to find anyone on the planet making bracelets like this. What makes them unique is my custom hot-branding. I have made miniature tools that emboss my logo and a nautical symbol into each bracelet."
Since he's not adding metal clasps or rings he's able to create a 100% recycled/upcycled product. Each bracelet features two sliding knots and are able to withstand about 400 pounds of pulling force.
"The majority of my bracelets are made from fishing net twine collected off local beaches and scraps donated by local fishing net repair companies," Vasconcelos says. Beach cleanup crews also save rope for him as do local residents. He'll often give them bracelets as a thank you in return.
"It is great to see how much rope/twine stays out of the ocean, but also out of the landfill," says Vasconcelos.
There are many ways your customers can express their love of a place with jewelry, from sparkling gems, beach elements, photographs, colors and upcycled materials. You can help guide them to find their perfect expression. They'll remember you for it.