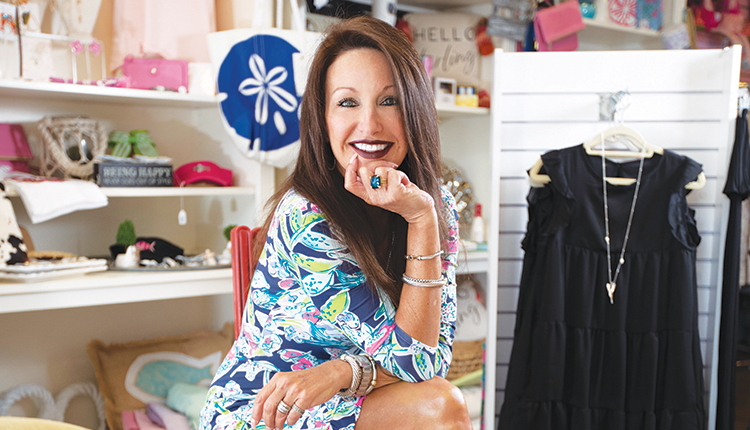 Of all the chic boutiques in the coastal city of Savannah, Georgia, Sea Oar Be Seen Boutique owner Mo Dixon thinks she has the others beat in one vital area.
"We're funnier! At least, we think we're funny," Dixon says with a laugh.
Dixon says she likes to keep the inventory of home decor, gifts and fashion in her store light and playful. Even the pandemic couldn't keep her or the store down — Dixon kept the doors open, stocked up on hand sanitizer, offered her customers home delivery and expanded her social media presence.
Her Instagram account is a mix of fashion catwalks — often of Dixon herself modeling the clothes and accessories on a sidewalk just outside the store — and lighthearted videos of Dixon and her best friend Lauren Denton cracking jokes.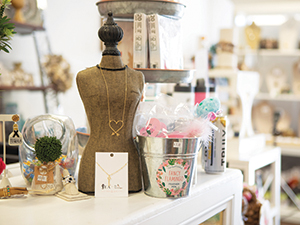 Sea Oar Be Seen's online following grew amid the pandemic, Dixon suspects, because people were isolated and looking for amusement."We didn't go in the hole. We didn't skip a beat," Dixon says.
Even the Sea Oar Be Seen name is a play on words. The oceanic aspect is there, but also Dixon says her gregarious personality demands that she not just see, but be seen. The name's acronym, SOBS, can be interpreted as "so BS," she says.


Bold and fun
Dixon's retail career came at a time in her life when she was looking for some diversion of her own. After a divorce, Dixon was ready for a new venture. At the same time, her tennis partner, Lisa Harper, was planning to step away from her 2,000-square-foot store.
"It was a perfect storm. I love fashion and women, and making women look pretty," Dixon says. "It's an outlet for me to shine."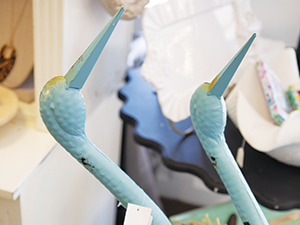 Dixon bought the store in late 2019. Sea Oar Be Seen Boutique is located in a shopping center on Wilmington Island, an affluent suburb of Savannah, Georgia, known for its historic architecture, Southern charm and eclectic shopping scene.
Dixon infused the store with some of her bold style, including painting the slatwall panels bright pink. She incorporated cheetah and zebra prints on table coverings, wall art, and in the inventory of gifts, home decor and fashion. While the store has a lot in common with its gift shop predecessor, Dixon says Sea Oar Be Seen is a bit edgier. "We keep it colorful," says Dixon. "It's a happy place."
The store layout is a series of vignettes designed to keep customers moving and exploring. Smaller pieces like jewelry and trinkets are up front for those hoping to stop in for a quick gift. Seasonal and holiday-related items get the center display spot, often artfully arranged on a large tabletop amidst flowers, ribbons, baskets and cake stands. Clothing racks are toward the rear. Furniture is displayed throughout and in the backroom.
Vibrant brands
Some of the store's vividness can be attributed to the cheerful palette of products by designer brands Lilly Pulitzer, Kate Spade and Vera Bradley. The store also showcases Dixon's painted furniture projects like patinaed side tables, white-washed bookshelves and hand-stenciled kids' desks. Larger custom consignment pieces are kept in a warehouse.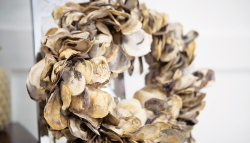 Sea Oar Be Seen's boutique finds include statement jewelry by wholesaler Susan Shaw and Brighton Collectibles, fragrant candles and soaps by Tyler Candle Co., outerwear by Charles River Apparel and purses made of recycled boat sails by Sea Bags Maine.
Dixon sources items from retail trade shows, online vendors and in her own metropolitan community. "I'm constantly shopping," says Dixon, who estimates she stocks merchandise from 50 different vendors.
In support of regional businesses, Dixon sells barbecue sauce from Seaside Grown of Helena, South Carolina. From nearby Daufuskie Island, South Carolina, she sells visors, hats and shirts by Oak-n-Oyster and jewelry collections by Spartina 449. She also stocks apparel and gifts from Savannah's own Tide & Marsh, Joseph's Clothier and Southern Tide.
The new Savannah Boathouse, a nearby marina has picked Sea Oar Be Seen to sell its branded line of hats, fleece pullovers and button-down shirts. The logo features the boathouse's name in block letters around a selection of maritime signal flags.

Among Sea Oar Be Seen's variety of goods, a theme emerges: coastal life. The jewelry and home decor motifs are often sea horses, lobsters, shells, whales, turtles and even flamingos. The upscale casual clothing and flirty beach coverups look at home on the beach or at a resort. And the wine tumblers, luxe ponchos and throws, and driftwood candle holders suggest a comfortable seaside lifestyle.


Happy customers
Clientele hails from coastal Georgia to the Carolinas and beyond, and ranges from women shopping for themselves to just about anyone who's looking for gifts for birthdays, showers and anniversaries. "I always say it's a one-stop-shop for fabulous," Dixon says.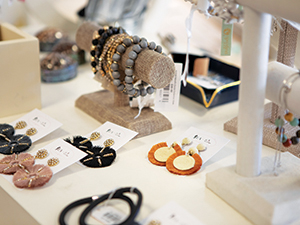 As a relatively new store rebranded just before the pandemic struck, Sea Oar Be Seen is still getting a feel for its busy season. Holidays like Valentine's Day and St. Patrick's Day bring in people searching for themed decor, gifts and clothing, while the hot and humid summer months are typically peak tourism times in Savannah.
Repeat local customers stop in regularly to check out new inventory they might have seen on Facebook or Instagram.
Both on social media and in-store, Dixon has created a community for Sea Oar Be Seen. She hosts private events in the boutique for painting parties, wine tastings, ladies' nights and even a Botox event for customers to get cosmetic injections while they shop.

Dixon wants people to look and feel good after a visit to Sea Oar Be Seen.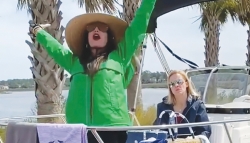 Related Article:
Instagram has helped Sea Oar Be Seen spread its
fun vibe
to the masses.
"We're constantly searching for new and different ideas. Trends are trends, but fashion is fashion," Dixon says, explaining that she enjoys helping customers try something new. "We play dress-up with someone or with someone's home. We genuinely love what we do."
Dixon explains that her work in fitness (she's also a yoga instructor), furnishings and fashion are part of a more considerable effort to help people find their best selves. It's something she strives for in her own life and hopes to extend to others.

"Every woman is beautiful. Sometimes someone needs to be reminded of that," Dixon says.