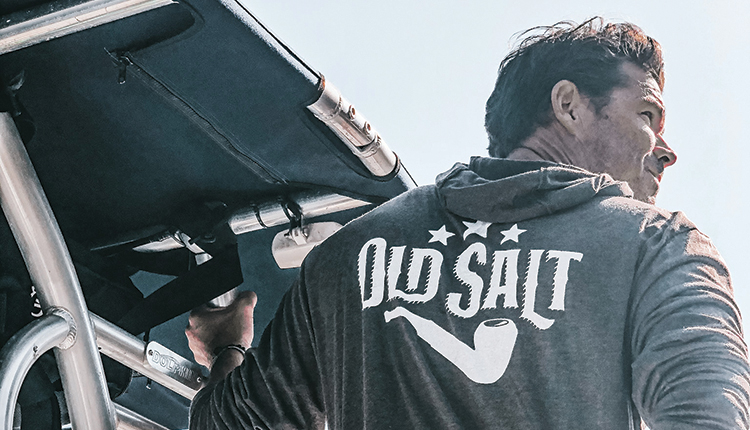 Birthdays, anniversaries and Father's Day are just a few of the big occasions that give your customers a reason to shop for the special men in their lives. Many of these milestones fall in the summer months as traffic inside your store is at its height.

While the men's section of many seaside stores may not take up as much space as the women's side, the items that are offered there should be carefully considered to derive the most impact out of the area.

The good news is there are no lack of products available. Just about every merchandise category imaginable, including apparel, health and beauty, jewelry and accessories, beach gear, food and entertainment has something to offer with some manly appeal.

And with an added beach, coastal or nautical spin, these products can be a perfect addition to enhance the men's section of your seaside store.
Looking good
Dune Jewelry & Co.'s experiential jewelry and gifts resonate with men, according to Founder and CEO Holly Daniels Christensen. The company uses sand and earth elements from thousands of memorable and iconic locations around the globe. And the elements in the products aren't limited to sand from a beach. Sand from a favorite golf course or soil from a ballpark can be used too.
"Many men love to commemorate milestones," Christensen says. Dune's men's collection includes bracelets, necklaces, golf markers and cufflinks.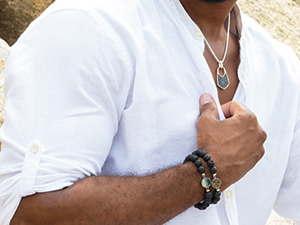 The items are popular with avid surfers, boating enthusiasts and sport fishermen, according to Christensen.
"I think men understand the concept very literally and they get it right away. All of a sudden they're thinking of all the trips they've been on and they love it. It's an especially easy gift for honeymoons and anniversaries too," says Christensen.

Golf enthusiasts will enjoy the divot repair tool and bottle opener in one that can be personalized with sand from a favorite golf course or beach.

Apparel is always a winner whether causal or sophisticated. The Old Salt brand, was introduced at the January Surf Expo. Lindsey Amerault who owns the women's apparel line, The Admiral's Daughters, started the brand.
She describes the old Old Salt brand as The Admiral's Daughers' grittier older brother. Like the women's line, Old Salt, named after an award Amerault's father received in the military, specializes in soft, comfortable graphic tees.

"We had several shops over the years ask when we were going to release a men's brand," says Amerault. And the new brand was a hit at Surf Expo. About one-third of Amerault's orders from the show were for Old Salt.

Saltwater Born is another newer coastal apparel brand with a men's offering. Jack Kempton started the company two years ago while a student at Florida State University.

It's specialty is UPF 50, moisture-wicking shirts. "The feedback we get is outstanding. Saltwater Born is for anyone who enjoys the sun, sand and saltwater. It's all about the toes in the sand mentality."
For the more fashion forward men, Kenny Flowers offers some button down shirts and swimwear with exotic prints that walk a bit on the wild side. Vibrant colors, florals and animal prints give these items some added flare and are a nice choice for water-loving men who want to make a bold statement.

Sunglasses also come in a variety of styles from sporty, casual to trendy and retro. Cliff Weil offers styles that cover the gamut.

Pair that outfit with the right more manly styles of beach bag and towel, and your customer's special guy will be ready for an active day at the beach or a romantic sunset on the pier.
Feeling good
Smelling fresh and looking clean also go hand in hand with a great look. Naples Soap Company has oodles of products for him. Men love the earthy musk of the all-natural Karma deodorant with citrusy oranges, neroli and petigrain, earthy patchouli, sweet jasmine, sophisticated sandalwood and woody pine.

They also enjoy the brand's gentle charcoal and sandalwood natural soap, an olive oil soap with a soothing earthy scent with activated charcoal to detoxify.

And let's not forget the food and drink. You can offer great reusable drinkware that has a masculine look, while also being good for the environment or bottle openers that look great in a man cave, but that also provide a nod to the beach.

Let your customers add some spice to their men's lives with Spicy Shark's brand of hot sauce and spicy condiments named after everyone's favorite ocean predator.

The company's three best sellers are Original hot sauce (habenero), Caribbean Reef Shark hot sauce (scotch bonnet) and Hot Honey. The company also makes a Wing sauce. All four products have won Scovie Awards. What's more, the company is dedicated to the Save the Sharks movement.

Tiki Toss, the original hook and ring game is addictive, competitive and always the life of the party. Now it's portable with a tabletop version of its popular beach game. The company says it is great for parties, barbecues, get-togethers, and reunions. It's also a welcome addition to a man cave and these days, a home office. Guys can play solo while on a work call or as the company suggests, use it to settle family decisions.

The product options for men are plentiful if you take the time to look. We've done some of that work for you by assembling some of the best ideas for you to consider as you stock your store for men and those who want to show them appreciation with the perfect gift.