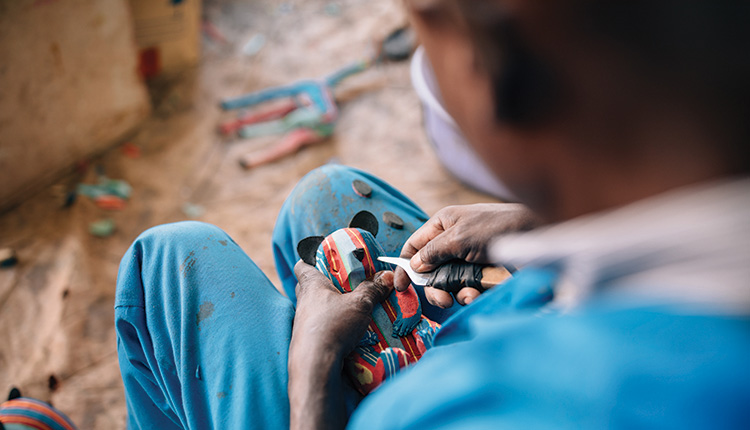 When customers enter your store, they are looking for more than just a great deal. They want to know that what they are purchasing is made sustainably and doesn't cause harm to the environment. But there's more to it these days than just offering a product that is eco-friendly.

A study of 19,000 consumers from 28 countries across all demographics revealed that the importance of brand purpose surpasses cost and convenience for today's shoppers.

Consumers are prioritizing brands that are sustainable, transparent and aligned with their core values, the study by the National Retail Federation and IBM revealed. They're willing to pay more and even change their buying habits to support these brands.

And the environmentally conscious brands that customers gravitate toward aren't only using recycled materials or reducing carbon footprints. Eco-consciousness is part of the company's DNA and what drives them. It is part of a greater purpose to protect the earth, its people and its ecosystems.
"Shoppers today show an increased willingness to pay premiums for products that align with their values," Mark Mathews, NRF's vice president of research development and industry analysis, says. "The study's findings show that today's retailers need to be proactive in evaluating and understanding what drives current and future core buyers while still boosting margins for their business."
Seaside retailers have a huge responsibility to make sure they are selecting brands that represent their customers' values. Doing so will help give customers what they want and give your store the sales you want all while helping the environment. It's a win, win, win.


Beautiful and sustainable
When lifestyle brand Guy Harvey became part of Intradeco in 2019, it raised the company's sustainability profile further than ever before.

The brand has always been known for the beautiful artwork by its namesake Guy Harvey that is featured on shirts, towels, headwear, footwear and other various offerings. His marine life art promotes cleaning the oceans, and a percentage of royalties and direct charitable contributions from the brand support the Guy Harvey Ocean Foundation.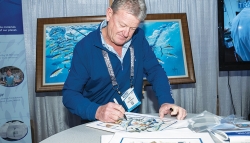 "The Guy Harvey Ocean Foundation is doing world-class marine habitat and marine life conservation research," says Joel Blumenthal, executive vice president of Intradeco.
Now that the brand is under Intradeco, it also has additional sustainable aspects.

"We own our own fabric mills and we own our own factories. Everything there is powered by renewable energy," says Blumenthal.

The factories and mills, located in Central America, have close to 55,000 solar panels that produce renewable energy for the facilities. They produce enough power to put some of that energy back into the community too. The solar power keeps more than 12,000 metric tons of carbon dioxide from entering the atmosphere each year.

Renewable energy is also created at the facilities using carbon-neutral biomass energy. Coconut husks left over from coconut milk manufacturing, as well as wood and elephant grass are used as fuel instead of going to a landfill. Solar runs the mills by day while biomass provides power at night.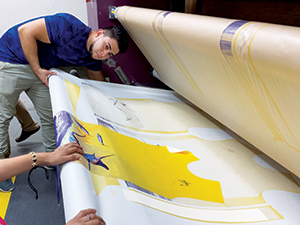 And that's not all. The fabric and garment industry has long been called out for generating pollution, predominantly from the fabric dying process. But the Intradeco factories recycle 100% of the water they use with on-site wastewater treatment facilities. This keeps the water out of the watersheds in and around the facilities.
"When you pull all that together, it is a commitment that Guy Harvey apparel will be produced in as sustainable a manner as we can," says Blumenthal.
Intradeco is also the licensee for Repreve, a fabric that uses yarns that are made of recycled plastic bottles and featured in some of Guy Harvey's sun protective shirts. More than 15 billion plastic bottles have been recycled into Repreve fabrics with a goal to recycle 30 billion plastic bottles by 2022.

"Retailers from Bass Pro Shops to Surf Style are finding that the demand for sustainable apparel is really growing," says Blumenthal. "We're growing the footprint in each of these stores significantly year over year in large part due to that combination of sustainability both in our manufacturing processes as well as our fiber and fabric, our price positioning and our support of the environmental conservation research being done by the Guy Harvey Foundation, and then everything has Guy Harvey's unique and beautiful artwork."


What's in a bag?
Unique and beautiful can also describe several companies that each take different materials like retired sails and various other fabrics and give them a second life as a bag. Among the most original is Rugged Seas. The bags are crafted out of donated, used fishing bibs, also known as hauling pants, and each donated pair has its own story to tell.
"We wanted to figure out what we could do to shed a light on what the fishing life is really like, living in a fishing family and also draw attention to the fishermen specifically," says Nikki Strout who owns the company with her husband Taylor Strout.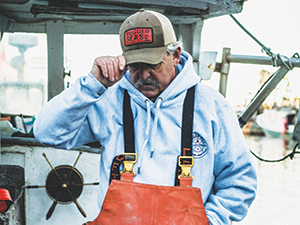 The recycling process starts and finishes with the fishermen by the purchase and return of their bibs to local stores. A local dry cleaning company washes the worn gear and brings the material back to life. The cleaned bibs are then delivered to a local, family-owned business in Maine. The material is laid out, cut and sewn into Rugged Seas bags. The company also works with Guy Cotten, a company that has been making hauling pants for over 50 years, to recycle its remnant material.
The bibs fishermen donate come in a variety of colors, but the ones people identify with most are orange. They look like overalls and they are made of a really thick, sturdy material, according to Nikki Strout. Fishermen usually keep them for a long time before retiring them.

"They try to make the bibs last as long as they can, which is what gives our products so much character. There are different scratches on them or different areas where you can see they are more worn or someone put their initials on them," she says. "That's really why we wanted to try to use a bib because we feel like each bag tells its own story."

On the Road Again Founder Mary Dimouro knows that using fabric remnants or deadstock (fabric rejects) is the hip thing in the New York City fashion scene right now. She decided she wanted to be different with the materials she chose for her bags.

"I made it my mission to find something that was going to make me different," she says. "I could have just started making bags and sourcing new material, but then I'm part of the problem. That's when I came across this durable mesh that's used in the boating and trucking industry."
She thought the material would make the perfect beach bag because it is light, durable and water resistant, plus you can shake the sand right out of it. "I can literally hose down my bag or submerge it in water and it will dry really quickly because it is lightweight."
Dimouro partnered with a truck tarp maker. The leftover mesh from the tarps comes in a variety of colors. The reason for the color variety is that the fibers used to make the tarps themselves are also made from recycled materials.

"Whatever they put in the hopper to weave out the mesh material is what makes the material so many different colors," says Dimouro.

The colorful patterns are also in limited supply because once the roll of mesh runs out, there is no more of that pattern. Dimouro might get 100 bags out of a roll.

"I've been very fortunate because the color mesh I've found in the last four years has been very interesting," she says.
With her coastal collection, she decided to take white mesh and use a printing company to "jazz it up" with quintessential New England designs such as lobsters and seashells printed in red or blue. The Liberty collection is one of the company's most popular, made with red, white and blue mesh that was created for a trucking company hauling debris from Ground Zero after 9-11.

All tote bags are complete with a vinyl bottom, the same vinyl used in boat seats. The handles are made from seatbelt remnants fit to hold 3,000 pounds.
"Customers like the durability and the upcycled aspects of the bag. They like that they can put their stuff in it and they don't have to be careful with it," says Dimouro.


From trash to treasure
It's often been said that one person's trash is another man's treasure. That couldn't be truer for John and Alicia Morgan. John Morgan saw a large coil of rope at a waste facility one day and decided to try making a doormat out of it as he'd seen done on television before.

"We gave some of the mats to friends and family and they loved them because they felt like they had an authentic Cape Cod product," says John Morgan.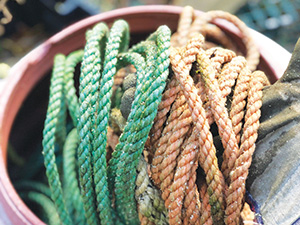 The Morgans started Lobster Mats and now get their rope from lobstermen and sometimes waste transfer stations.

"Instead of rope being tossed out or burned, we offer an incentive for lobstermen to contact us to pay them by the truckload for their rope that is no longer in good condition for lobstering," says John Morgan.
Every mat is handwoven on looms that the company has handmade out of two-by-fours and PVC pipes.
"People love Cape Cod and Lobster Mats allows them to have a piece of the industry, culture and nostalgia of the cape right on their doorstep," says Alicia Morgan. Marine biologists, lobstermen and Cape Cod vacationers are among those who are keeping a Lobster Mat at their doorstep.
Trash washing up on the shores of the beaches and waterways of Kenya are also becoming works of art thanks to the nonprofit Ocean Sole. Founder Julie Church saw that children there were making toys out of flip flops washed ashore and encouraged their mothers to collect, wash and cut the discarded flip flops into colorful products to sell at local markets to provide income to these families.

By turning flip flops into colorful sculptures that are now sold round the world, a light has been shed on the plastics pollution problem. Purchases from Ocean Sole help the organization keep its promise to upcycle over one ton per week of flip flop debris into beautiful art. And for every $20 spent on Ocean Sole products, 146 pounds of trash are removed from Kenya's beaches.

Bottles and buddies
Toys can also be environmentally friendly as a number of plush toys are turning plastic bottles into cuddly creatures. Shore Buddies are made from 100% recycled plastic bottles from the flakes that make up the stuffing to the yarn that makes up the soft fur.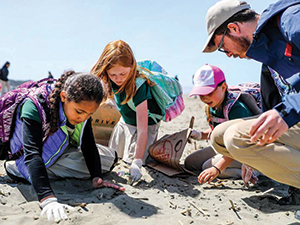 "Shore Buddies has created a market. A stuffed animal from recycled plastic was unseen in 2014 when we started, and now we are a finalist in the Toy of the Year awards," says founder Malte Niebelshuetz.

Shore Buddies, based in San Diego, takes its environmental friendliness a step further by teaching children about plastics and the threats it poses to the environment. Each character comes with a different lesson on single use plastics. For example, Finn the Dolphin is a big advocate against plastic straws, while Sammy the Seal reminds you to bring a reusable bag when grocery shopping.
"Our customers love Shore Buddies for their softness, authentic sound and for literally giving marine life a voice in the fight against ocean plastic," Niebelshuetz says.
Shore Buddies donates to a local nonprofit $1 for the Ocean from product purchases. The donations fund educational outreach campaigns to educate children about the dangers of ocean plastic pollution, to save marine life and keep plastics out of the ocean.

"We strive to make sustainability a second language from day one," says Niebelshuetz.


Reducing Waste
While many products take materials out of the waste stream, some companies' products seek to reduce waste generated in the first place so less materials are going to landfills or ending up in oceans.
ORCA Coolers' Hydra reusable water replaces the use of plastic water bottles. ORCA is an acronym for Outdoor Recreation Company of America, and inspired the company's logo that includes a signature orca whale tail. That was also the inspiration behind the orca whale tails that are part of the design of ORCA Coolers' Hydra drinkware. In addition, 10% of proceeds from all drinkware with whale designs is donated to Save the Whales.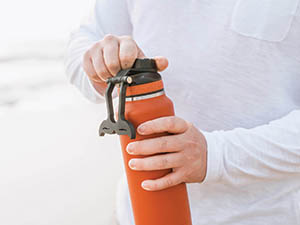 Inis the Energy of the Sea has introduced its first eco-friendly refill product as part of its goal to reduce plastic use and develop more environmentally conscious products.
"Inis is an ocean-inspired fragrance and body care brand, and we have a strong connection to and respect for the sea," says Sandy Clements, marketing manager. "For over 20 years now, we've been the core funder of the Irish Whale and Dolphin Group and we recognize the need to further our efforts to protect our oceans."
The company plans to introduce more refill products and glass or metal containers in the future. It also recently became designated as "Plastic Neutral" through a partnership with RePurpose Global, a global coalition dedicated to empowering innovators on the frontlines of reducing waste, reviving lives and restoring nature's balance.

"We've got lot's more eco-projects in the pipeline which we are really excited about," says Clements.
Minimalists might gravitate toward Anaskela's travel towels. Made of lightweight from recycled PET plastic, the towel so compact it can fold up into the palm of your hand. They are absorbent, quick-drying and sand-resistant and can be used for multiple purposes: the beach, the pool, a yoga session or camping. The Greece-based company also hosts beach cleanups.
A growing number of brands are making a positive impact on the environment. You can do your part by offering these brands' products in your store. Your customers, and the planet, will thank you.