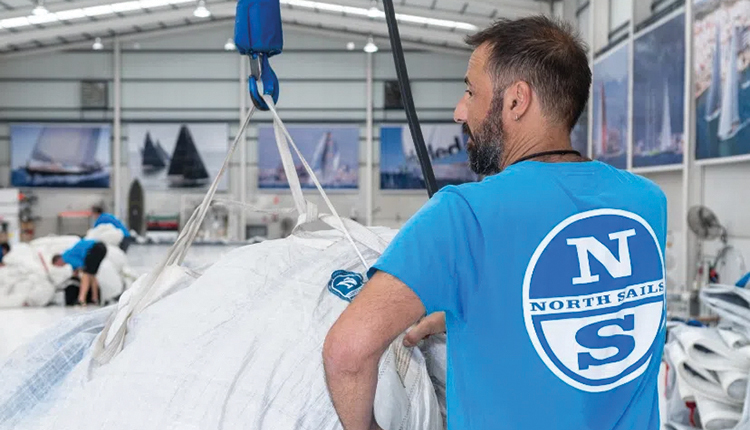 Sea Bags, a Maine based company that makes bags from reclaimed sails, has been selected by North Sails as a sustainability partner in 2022 and beyond. North Sails, a sailmaker with operations in 29 countries, produces sails for racing and cruising. Sea Bags and North Sails are working together in consequential ways to divert retired sails from incinerators and landfills, paving the way for the sailing industry to collectively reduce waste.
The first step in the non-exclusive partnership kicked off at the end of 2021 by completing a sweep of all of North Sails' North American company-owned lofts located across 11 U.S. states and two Canadian provinces and a collection in Europe. In the first four months of 2022, together North Sails and Sea Bags have saved approximately 5 tons of sail cloth from the landfill.
"We are thrilled to formalize our long-time working agreement with North Sails," says Beth Greenlaw, Sea Bags president and chief sustainability officer. "As a beginning and end to the supply chain, we together can work to improve sustainability in sailing and support a better future for our oceans and environment. With both companies leading a variety of sustainability initiatives, our goals will be measurable with plans for continuous improvement,"
Sea Bags plans to recycle any type of sail including 3Di, woven Dacron, woven nylon spinnakers, and laminated sail cloth.
With a mutual goal of promoting sustainable sailing, North Sails customers will be invited to donate any retired sails at corresponding sail loft locations. Sailors and customers that repurpose their sails will receive a list of steps every sailor can follow to sail sustainably inside a Sea Bags sail cloth boater's pouch.
"What makes this partnership exciting and different, is the commitment between our two companies to look into all the different parts of a sail and find sustainable end of life solutions for the various components," says Jono Macbeth, North Sails sustainability manager. "One of the consequences of producing sails with exceptional performance and longevity, is that the sail material becomes difficult to deconstruct in a truly sustainable way. Rather than shying away from this, North Sails and Sea Bags are working together to find solutions. We are all well served when the marine industry collaborates to maximize product usage and lifespan, producing a positive environmental impact."
In an effort to continuously improve on the program, next steps will include calculating the percentage of the sail cloth which has been repurposed from each sail and engaging other partners to find alternative options to reuse or recycle any non-sail materials from the sails collected which may include items such as hardware and line, the companies say.