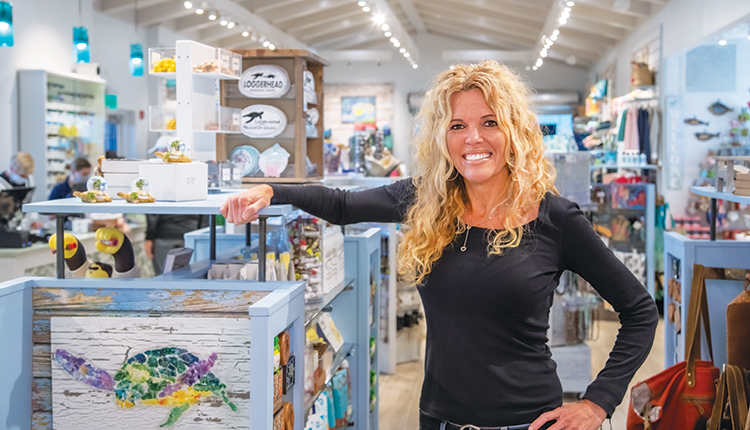 At Loggerhead Marinelife Center in Juno Beach, Florida, researchers monitor one of the world's most densely nested sea turtle beaches. The nonprofit oceanside facility treats nearly 100 sick or injured sea turtles and 1,000 hatchlings each year, while conducting scientific research and educating the public on ocean conservation with an emphasis on threatened and endangered sea turtles.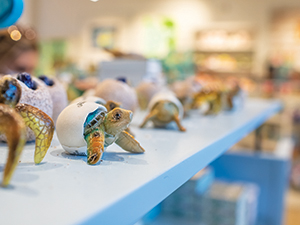 It takes a lot of money to support these efforts to protect the beloved sea turtle, and retail has been a great source of funding the operation, which hosts 350,000 visitors annually.

The center has an on-site animal hospital, research laboratory, educational exhibits and aquariums and operates the nearby Juno Beach Pier. Admission to the center is practically free. A mere $5 donation is suggested at the door. Online and brick-and-mortar retail sales represent more than 40% of the center's operating revenue, according to Kate Fratalia, Loggerhead's director of retail operations.

"If guests don't have to spend hundreds of dollars to walk in the door, they take their money to the gift shop," Fratalia says. "And it works out that they take home branded merchandise, which furthers the center's name recognition. It's wild when we're traveling, even in California, we'll see Loggerhead sweatshirts on people."
Gift Store Manager Beverly Singer says area residents stop in often to check out new inventory, especially because they know that proceeds benefit the center's research and rehabilitation efforts.
"If you live anywhere in this area, the priority is turtles," Singer says.

How it started
The LMC began as a sea turtle educational outreach effort in "The Turtle Lady" Eleanor Fletcher's home back in 1983. The center and its gift shop have grown immensely in scope and size since those days. In November 2020, LMC debuted a new, larger gift shop as part of an overall $20 million expansion project set to be completed in mid-2021.
The gift shop gained 860 square feet of retail floor space. In total, the LMC campus will be 27,500 square feet, with twice the research lab space and six times as much space for educational programs.
"Going from selling out of a closet with a notebook and calculator in 2000 to a state-of-the-art, 2,400-square-foot footprint has been exciting," says Fratalia, a lifelong animal lover who started volunteering at the center in 1999.

Fratalia was hired as the gift store manager in 2000, then became the director of finance and human resources before ascending to her current role as director of retail in 2013. Since then, she's expanded LMC's retail operations at the center, the pier and online, ultimately increasing revenue by more than 300 percent.

Something for everyone
The larger gift store boasts new flooring, lighting, fixtures, paint, shelving and point-of-sale systems. The new design benefits from a vaulted eggshell-white wood ceiling, extensive track lighting and white-washed shiplap accents.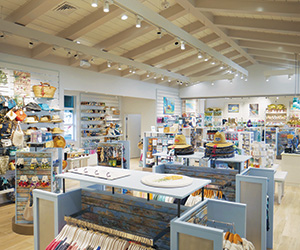 "The expanded store is much brighter and airier than the previous layout," says Fratalia.
The previous interior design dated back to 2007. "It had a very warm feel, using bamboo fixtures and warm tones on the walls."
She says the space was right for the times, but as the business has grown through the years and interior design has changed, "we determined that we needed to refine our retail space to accommodate the increase of shoppers as well as increase our offerings."
LMC is seaside in the small southeast Florida town of Juno Beach, just 12 miles north of West Palm Beach. The facility sits on parkland leased from Palm Beach County. With about 3,600 year-round residents, Juno Beach's population soars during prime sea turtle nesting season from May to October.

Fratalia says the shop endeavors to educate and entice neighbors, school students and tourists alike. "Everyone is our target audience," she says. "From one-year-old to 99 years old, all are welcome. Our retail store has something for everyone."
Patrons walk away with a souvenir and some newfound knowledge.
"Seeing the effects of plastic on animals, particularly sea turtles — almost 100 percent of sea turtles that arrive at LMC have ingested or have become entangled in marine debris — we have the opportunity to educate the public on better choices when it comes to buying."
By the time visitors make it to the gift shop, they're enamored with sea turtles and engaged in the center's conservation credo.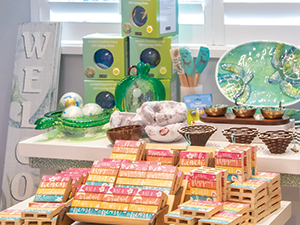 "Like any zoo or aquarium, we have a captive audience that comes to see our sea turtles up-close," Fratalia says. "In turn, those guests shop in our store."

Inventory check
The marine-themed gift store sells a wide selection of books, toys, crafts, decor, kitchenware, clothing and beach gear. Fratalia has established long-time relationships with gift and souvenir vendors and keeps an eye on what's trending in-person and on social media.
Singer, who started as a volunteer in the gift shop before being appointed manager, says the store gets many repeat customers because the merchandise stays updated and inviting. Fratalia says Singer has an artist's knack for creating attractive store displays.
"Everyone has fun here," Singer says.
This year's top sellers have included reusable shopping bags with the Loggerhead logo, branded face masks and a charming sea turtle ornament made of recycled magazines. The store has sold more than 1,000 sea turtle ornaments this year.
Shoppers and vendors alike are encouraged to be more socially conscious and ecologically responsible.
"The retail industry is becoming more sustainably minded but has a long way to go," Fratalia says. "We as an organization encourage our vendors to offer more sustainable products in addition to becoming more sustainably minded when packaging and shipping products."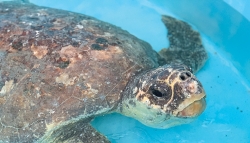 LMC's "Choice Matters" commerce program promotes locally and responsibly sourced products and packaging. It is organized into three categories: Made in the USA, Reduced Waste and Responsible Sourcing. Items that meet these criteria are highlighted online with color-coded sea turtle icons.
For instance, a bright blue trucker hat, from Boca Raton, Florida-based 4Ocean, carries the Reduced Waste and Responsible Sourcing icons on Loggerhead's retail website. The hat is made entirely of post-consumer recycled plastic and organic cotton. For every hat purchased, 4Ocean pledges to remove one pound of trash from the ocean.
The shop also sells Cora Balls, four-inch, recycled-plastic laundry balls that catch microfiber pollution in the washing machine keeping the tiny fibers from entering waterways. Made in Vermont, the balls are tagged as Made in the USA and Reduced Waste.

The gift shop also has adopted environmentally responsible practices. In-store beverages are sold in recyclable cans, no disposable water bottles. Fragile purchases are wrapped in small paper bags. Plastic bags are taboo.
"It teaches the customer who might otherwise expect a plastic bag," Beverly says. "We don't have a lot of waste here."
Setting the standard
With two decades of retail experience and a larger footprint, Fratalia says LMC's gift store is a paragon of what a successful coastal boutique can be. "We are the example," she says.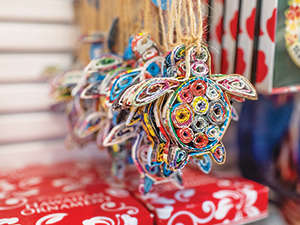 She encourages other seaside retailers to be advocates for the ocean environment by asking simple questions of their vendors like, How are your products packaged? How are they shipped?
While the gift shop sometimes carries merchandise that is similar to items offered at nearby surf shops and the Palm Beach Zoo, Fratalia prides herself on identifying unique vendors exclusive to the shop. "You have to keep your merchandise fresh and up-to-date," she says. "Consider your audience."
The coronavirus pandemic has meant the LMC has put a greater emphasis on its virtual options, from online educational programming to its online shopping portal with promotions on social media apps like Facebook, Instagram and YouTube.
Once travel and social gathering restrictions are lifted, the center expects to welcome guests back to a more expansive, immersive in-person experience.
"We're given a really great opportunity to educate the public on our sustainable products that are cognizant about the environment," Fratalia says. "Every day is extremely different from the last and that is what I like the most."