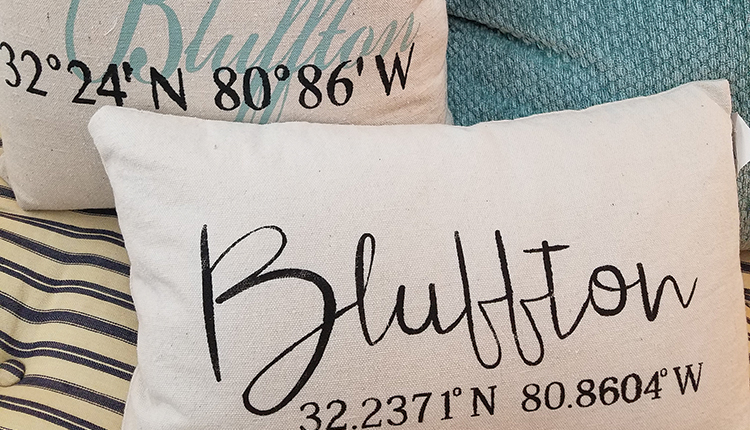 After a vacation to Cape Cod a few years back, Jennifer Reardon decided to make herself a necklace featuring the latitude and longitude coordinates from the memorable trip. She liked her necklace so much, it got her thinking that others might like them too.
Reardon, who owns Peachy Pendants, launched her latitude/longitude product line soon after, selling pieces to seaside boutiques and other retail locations across the country. Her line now includes stemless wine glasses, necklaces, Christmas ornaments, handbags and coasters.
"I sell these products because they make people happy by evoking fond memories of a special location," she says.
Latitude/longitude products have broad appeal to customers perusing seaside stores. Because each number that makes up a coordinate is unique to that location, they provide an added level of identification that the name of the town alone just cannot provide.
Celebrating milestones
And it's not just trips that people want to remember with a latitude/longitude identification stamp.
"Products featuring coordinates are popular because they remind us of a sentimental place," says Reardon. "People often choose the location where they met their spouse or partner, their hometown, or the birthplace of their child. These are the locations that symbolize life's important milestones."
Maria Litwack opened retail store Coastal Elements in Ponte Vedra, Florida, in March 2020 with the goal of selling merchandise unique to the area.
"I carry a lot of local artists, a lot of local authors and a lot of things that can be customized," she says.
Her offerings include a wide variety of items bearing the latitude/longitude coordinates of beaches in the area, such as signs, coasters, notecards, pillows, candles, napkins and drinkware.
"Everyone loves it because it is custom to the area. It makes a nice gift for people who are traveling," Litwack says.
Locals love them too, especially new homeowners. Coastal Elements sells lots of trays to area real estate agents with the latitude/longitude coordinates of their client's homes on them.
"We've been selling a lot of these for closing gifts," she says.
A nautical touch
Pillows bearing the latitude/longitude coordinates of Bluffton, South Carolina, are a big hit at Coastal Exchange, a home decor and furniture store there that sells casual coastal items both contemporary and antique.
The numbered coordinates fit right in with the coastal vibe that is so popular in the area, and the store sells several different sizes of latitude/longitude pillows.
Co-owner Julie Hampton says latitude/longitude prints go hand-in-hand with a lot of the other items the store sells like nautical charts and waterways maps of the area.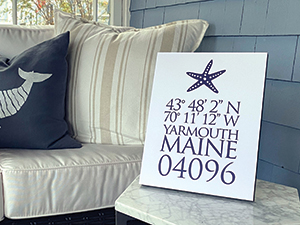 "A lot of people have their vacation homes around here so they want to make them feel a more coastal. They are looking for things they don't have back home," Hampton explains. "They want their home here to be a little more beachy and casual so I think that is why they like the nautical and latitude/longitude decor."
Hampton orders the pillows from Handmade Beaufort, a company in Beaufort, South Carolina, that can customize products with latitude/longitude coordinates.
The pillows are so popular Hamilton expanded her offerings with her fall order, adding Christmas ornaments, coasters and tea towels to the store's latitude/longitude mix.
Handmade Beaufort is a one-woman shop run by Elizabeth Brubaker. She uses several different methods to add the latitude/longitude coordinates to her products. Some are stenciled, some are added using a heat transfer vinyl and some use sublimation. Her products are currently carried in 16 stores, including a pop-up shop in Oregon. She does some online sales as well.
"A lot of people do it for the sentimentality," she says of latitude/longitude coordinates. "They have a connection to that place whether it is where they are living now or where they've been."
Michael McGinnis owns four retail stores in Hawaii: Divine Planet, with stores in Hanalei and Koloa, Aloha Hanalei and Koloa Trading Post on the island of Kauai. All four stores specialize in what McGinnis describes as visitor-oriented resort merchandise.
"We have a joke here if you put Kauai on anything it will sell. You can put it on a coffee mug, you can put it on a hat, and the latitude and longitude makes it very specific."
He says visitors want to drill down the location of their visit as far as possible. Even Kauai isn't specific enough.
"They love the name Hanalei, which is a small town on the north shore, but if you put the latitude/longitude on the merchandise, it just blows out. Same with other parts of the island."
He can't pinpoint exactly what the draw is, but he says, the coordinates convey to people "we know exactly where this is."
"People like to feel like they have some special knowledge or like they have some sort of special experience, and that is I think what latitude/longitude conveys," he says.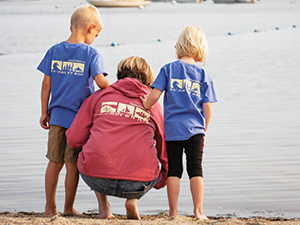 McGinnis not only sells merchandise in his store with latitude/longitude coordinates on them, he makes them through a company he started in late 2019 called Whirled Planet. "I sell signs, post cards, refrigerator magnets. Whatever it is people just go for it," he says. "I even do T-shirts and sweatshirts."
Peachy Pendants' most popular sellers recently have been stemless latitude/longitude wine glasses. Reardon thinks the pandemic is part to blame for their popularity.
"Wine glasses celebrate festive occasions and that is something people are craving during this time of social isolation," she says.
Latitude/longitude jewelry accounts for 32% of Patsy Kane's wholesale jewelry sales and another 31% of its online sales. The company's Navigator line features coordinates and includes bracelets, necklaces earrings and key rings.
"People love to commemorate special places and events in their lives. We've done engagements, graduations, family trips, vacations and some very special moments that kind customers have shared," says owner Patsy Kane.
Custom creations
The ability to customize purchases in-store has helped Our Cottage Boutique in Ocean Township, New Jersey, boost business. Owners Beth Conti and Kasey Pickett, describe the store as selling a little bit of everything from housewares, to women's accessories, clothing, children's toys and candles.
The store recently installed a laser engraving machine. Personalization has always been available, "but now we are doing it more on an immediate basis," says Conti. "You can come in, design and leave in the same day. It's been going over really well."
Now latitude/longitude coordinates can added to anything from a tumbler to a sign.
"We buy products that work with the machine. It's computerized so we can do anything right down to a key chain," Conti adds.
Our Cottage Boutique also has a die cutting vinyl for putting a town's latitude/longitude coordinates on the sleeve of a shirt. The store sell shirts with a New Jersey logo with the option to add a town's coordinates.
"The number one thing in our store is that we can personalize items to make a custom gift in a pretty short amount of time. It is one stop shopping. We've really stood out with the customization," says Conti.
TownWear's shirt designs for retailers include latitude/longitude coordinates on the sleeves and back of the shirt. And the customization doesn't end there. The shirts also include three images on the back of icons associated with each town, called a triptych.
Twist, a retail store in Mendocino, California, has an ocean wave, evergreen trees and a whale tail as its triptych, and Creative Touch Gallery in Punta Gorda, Florida, features the town square clock, a Ponce deLeon statue and dolphins on its shirts.
"Town pride is a big thing for us. We want to celebrate communities. Each town has it's own unique design," says Bruce Rocha, TownWear president.
So whether your store is located at 44° 23' 44.196'' N | 68° 4' 47.928'' W or at 32° 42' 56.6496'' N | 117° 9' 39.9132'' W, you too can give your customers a way to celebrate special locations on a more personal level with latitude/longitude coordinates.