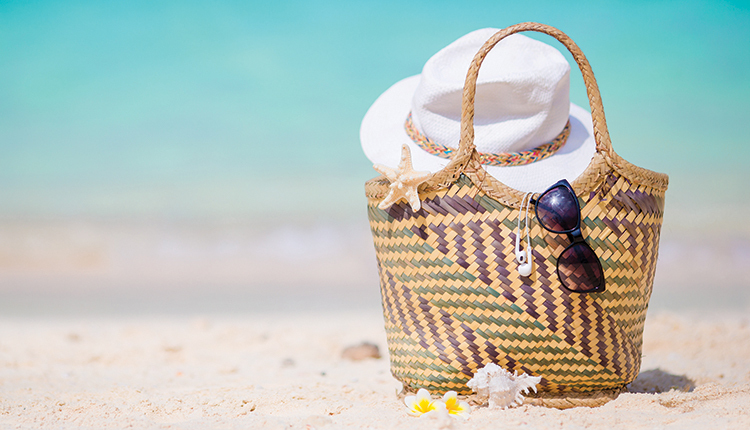 As families prepare for their beach visits in 2021, they will find some great supplies to take with them, ones that increase their carefree enjoyment. That's because innovative companies are making it easier to relax the day away with beach accessories that offer comfort, portability and convenience.
From better ways to get and stay dry, rest your head, transport gear, protect your skin, enjoy a beverage and remove the sand, product developers are breaking the mold with new products that will make your customers love spending time at the beach even more than they already do.
Parents of four, Jeff and Beatrice Mellick, were sick of having their kid's beach toys break when they went to the beach, so they decided to take matters into their own hands.
"We set out a few years ago to make buckets and shovels that don't break because we were frustrated that everything we brought to the beach would break once we got there," recalls Jeff Mellick.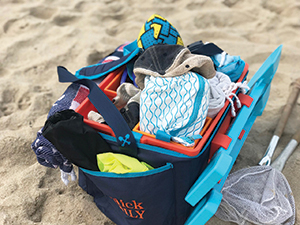 "We re-engineered the buckets to be more rectangular as opposed to circular so they don't crack, and I used nylon straps instead of plastic handles so they don't pop off," he explains. "And there was no shovel that was made for kids and built for parents, so we decided to make them."
More durable shovels and buckets mean families only having to buy them once, resulting in less broken plastic toys abandoned at the beach to be washed away by the ocean.
From buckets to bags
Once they mastered buckets and shovels, Jeff Mellick says the desire to make life easier when going to the beach came next. That's when the entire Beachmate system was born.
It includes a canvas bag to carry not only the buckets and shovels, but also other items that are a must for young kids like diapers, lotion, snacks and drinks.
There's even a small soft cooler that goes in the middle of the bag to keep food and drinks chilled. The bag has two Velcro straps for towels that can be rolled up and stored, and there's room for small accessory bags.
"In one attractive, easy-to-carry beach bag, you can get everything for the beach over your shoulder," says Jeff Mellick.
Eat, drink and be beachy
Convenience and waste reduction are two of the prime reasons people are picking up drinkware from The Beach Glass. The company's patented ball and stem design holds the glass upright, making it a sturdy choice for the uncertain sand. Their ability to float is an added plus. The glasses are an eco-friendly alternative to disposable plastic or Styrofoam that are often served poolside or on the beach.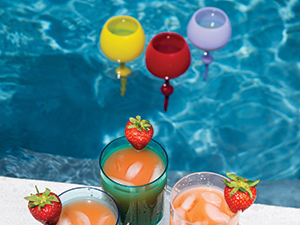 If beachgoers are worried about where to set their food and beverages, Beachy Business's Just Beachy umbrella tables may be the answer. They come in some fun shapes, too: a tiki man surfboard, a pair of sunglasses and a flip flop. Measuring at around 24 inches by 12 inches, the tables are lightweight, made of plastic and have a carrying handle. A beach umbrella can be strapped to the back of it for easy transport. Each table has two cup holders and is held up by the umbrella.
"They're great for families, for kids trying to keep their sandwiches and their drinks out of the sand," owner Brad Rhoney says.
The company also carries the Mighty Beachy umbrella anchor which uses a cylinder design to hold umbrellas securely in the sand.
Problem solvers
Solving problems poolside is what prompted Mike Townsend to develop the BDry towel. The patented towel has an area of mesh in the middle section that keeps users' bottoms from staying soggy when they get out of the water.
"The Bdry towel was created out of necessity while living in a corporate apartment with my wife and three daughters," explains Townsend. "The only time I would see them was one meal per day and taking them to the swimming pool on the weekends."
During their first trip to the pool, they all noticed they had a lot to carry. Since Townsend was doing a lot of work poolside, he would only be able to jump in for a short amount of time with the kids and his backside would always stay wet when he got back into his chair. Another problem he encountered was the towels they were using would always slide down the back of the chair.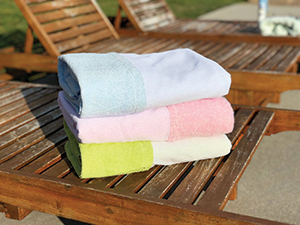 There's a reason the company tag line is "Your bum will thank you."
Townsend explains, "The mesh itself keeps the rear end dry. We also did a sand test at the beach and it keeps the sand out."
The larger-than-average towel, measuring at 80 inches long by 30 inches wide, will cover an entire chair without risk of sliding. It's also easy to transport.
The towel rolls ups and tucks into a hood at the top, and it has a shoulder strap for carrying that gives it an added bonus: it doesn't take up precious beach bag space.
Better ways to relax
Most people walking down the beach have seen sunbathers resting on their towels made for such an occasion, but one essential item to a restful nap on the beach is often missing, and that is a pillow. Instead, it isn't uncommon to see a bunched-up shirt or towel under one's head or covering one's face.
Brian Kirk, the CEO of Ballast Outdoor Gear thought this phenomenon was odd as well. The beach has always been his favorite place and when he goes, he prefers to lay on the sand.
"It's great to have a beach chair, but I don't think there is anything that can replace the experience of just laying down in the soft warm sand itself," he says. "The problem is it's not as comfortable as it could be because there's nothing to lay your head on. You try to create a pillow substitute, but there is no proper substitute for a pillow."
The idea for the Ballast beach pillow came to him as he was just about to nod off into a blissful beach nap and then he realized just how uncomfortable his head was.
"This is ridiculous," he thought as he pulled out his smartphone and started searching for a beach pillow he could order that could solve all his problems.
"After about 30 minutes of searching I was shocked to realize that they didn't exist," he says. "I was looking around and there were all these people laying in the sand with their bunched up towels and they just looked really uncomfortable."
He realized a regular pillow wouldn't work because it would just get ruined with the saltwater and sand. He determined the pillow that would make the most sense would be a weather resistant, inflatable pillow, but there was nothing to prevent it from blowing away.
"I kind of had this lightbulb moment of 'Why don't I design an inflatable pillow but with a patch or a pouch attached that you can just fill with a small scoop of sand or anything else like a phone or suntan lotion that can weigh it down on a windy day," he recalls. "No one wants to carry around something that is weighted so when you are done, you just empty out whatever you have in the pouch. Then the pillow folds into the pouch to become compact and portable."
Kirk also has an accessory for the pillow, a cooling gel pack. "I didn't want people to get hot laying on the pillow so I created a cooling gel pack to go with it," he says.
Another product that beach nappers might like is the Kubo shade, a portable, personal sunshade that goes over your head when you are laying down on the beach. It provides protection from the elements like UV rays. It also keeps the brightness out.
Named after bahay kubo, a traditional Filipino hut, the fabric is UPF 40 and has breathable mesh sides, so you still get the ocean breeze. The top of the shade is lined with reflective plastic to provide darkness.
Kubo owner, Cher Graham, says, "You can lay on your side, your belly or your back. You can have a book or your smartphone on the outside, looking through the shade or you may be able to fit it inside."
Users can put their keys, money, or a phone inside the shade to keep it safe while asleep. The shade folds up into a drawstring bag, too, so the phone, keys and money can be placed inside the small bag first. Because it folds up, the shade is also easy to travel with and it weighs only 2.3 ounces.
"People get very innovative on how they use them," says Graham.
Some use them sitting up, on a boat, to take naps between games at soccer tournaments and even as spots for their smaller pets to hang out in.

Repelling and replenishing
It's not only about what you bring to the beach, it is about what you don't want to bring home from the beach, and that is sand.
Jeff and Mary Conway developed Powder Pouch in 2008 in Long Beach, New York, where they would often go to the beach with their four young children. Mary's mother's trick for getting the sand off the kids was to use baby powder, but it would get everywhere.
"This sparked the idea to create Powder Pouch, a cotton powder applicator with Velcro closure that contains the powder and minimizes the mess," says Jeff Conway.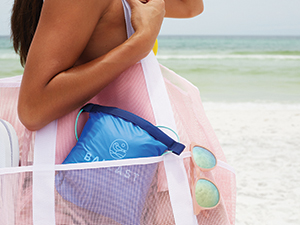 The pouches come in five beachy patterns and are filled with all-natural corn starch. To remove the sand, just tap and wipe the pouch on the sandy areas of the skin. It is designed to release just enough powder to brush off sand and leave the skin feeling smooth and comfortable. The pouches are refillable, reusable and washable.
"With the great success of the product, we've now also started offering the refills," says Mary Conway. "The refills are made with essential oils and aloe to really make you feel extra good."
Pesky Bug Stay Away Spray is another all-natural skin product that provides a good bang for its buck. The company's Emma Beans line contains more than 12 natural ingredients from lavender, lemongrass, patchouli, catnip and others that are formulated to work together and not counteract each other's effectiveness.
The original recipe came from an old recipe book belonging to owner Jeanne Miller's late great aunt Emma who lived in the mountains of Puerto Rico.
Her husband, Dean Miller, who was working in the pharmaceutical industry at the time took the recipe to a formulator friend who helped them develop the product affectionately named after the great aunt. Aside from having a great origin, the product is special in other ways, too.
"It's one of the only skin products that does a number of different things," says Dean Miller.
First it keeps the bugs away. "We're one of the few products that works on multiple insects. We work on things like mosquitoes, gnats or what they call no-see-ums, fire ants, yellow jackets, hornets and ticks."
The spray lotion also can be used as a moisturizer. "It is a great skin hydrator," says Miller. It also can be sprayed on clothes without staining.
The company offers two varieties of its special spray, one comes in a green bottle and one in a yellow bottle. The All in One Outdoor Skin solution in the yellow bottle offers a third benefit. It contains zinc oxide which provides SPF 15 sun protection.
More innovative products are coming to market every day that make a day at the beach an even better experience than last time. You can give your customers an unforgettable beach experience by offering beach accessories that they won't want to head to the beach without.